KIA K2700 MODELS
The Power To Surprise
Kia - a maker of quality vehicles for the young-at-heart - was founded in 1944 and is South Korea's oldest manufacturer of motor vehicles. Over 2.5 million Kia vehicles a year are produced in 15 manufacturing and assembly operations in ten countries, which are then sold and serviced through a network of distributors and dealers covering 172 countries. Currently Kia has over 47 000 employees worldwide and annual revenues of US$39 billion. It is the major sponsor of the Australian Open and an official automotive partner of FIFA - the governing body of the FIFA World Cup™. Kia Motors Corporation's brand slogan - "The Power to Surprise" - represents the company's global commitment to surpassing customer expectations through continuous automotive innovation.
8.2 l/100km
Average Fuel Consumption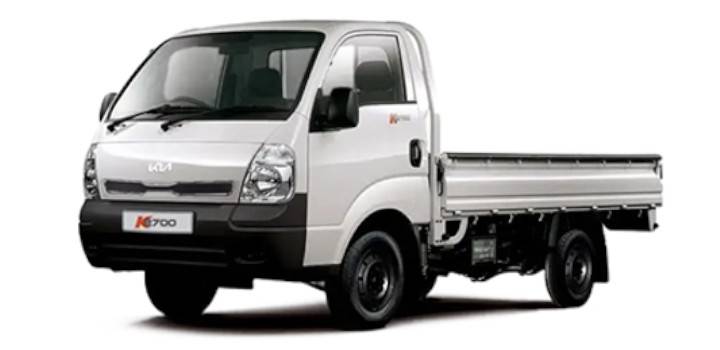 If You Don"t Like It Tough, Tough.
Cargo space - The K2700 has a 2 810 mm long deck and 1 630 mm wide bed, giving you abundant loading capacity. The railed truck bed has a low height of only 733 mm for easier access when loading and unloading. Perfect for when you do more than one thing at a time.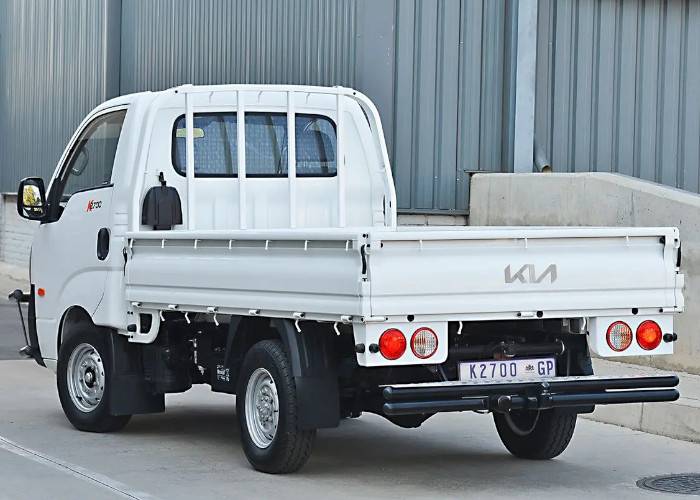 Make Yourself Comfortable, Your K2-Series Already Is.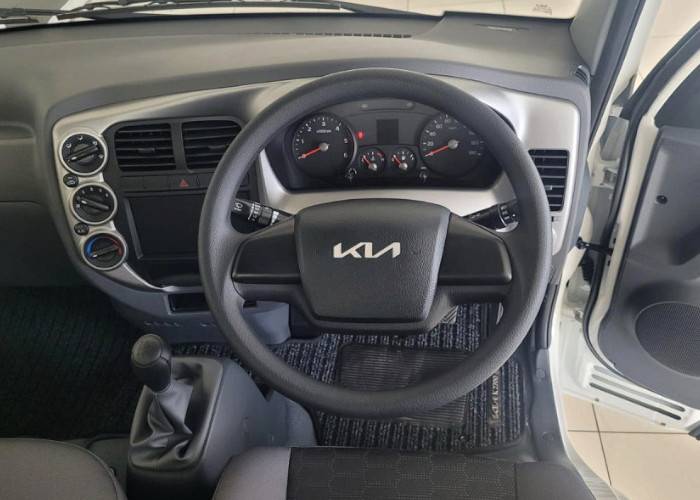 Make yourself comfortable, your k2-series already is. A man needs room to work, and that's true even before you get to work. No matter how big the job, the new K2700 and K2500 both have a spacious cabin that will never feel small. The seats are designed to provide maximum comfort and support for people of all shapes and sizes.
Power Without Shortages.
Making sure it never lets you down was the first thought in the minds of the Kia engineers. The K2700 has the perfect workhorse engine – a 2.7 litre, 4-cylinder, J2 diesel power plant that delivers 62 kW of power at 4150 rpm and 165 Nm of torque at 2400 rpm. The K2500's 4-cylinder DOHC 16-valve turbo engine is even more powerful and delivers 96 kW of power at 3800 rpm and 255 Nm of torque between 1500-3500 rpm.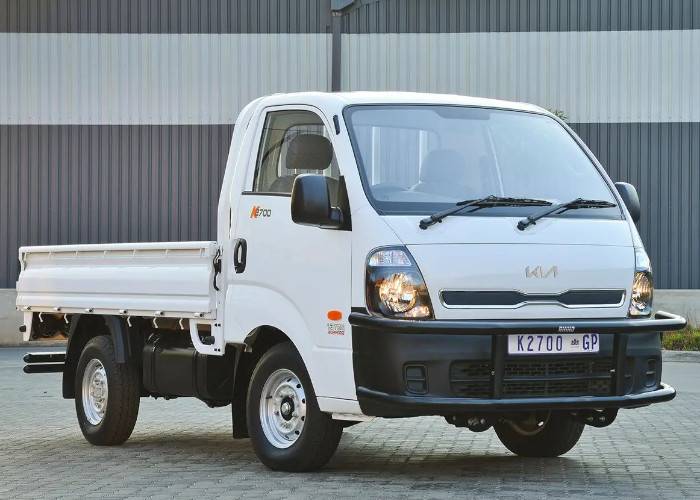 WORKHORSE CHASSIS CAB

Service / Maintenance / Warranty

Service interval

10 000 km

Warranty and Service Plan

5 YEAR/UNLIMITED KM WARRANTY, 3 YEAR/60000KM SERVICE PLAN, 3 YEAR/100000KM ANTI-CORROSION, 3 YEAR ROADSIDE ASSISTANCE

Active and Passive Safety

Engine

TRANSVERSE INLINE 4

Valves

SOHC 2 VALVES PER CYLINDER

Average fuel consumption

8.2 l/Km

Driving and Control Environment

Steering adjustment (in out)

YES

Electric window detail

FRONT

Colour coded bumpers

BLACK-GREY

Colour coded mirrors

BLACK
WORKHORSE

Service / Maintenance / Warranty

Service interval

10 000 km

Warranty and Service Plan

5 YEAR/UNLIMITED KM WARRANTY, 3 YEAR/60000KM SERVICE PLAN, 3 YEAR/100000KM ANTI-CORROSION, 3 YEAR ROADSIDE ASSISTANCE

Active and Passive Safety

Engine

TRANSVERSE INLINE 4

Valves

SOHC 2 VALVES PER CYLINDER

Average fuel consumption

8.2 l/Km

Driving and Control Environment

Steering adjustment (in out)

YES

Electric window detail

FRONT

Colour coded bumpers

BLACK-GREY

Colour coded mirrors

BLACK
WORKHORSE AIRCON

Service / Maintenance / Warranty

Service interval

10 000 km

Warranty and Service Plan

5 YEAR/UNLIMITED KM WARRANTY, 3 YEAR/60000KM SERVICE PLAN, 3 YEAR/100000KM ANTI-CORROSION, 3 YEAR ROADSIDE ASSISTANCE

Active and Passive Safety

Engine

TRANSVERSE INLINE 4

Valves

SOHC 2 VALVES PER CYLINDER

Average fuel consumption

8.2 l/Km

Driving and Control Environment

Steering adjustment (in out)

YES

Electric window detail

FRONT

Colour coded bumpers

BLACK-GREY

Colour coded mirrors

BLACK
WORKHORSE TIPPER

Service / Maintenance / Warranty

Service interval

10 000 km

Warranty and Service Plan

5 YEAR/UNLIMITED KM WARRANTY, 3 YEAR/60000KM SERVICE PLAN, 3 YEAR/100000KM ANTI-CORROSION, 3 YEAR ROADSIDE ASSISTANCE

Active and Passive Safety

Engine

TRANSVERSE INLINE 4

Valves

SOHC 2 VALVES PER CYLINDER

Average fuel consumption

8.2 l/Km

Driving and Control Environment

Steering adjustment (in out)

YES

Electric window detail

FRONT

Colour coded bumpers

BLACK-GREY

Colour coded mirrors

BLACK
Available Colour Options