FORD RANGER MODELS
Next-Gen Ford Range
Say hello to the best Ranger we have yet built. Tough, smart and versatile, this Next-Gen Ranger is the perfect partner for work, family and play. It's packed with new features and technology for you to get the most out of your Ranger life.
ATS
Auto Traction Control
EBD
Electronic Brakeforce Distribution *
6.9 - 8.4 l/100km
Average Fuel Consumption
ABS
Anti-lock Braking System
120 000/48
Warranty km/months
Electric windows
FRONT + REAR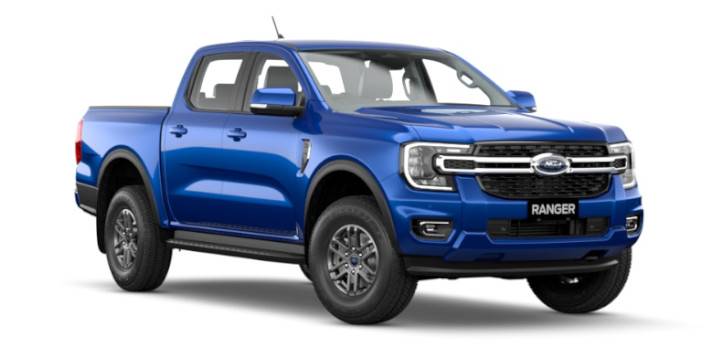 Next-Gen Wildtrak
Distinctive appearance and high-end capability. The premium interior is stacked with technology that gives you a new level of command and control.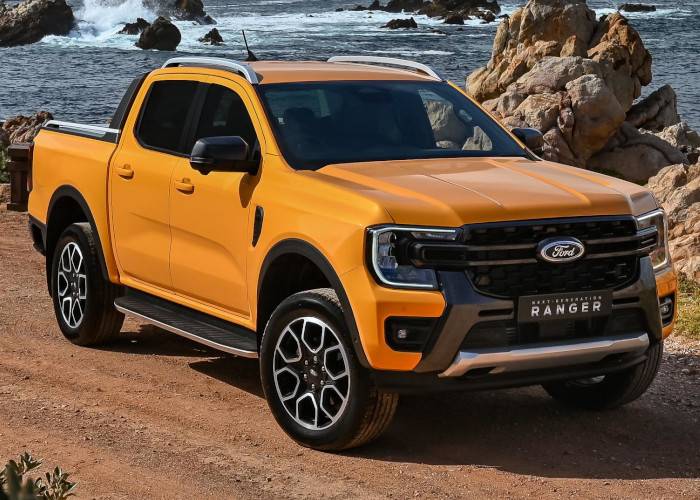 Coast-to-coast dashboard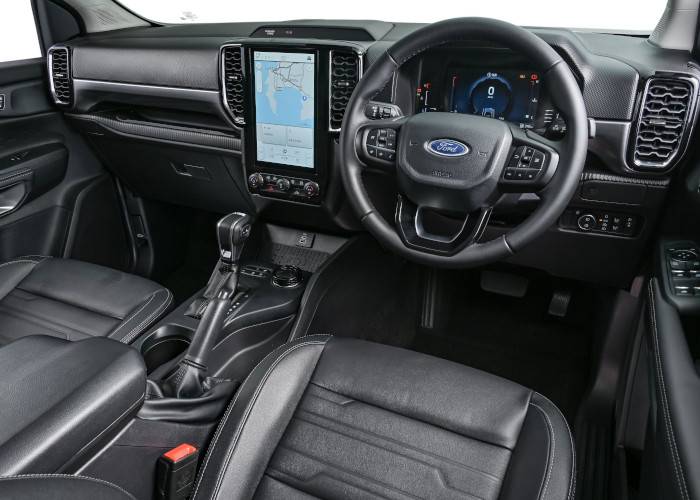 New coast-to-coast dashboard increases the sense of space and width in the cabin. The integrated 10-inch centre LED touchscreen is hi-tech with a tough truck inspired look.
Next-Gen XLT
Tough, capable, comfortable and connected. The XLT has what you need on and off-road for work, play and family.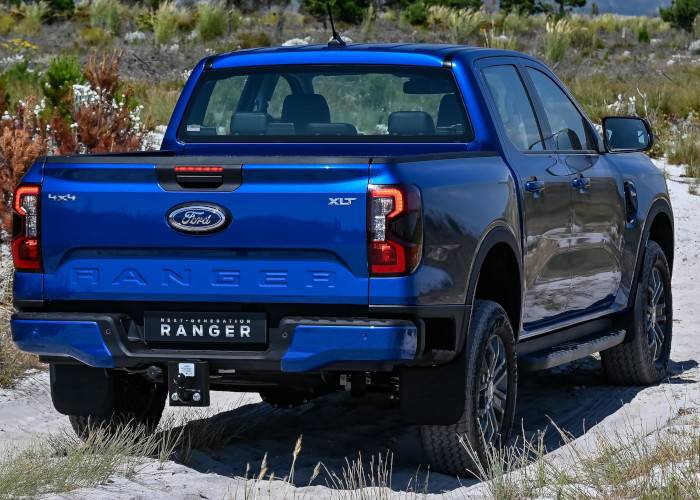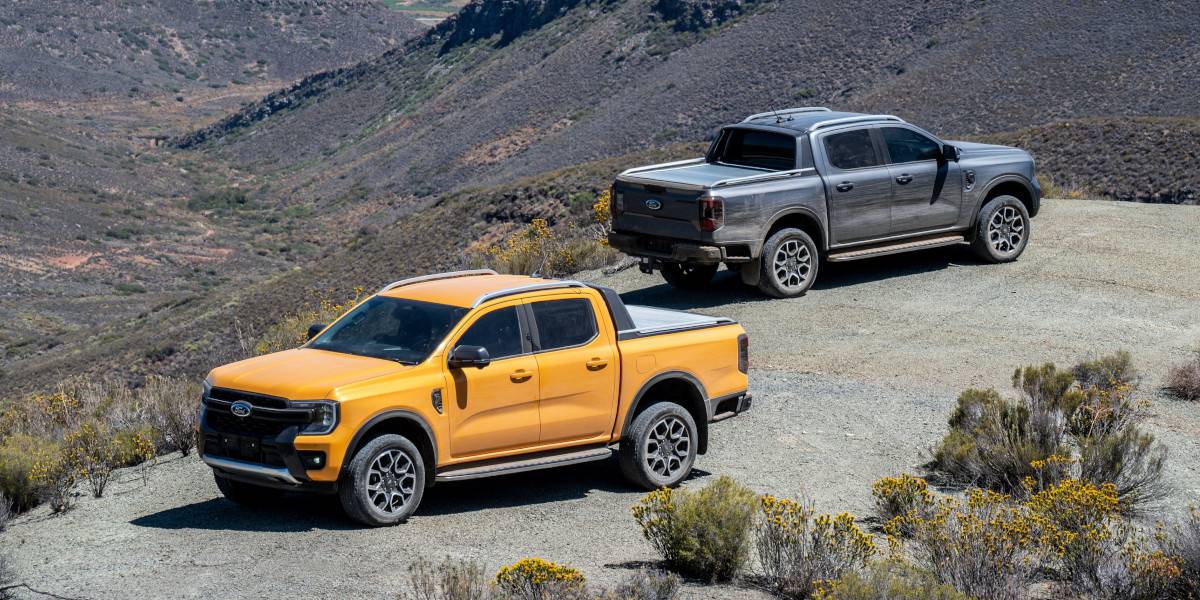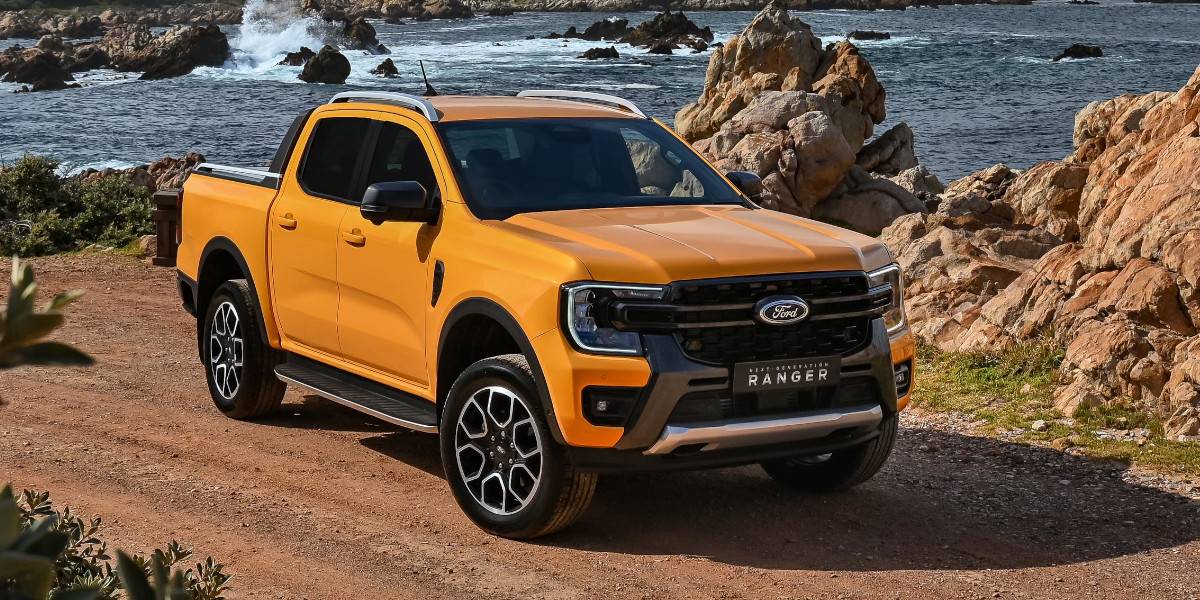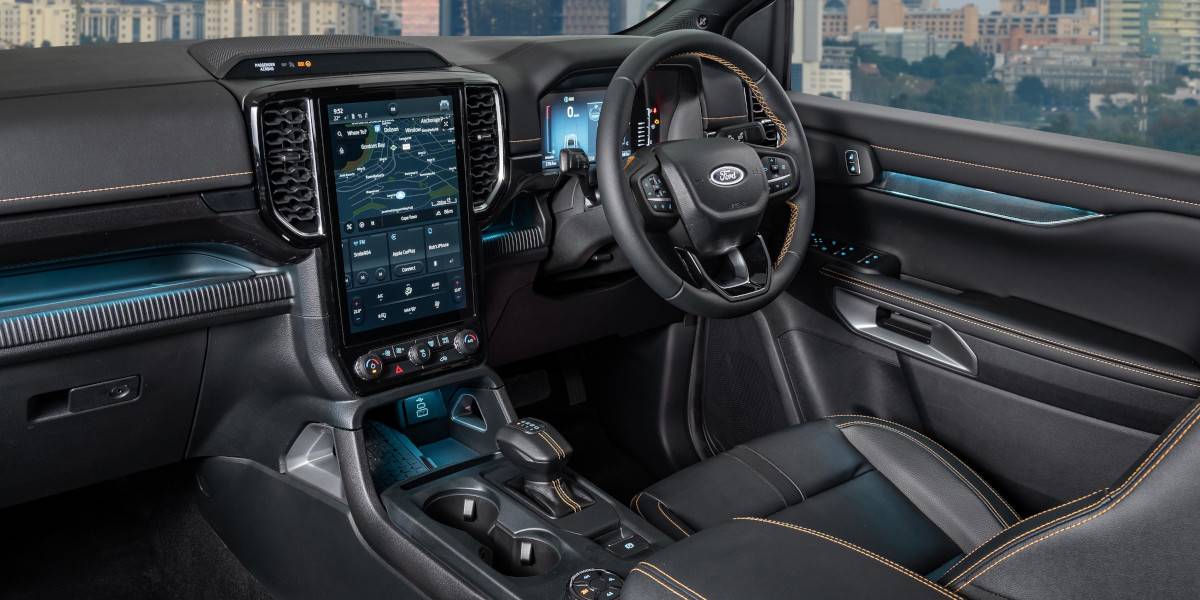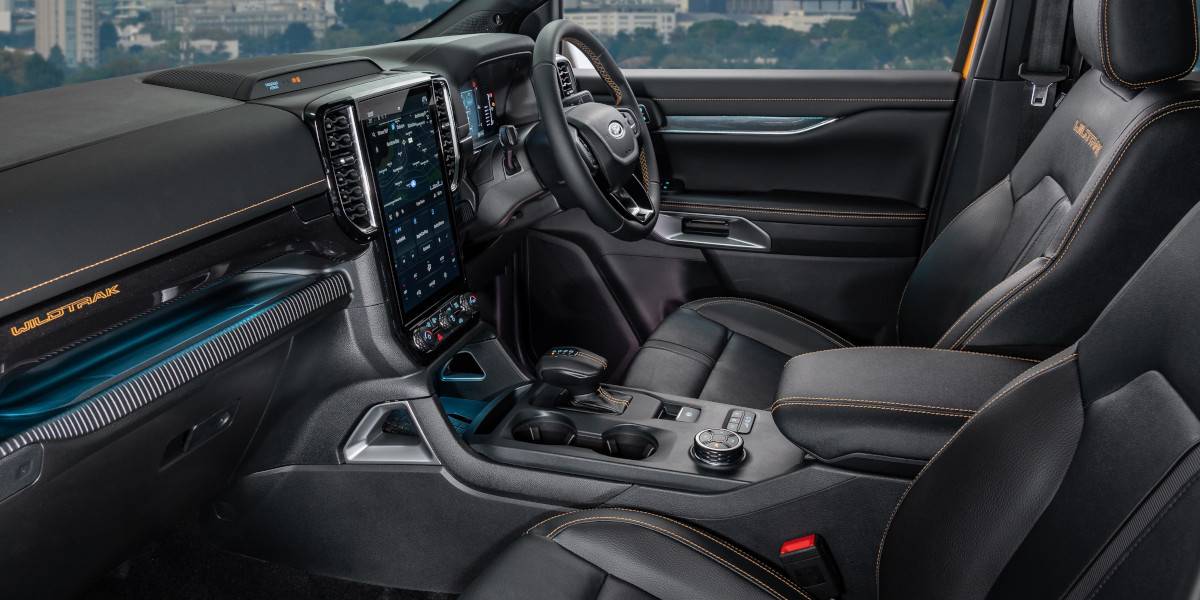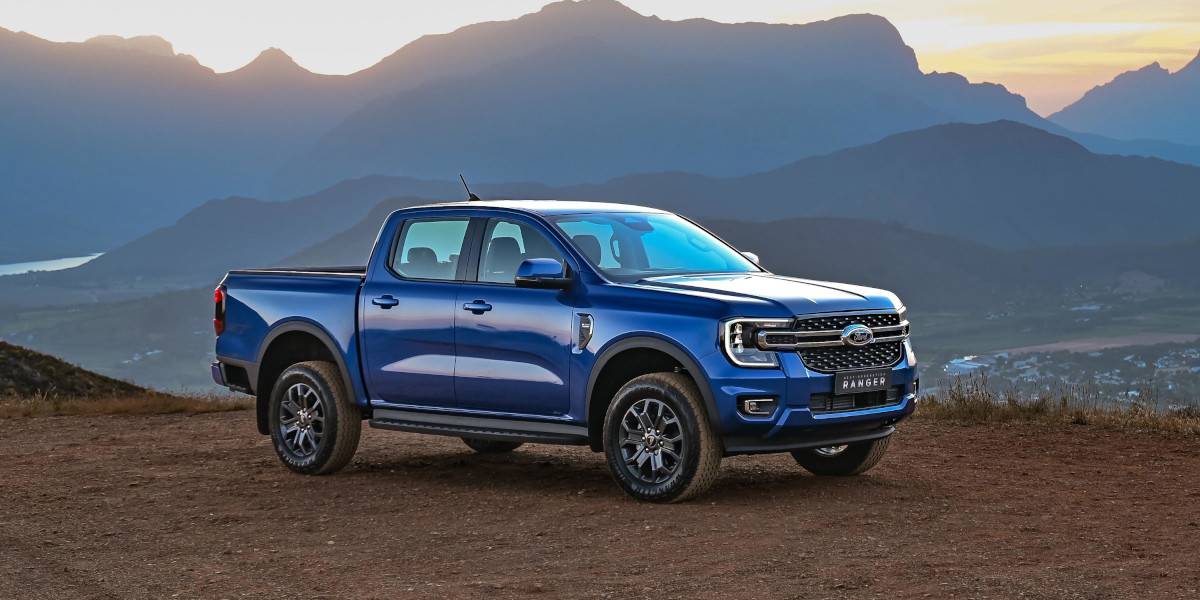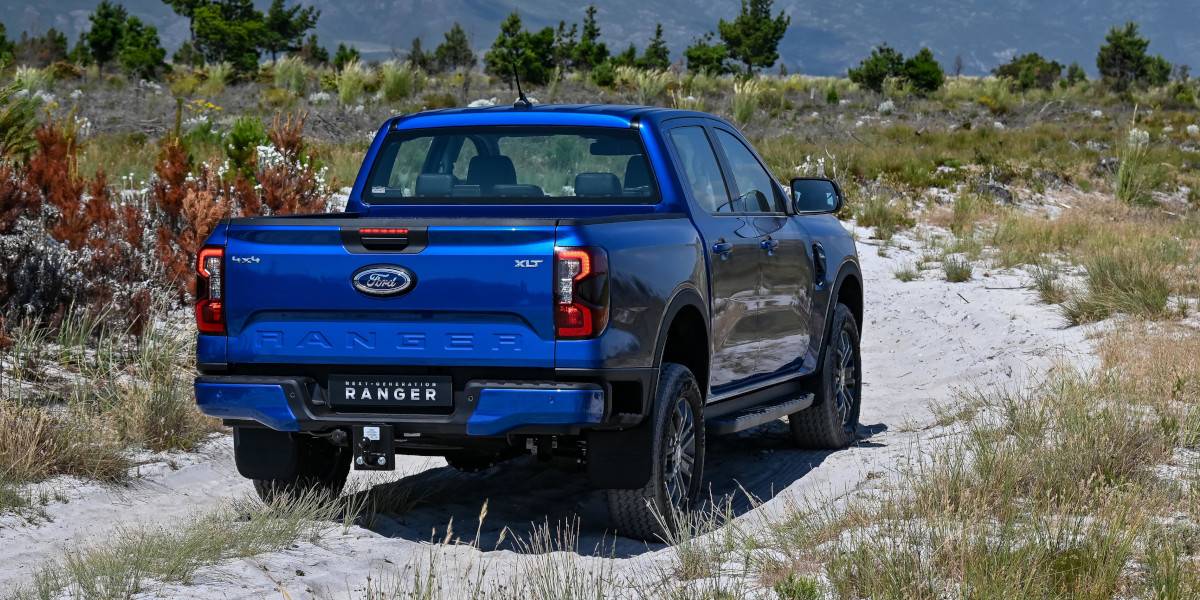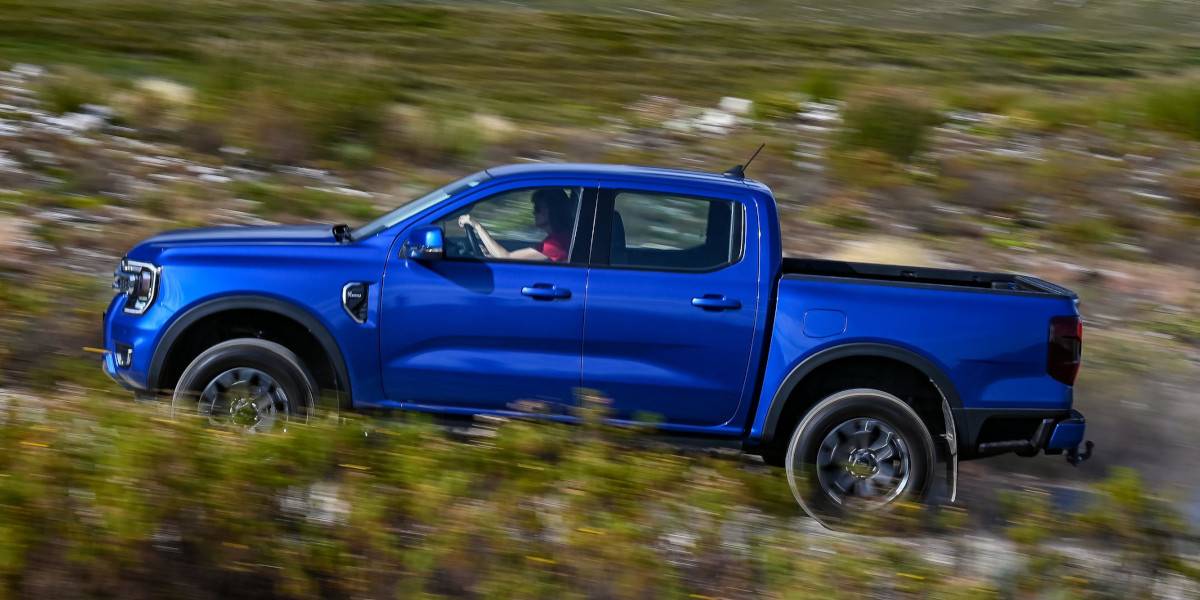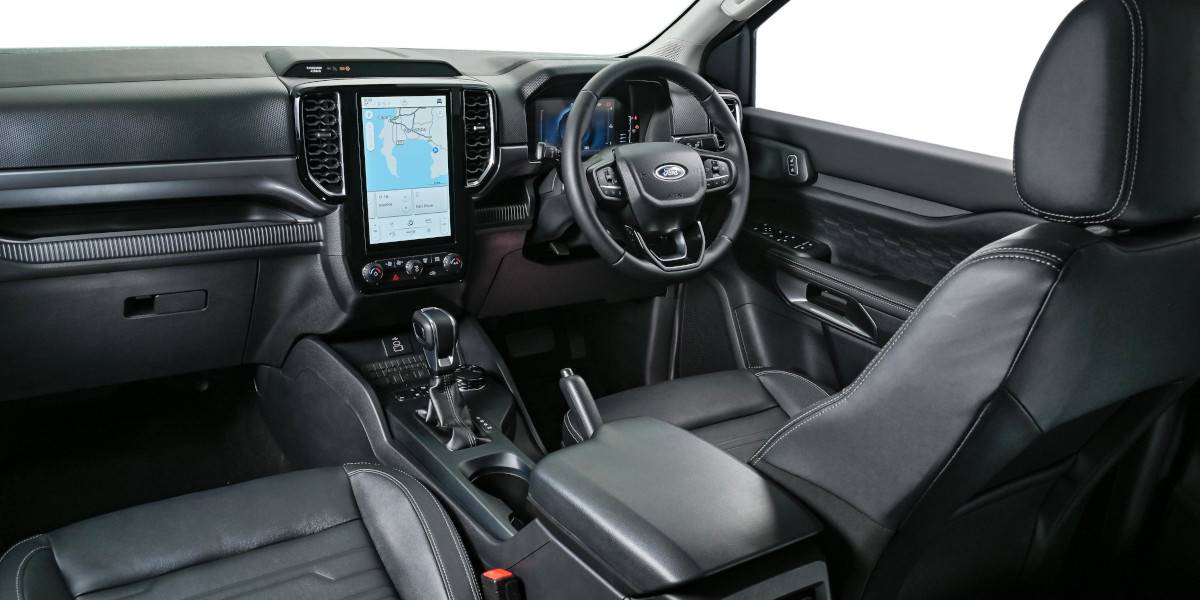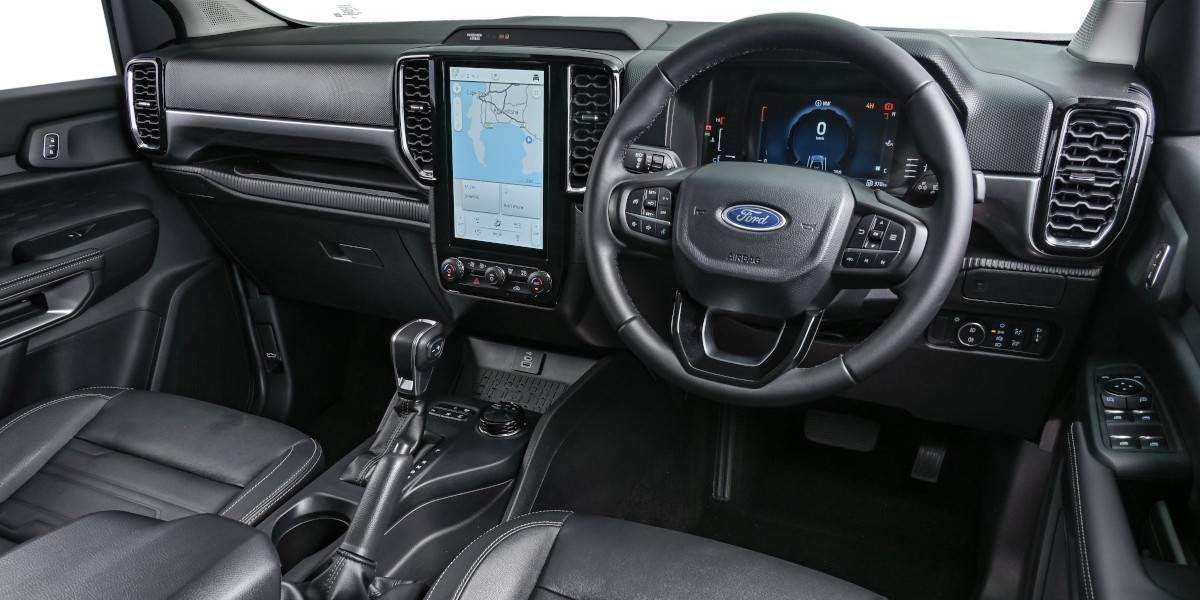 2.0 SiT XL S CAB 4X2

Service / Maintenance / Warranty

Service interval

15 000 km

Warranty and Service Plan

4 YEAR/120000KM WARRANTY, 5 YEAR/UNLIMITED KM ANTI-CORROSION WARRANTY, 4 YEAR/UNLIMITED KM ROADSIDE ASSISTANCE

Active and Passive Safety

Electronic Brakeforce Distribution (EBD)

YES

ISOfix (secure child seat)

YES

Engine

LONGITUDINAL INLINE 4

Valves

DOHC, 4 VALVES PER CYLINDER

Average fuel consumption

7.7 l/Km

Driving and Control Environment

Steering adjustment (up down)

YES

Steering adjustment (in out)

YES

Multi function steering wheel

AUDIO, PHONE

Electric window detail

FRONT + REAR

Electric window 1-touch

DRIVER, PASSENGER

Colour coded bumpers

PAINTED

Colour coded mirrors

BLACK

Fog lamps - front

HALOGEN
2.0 SiT XL X CAB 4X2

Service / Maintenance / Warranty

Service interval

15 000 km

Warranty and Service Plan

4 YEAR/120000KM WARRANTY, 5 YEAR/UNLIMITED KM ANTI-CORROSION WARRANTY, 4 YEAR/UNLIMITED KM ROADSIDE ASSISTANCE

Active and Passive Safety

Electronic Brakeforce Distribution (EBD)

YES

ISOfix (secure child seat)

YES

Engine

LONGITUDINAL INLINE 4

Valves

DOHC, 4 VALVES PER CYLINDER

Average fuel consumption

7.7 l/Km

Driving and Control Environment

Steering adjustment (up down)

YES

Steering adjustment (in out)

YES

Multi function steering wheel

AUDIO, PHONE

Electric window detail

FRONT + REAR

Electric window 1-touch

DRIVER, PASSENGER

Colour coded bumpers

PAINTED

Colour coded mirrors

BLACK

Fog lamps - front

HALOGEN
2.0 SiT D CAB BASE 4X2

Service / Maintenance / Warranty

Service interval

15 000 km

Warranty and Service Plan

4 YEAR/120000KM WARRANTY, 5 YEAR/UNLIMITED KM ANTI-CORROSION WARRANTY, 4 YEAR/UNLIMITED KM ROADSIDE ASSISTANCE

Active and Passive Safety

ISOfix (secure child seat)

YES

Engine

LONGITUDINAL INLINE 4

Valves

DOHC, 4 VALVES PER CYLINDER

Average fuel consumption

6.9 l/Km

Driving and Control Environment

Steering adjustment (up down)

YES

Steering adjustment (in out)

YES

Multi function steering wheel

AUDIO, PHONE

Electric window detail

FRONT + REAR

Electric window 1-touch

DRIVER, PASSENGER

Colour coded bumpers

BLACK

Colour coded mirrors

BLACK
2.0 SiT XL S CAB AT 4X2

Service / Maintenance / Warranty

Service interval

15 000 km

Warranty and Service Plan

4 YEAR/120000KM WARRANTY, 5 YEAR/UNLIMITED KM ANTI-CORROSION WARRANTY, 4 YEAR/UNLIMITED KM ROADSIDE ASSISTANCE

Active and Passive Safety

Electronic Brakeforce Distribution (EBD)

YES

ISOfix (secure child seat)

YES

Engine

LONGITUDINAL INLINE 4

Valves

DOHC, 4 VALVES PER CYLINDER

Average fuel consumption

7.7 l/Km

Driving and Control Environment

Steering adjustment (up down)

YES

Steering adjustment (in out)

YES

Multi function steering wheel

AUDIO, PHONE

Electric window detail

FRONT + REAR

Electric window 1-touch

DRIVER, PASSENGER

Colour coded bumpers

PAINTED

Colour coded mirrors

BLACK

Fog lamps - front

HALOGEN
2.0 SiT XL X CAB AT 4X2

Service / Maintenance / Warranty

Service interval

15 000 km

Warranty and Service Plan

4 YEAR/120000KM WARRANTY, 5 YEAR/UNLIMITED KM ANTI-CORROSION WARRANTY, 4 YEAR/UNLIMITED KM ROADSIDE ASSISTANCE

Active and Passive Safety

Electronic Brakeforce Distribution (EBD)

YES

ISOfix (secure child seat)

YES

Engine

LONGITUDINAL INLINE 4

Valves

DOHC, 4 VALVES PER CYLINDER

Average fuel consumption

7.7 l/Km

Driving and Control Environment

Steering adjustment (up down)

YES

Steering adjustment (in out)

YES

Multi function steering wheel

AUDIO, PHONE

Electric window detail

FRONT + REAR

Electric window 1-touch

DRIVER, PASSENGER

Colour coded bumpers

PAINTED

Colour coded mirrors

BLACK

Fog lamps - front

HALOGEN
2.0 SiT D CAB BASE 4X4

Service / Maintenance / Warranty

Service interval

15 000 km

Warranty and Service Plan

4 YEAR/120000KM WARRANTY, 5 YEAR/UNLIMITED KM ANTI-CORROSION WARRANTY, 4 YEAR/UNLIMITED KM ROADSIDE ASSISTANCE

Active and Passive Safety

ISOfix (secure child seat)

YES

Engine

LONGITUDINAL INLINE 4

Valves

DOHC, 4 VALVES PER CYLINDER

Average fuel consumption

7.1 l/Km

Driving and Control Environment

Steering adjustment (up down)

YES

Steering adjustment (in out)

YES

Multi function steering wheel

AUDIO, PHONE

Electric window detail

FRONT + REAR

Electric window 1-touch

DRIVER, PASSENGER

Colour coded bumpers

BLACK

Colour coded mirrors

BLACK
2.0 SiT D CAB XL 4X2

Service / Maintenance / Warranty

Service interval

15 000 km

Warranty and Service Plan

4 YEAR/120000KM WARRANTY, 5 YEAR/UNLIMITED KM ANTI-CORROSION WARRANTY, 4 YEAR/UNLIMITED KM ROADSIDE ASSISTANCE

Active and Passive Safety

ISOfix (secure child seat)

YES

Engine

LONGITUDINAL INLINE 4

Valves

DOHC, 4 VALVES PER CYLINDER

Average fuel consumption

6.9 l/Km

Driving and Control Environment

Steering adjustment (up down)

YES

Steering adjustment (in out)

YES

Multi function steering wheel

AUDIO, PHONE

Electric window detail

FRONT + REAR

Electric window 1-touch

DRIVER, PASSENGER

Colour coded bumpers

PAINTED

Colour coded mirrors

BLACK

Fog lamps - front

HALOGEN

Park distance - rear

OPTION
2.0 SiT XL S CAB 4X4

Service / Maintenance / Warranty

Service interval

15 000 km

Warranty and Service Plan

4 YEAR/120000KM WARRANTY, 5 YEAR/UNLIMITED KM ANTI-CORROSION WARRANTY, 4 YEAR/UNLIMITED KM ROADSIDE ASSISTANCE

Active and Passive Safety

Electronic Brakeforce Distribution (EBD)

YES

ISOfix (secure child seat)

YES

Engine

LONGITUDINAL INLINE 4

Valves

DOHC, 4 VALVES PER CYLINDER

Average fuel consumption

7.7 l/Km

Driving and Control Environment

Steering adjustment (up down)

YES

Steering adjustment (in out)

YES

Multi function steering wheel

AUDIO, PHONE

Electric window detail

FRONT + REAR

Electric window 1-touch

DRIVER, PASSENGER

Colour coded bumpers

PAINTED

Colour coded mirrors

BLACK

Fog lamps - front

HALOGEN
2.0 SiT XL X CAB AT 4X4

Service / Maintenance / Warranty

Service interval

15 000 km

Warranty and Service Plan

4 YEAR/120000KM WARRANTY, 5 YEAR/UNLIMITED KM ANTI-CORROSION WARRANTY, 4 YEAR/UNLIMITED KM ROADSIDE ASSISTANCE

Active and Passive Safety

Electronic Brakeforce Distribution (EBD)

YES

ISOfix (secure child seat)

YES

Engine

LONGITUDINAL INLINE 4

Valves

DOHC, 4 VALVES PER CYLINDER

Average fuel consumption

7.7 l/Km

Driving and Control Environment

Steering adjustment (up down)

YES

Steering adjustment (in out)

YES

Multi function steering wheel

AUDIO, PHONE

Electric window detail

FRONT + REAR

Electric window 1-touch

DRIVER, PASSENGER

Colour coded bumpers

PAINTED

Colour coded mirrors

BLACK

Fog lamps - front

HALOGEN
2.0 SiT XLT X CAB AT 4X2

Service / Maintenance / Warranty

Service interval

15 000 km

Warranty and Service Plan

4 YEAR/120000KM WARRANTY, 5 YEAR/UNLIMITED KM ANTI-CORROSION WARRANTY, 4 YEAR/UNLIMITED KM ROADSIDE ASSISTANCE

Active and Passive Safety

Electronic Brakeforce Distribution (EBD)

YES

Auto Windscreen Wipers

YES

ISOfix (secure child seat)

YES

Engine

LONGITUDINAL INLINE 4

Valves

DOHC, 4 VALVES PER CYLINDER

Average fuel consumption

7.7 l/Km

Driving and Control Environment

Steering adjustment (up down)

YES

Steering adjustment (in out)

YES

Multi function steering wheel

AUDIO, CRUISE, PHONE

Electric window detail

FRONT + REAR

Electric window 1-touch

DRIVER, PASSENGER

Colour coded bumpers

PAINTED

Colour coded mirrors

BODY

Fog lamps - front

HALOGEN
2.0 SiT D CAB XL 4X2 6AT

Service / Maintenance / Warranty

Service interval

15 000 km

Warranty and Service Plan

4 YEAR/120000KM WARRANTY, 5 YEAR/UNLIMITED KM ANTI-CORROSION WARRANTY, 4 YEAR/UNLIMITED KM ROADSIDE ASSISTANCE

Active and Passive Safety

ISOfix (secure child seat)

YES

Engine

LONGITUDINAL INLINE 4

Valves

DOHC, 4 VALVES PER CYLINDER

Average fuel consumption

7.5 l/Km

Driving and Control Environment

Steering adjustment (up down)

YES

Steering adjustment (in out)

YES

Multi function steering wheel

AUDIO, PHONE

Electric window detail

FRONT + REAR

Electric window 1-touch

DRIVER, PASSENGER

Colour coded bumpers

PAINTED

Colour coded mirrors

BLACK

Fog lamps - front

HALOGEN

Park distance - rear

OPTION
2.0 SiT XL S CAB AT 4X4

Service / Maintenance / Warranty

Service interval

15 000 km

Warranty and Service Plan

4 YEAR/120000KM WARRANTY, 5 YEAR/UNLIMITED KM ANTI-CORROSION WARRANTY, 4 YEAR/UNLIMITED KM ROADSIDE ASSISTANCE

Active and Passive Safety

Electronic Brakeforce Distribution (EBD)

YES

ISOfix (secure child seat)

YES

Engine

LONGITUDINAL INLINE 4

Valves

DOHC, 4 VALVES PER CYLINDER

Average fuel consumption

7.7 l/Km

Driving and Control Environment

Steering adjustment (up down)

YES

Steering adjustment (in out)

YES

Multi function steering wheel

AUDIO, PHONE

Electric window detail

FRONT + REAR

Electric window 1-touch

DRIVER, PASSENGER

Colour coded bumpers

PAINTED

Colour coded mirrors

BLACK

Fog lamps - front

HALOGEN
2.0 SiT D CAB XLT 4X2 6AT

Service / Maintenance / Warranty

Service interval

15 000 km

Warranty and Service Plan

4 YEAR/120000KM WARRANTY, 5 YEAR/UNLIMITED KM ANTI-CORROSION WARRANTY, 4 YEAR/UNLIMITED KM ROADSIDE ASSISTANCE

Active and Passive Safety

Auto Windscreen Wipers

YES

ISOfix (secure child seat)

YES

Engine

LONGITUDINAL INLINE 4

Valves

DOHC, 4 VALVES PER CYLINDER

Average fuel consumption

7.5 l/Km

Driving and Control Environment

Steering adjustment (up down)

YES

Steering adjustment (in out)

YES

Multi function steering wheel

AUDIO, PHONE

Electric window detail

FRONT + REAR

Electric window 1-touch

DRIVER, PASSENGER

Colour coded bumpers

PAINTED

Colour coded mirrors

BODY

Fog lamps - front

HALOGEN
2.0 SiT D CAB XL 4X4

Service / Maintenance / Warranty

Service interval

15 000 km

Warranty and Service Plan

4 YEAR/120000KM WARRANTY, 5 YEAR/UNLIMITED KM ANTI-CORROSION WARRANTY, 4 YEAR/UNLIMITED KM ROADSIDE ASSISTANCE

Active and Passive Safety

ISOfix (secure child seat)

YES

Engine

LONGITUDINAL INLINE 4

Valves

DOHC, 4 VALVES PER CYLINDER

Average fuel consumption

7.1 l/Km

Driving and Control Environment

Steering adjustment (up down)

YES

Steering adjustment (in out)

YES

Multi function steering wheel

AUDIO, PHONE

Electric window detail

FRONT + REAR

Electric window 1-touch

DRIVER, PASSENGER

Colour coded bumpers

PAINTED

Colour coded mirrors

BLACK

Park distance - rear

OPTION
2.0 SiT D CAB XL 4X4 6AT

Service / Maintenance / Warranty

Service interval

15 000 km

Warranty and Service Plan

4 YEAR/120000KM WARRANTY, 5 YEAR/UNLIMITED KM ANTI-CORROSION WARRANTY, 4 YEAR/UNLIMITED KM ROADSIDE ASSISTANCE

Active and Passive Safety

ISOfix (secure child seat)

YES

Engine

LONGITUDINAL INLINE 4

Valves

DOHC, 4 VALVES PER CYLINDER

Average fuel consumption

7.7 l/Km

Driving and Control Environment

Steering adjustment (up down)

YES

Steering adjustment (in out)

YES

Multi function steering wheel

AUDIO, PHONE

Electric window detail

FRONT + REAR

Electric window 1-touch

DRIVER, PASSENGER

Colour coded bumpers

PAINTED

Colour coded mirrors

BLACK

Park distance - rear

OPTION
2.0 SiT D CAB XLT 4X4 6AT

Service / Maintenance / Warranty

Service interval

15 000 km

Warranty and Service Plan

4 YEAR/120000KM WARRANTY, 5 YEAR/UNLIMITED KM ANTI-CORROSION WARRANTY, 4 YEAR/UNLIMITED KM ROADSIDE ASSISTANCE

Active and Passive Safety

Auto Windscreen Wipers

YES

ISOfix (secure child seat)

YES

Engine

LONGITUDINAL INLINE 4

Valves

DOHC, 4 VALVES PER CYLINDER

Average fuel consumption

7.7 l/Km

Driving and Control Environment

Steering adjustment (up down)

YES

Steering adjustment (in out)

YES

Multi function steering wheel

AUDIO, PHONE

Electric window detail

FRONT + REAR

Electric window 1-touch

DRIVER, PASSENGER

Colour coded bumpers

PAINTED

Colour coded mirrors

BODY

Fog lamps - front

HALOGEN
2.0 BiT XLT X CAB 10AT 4X4

Service / Maintenance / Warranty

Service interval

15 000 km

Warranty and Service Plan

4 YEAR/120000KM WARRANTY, 5 YEAR/UNLIMITED KM ANTI-CORROSION WARRANTY, 4 YEAR/UNLIMITED KM ROADSIDE ASSISTANCE

Active and Passive Safety

Auto Windscreen Wipers

YES

ISOfix (secure child seat)

YES

Engine

LONGITUDINAL INLINE 4

Valves

DOHC, 4 VALVES PER CYLINDER

Average fuel consumption

7.5 l/Km

Driving and Control Environment

Steering adjustment (up down)

YES

Steering adjustment (in out)

YES

Multi function steering wheel

AUDIO, CRUISE, PHONE

Electric window detail

FRONT + REAR

Electric window 1-touch

DRIVER, PASSENGER

Colour coded bumpers

PAINTED

Colour coded mirrors

BODY

Fog lamps - front

HALOGEN
2.0 BiT D CAB XLT 4X2 10AT

Service / Maintenance / Warranty

Service interval

15 000 km

Warranty and Service Plan

4 YEAR/120000KM WARRANTY, 5 YEAR/UNLIMITED KM ANTI-CORROSION WARRANTY, 4 YEAR/UNLIMITED KM ROADSIDE ASSISTANCE

Active and Passive Safety

Auto Windscreen Wipers

YES

ISOfix (secure child seat)

YES

Engine

LONGITUDINAL INLINE 4

Valves

DOHC, 4 VALVES PER CYLINDER

Average fuel consumption

7.2 l/Km

Driving and Control Environment

Steering adjustment (up down)

YES

Steering adjustment (in out)

YES

Multi function steering wheel

AUDIO, CRUISE, PHONE

Electric window detail

FRONT + REAR

Electric window 1-touch

DRIVER, PASSENGER

Colour coded bumpers

PAINTED

Colour coded mirrors

BODY

Fog lamps - front

HALOGEN
2.0 BiT WILDTRAK X CAB 10AT 4X4

Service / Maintenance / Warranty

Service interval

15 000 km

Warranty and Service Plan

4 YEAR/120000KM WARRANTY, 5 YEAR/UNLIMITED KM ANTI-CORROSION WARRANTY, 4 YEAR/UNLIMITED KM ROADSIDE ASSISTANCE

Active and Passive Safety

Auto Windscreen Wipers

YES

ISOfix (secure child seat)

YES

Engine

LONGITUDINAL INLINE 4

Valves

DOHC, 4 VALVES PER CYLINDER

Average fuel consumption

7.5 l/Km

Driving and Control Environment

Steering adjustment (up down)

YES

Steering adjustment (in out)

YES

Multi function steering wheel

AUDIO, CRUISE, PHONE

Electric window detail

FRONT + REAR

Electric window 1-touch

DRIVER, PASSENGER

Colour coded bumpers

PAINTED

Colour coded mirrors

BLACK
2.0 BiT D CAB WILDTRAK 4X2 10AT

Service / Maintenance / Warranty

Service interval

15 000 km

Warranty and Service Plan

4 YEAR/120000KM WARRANTY, 5 YEAR/UNLIMITED KM ANTI-CORROSION WARRANTY, 4 YEAR/UNLIMITED KM ROADSIDE ASSISTANCE

Active and Passive Safety

Electronic Brakeforce Distribution (EBD)

YES

Auto Windscreen Wipers

YES

ISOfix (secure child seat)

YES

Engine

LONGITUDINAL INLINE 4

Valves

DOHC, 4 VALVES PER CYLINDER

Average fuel consumption

7.2 l/Km

Driving and Control Environment

Steering adjustment (up down)

YES

Steering adjustment (in out)

YES

Multi function steering wheel

AUDIO, CRUISE, PHONE

Electric window detail

FRONT + REAR

Electric window 1-touch

DRIVER, PASSENGER

Colour coded bumpers

PAINTED

Colour coded mirrors

BLACK
2.0 BiT D CAB XLT 4X4 10AT

Service / Maintenance / Warranty

Service interval

15 000 km

Warranty and Service Plan

4 YEAR/120000KM WARRANTY, 5 YEAR/UNLIMITED KM ANTI-CORROSION WARRANTY, 4 YEAR/UNLIMITED KM ROADSIDE ASSISTANCE

Active and Passive Safety

Auto Windscreen Wipers

YES

ISOfix (secure child seat)

YES

Engine

LONGITUDINAL INLINE 4

Valves

DOHC, 4 VALVES PER CYLINDER

Average fuel consumption

7.5 l/Km

Driving and Control Environment

Steering adjustment (up down)

YES

Steering adjustment (in out)

YES

Multi function steering wheel

AUDIO, CRUISE, PHONE

Electric window detail

FRONT + REAR

Electric window 1-touch

DRIVER, PASSENGER

Colour coded bumpers

PAINTED

Colour coded mirrors

BODY

Fog lamps - front

HALOGEN
2.0 BiT D CAB WILDTRAK 4X4 10AT

Service / Maintenance / Warranty

Service interval

15 000 km

Warranty and Service Plan

4 YEAR/120000KM WARRANTY, 5 YEAR/UNLIMITED KM ANTI-CORROSION WARRANTY, 4 YEAR/UNLIMITED KM ROADSIDE ASSISTANCE

Active and Passive Safety

Electronic Brakeforce Distribution (EBD)

YES

Auto Windscreen Wipers

YES

ISOfix (secure child seat)

YES

Engine

LONGITUDINAL INLINE 4

Valves

DOHC, 4 VALVES PER CYLINDER

Average fuel consumption

7.5 l/Km

Driving and Control Environment

Steering adjustment (up down)

YES

Steering adjustment (in out)

YES

Multi function steering wheel

AUDIO, CRUISE, PHONE

Electric window detail

FRONT + REAR

Electric window 1-touch

DRIVER, PASSENGER

Colour coded bumpers

PAINTED

Colour coded mirrors

BLACK
3.0 V6 D CAB WILDTRAK 4WD 10AT

Service / Maintenance / Warranty

Service interval

15 000 km

Warranty and Service Plan

4 YEAR/120000KM WARRANTY, 5 YEAR/UNLIMITED KM ANTI-CORROSION WARRANTY, 4 YEAR/UNLIMITED KM ROADSIDE ASSISTANCE

Active and Passive Safety

Electronic Brakeforce Distribution (EBD)

YES

Auto Windscreen Wipers

YES

ISOfix (secure child seat)

YES

Valves

DOHC, 4 VALVES PER CYLINDER

Average fuel consumption

8.4 l/Km

Driving and Control Environment

Steering adjustment (up down)

YES

Steering adjustment (in out)

YES

Multi function steering wheel

AUDIO, CRUISE, PHONE

Electric window detail

FRONT + REAR

Electric window 1-touch

DRIVER, PASSENGER

Colour coded bumpers

PAINTED

Colour coded mirrors

BLACK
3.0 V6 RAPTOR D CAB 10AT 4WD

Service / Maintenance / Warranty

Service interval

15 000 km

Warranty and Service Plan

4 YEAR/120000KM WARRANTY, 5 YEAR/UNLIMITED KM ANTI-CORROSION WARRANTY, 4 YEAR/UNLIMITED KM ROADSIDE ASSISTANCE

Active and Passive Safety

Electronic Brakeforce Distribution (EBD)

YES

Auto Windscreen Wipers

YES

ISOfix (secure child seat)

YES

Valves

DOHC, 4 VALVES PER CYLINDER

Average fuel consumption

8.4 l/Km

Driving and Control Environment

Steering adjustment (up down)

YES

Steering adjustment (in out)

YES

Multi function steering wheel

AUDIO, CRUISE, PHONE

Electric window detail

FRONT + REAR

Electric window 1-touch

DRIVER, PASSENGER

Colour coded bumpers

PAINTED

Colour coded mirrors

BLACK
Available Colour Options