FORD TOURNEO CUSTOM MODELS
Share the memories.
With a multitude of flexible seating configurations, TOURNEO CUSTOM helps to make every outing unforgettable.
120 000/48
Warranty km/months
ATS
Auto Traction Control
EBD
Electronic Brakeforce Distribution
6.5 - 6.7 l/100km
Average Fuel Consumption
ABS
Anti-lock Braking System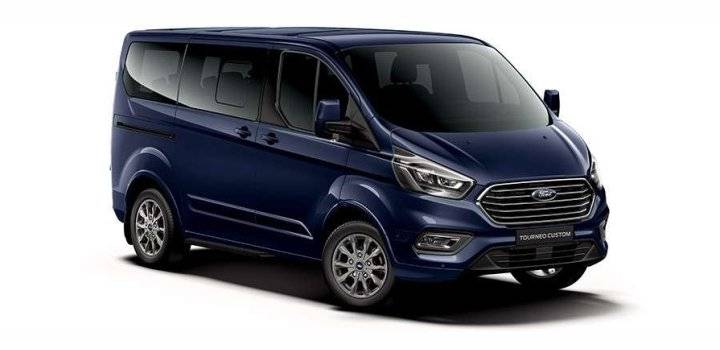 Smart solutions.
The generously proportioned interior of the TOURNEO CUSTOM unites space with smart versatility. It can carry up to eight in complete luxury, or be easily reconfigured to offer up to 6.8m3 (SAE) of luggage space.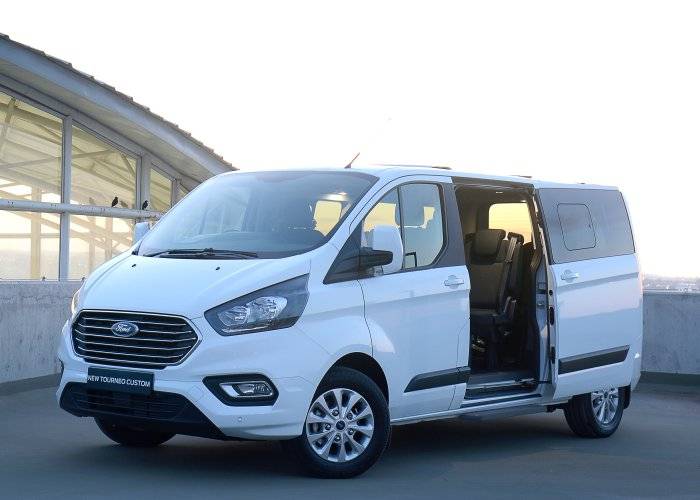 Making every drop of fuel count.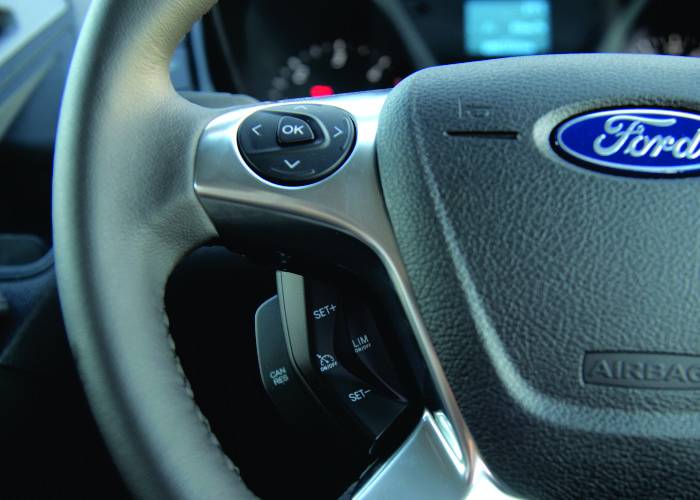 Ford Technology, combined with efficient aerodynamics, has resulted in outstanding fuel economy across the range.
Flexible rear seats with tilt function
Each seatback can fold forward to create a flat workspace. The whole seat can fold forward again to take up minimal space. For more room, each seat can be removed. The flexibility of this new seating system can create over 30 different seating and loadspace configurations to suit any occasion.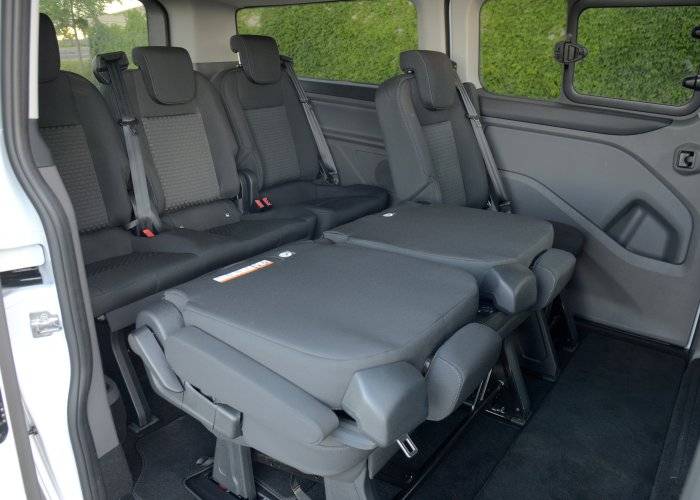 2.2 TDCI AMBIENTE LWB

Service / Maintenance / Warranty

Service interval

15 000 km

Warranty and Service Plan

4 YEAR/120000KM WARRANTY, OPTIONAL SERVICE PLAN, 5 YEAR ANTI-CORROSION, 3 YEAR ROADSIDE ASSISTANCE

Active and Passive Safety

Electronic Brakeforce Distribution (EBD)

YES

Auto Windscreen Wipers

YES

ISOfix (secure child seat)

YES

Engine

TRANSVERSE INLINE 4

Valves

DOHC, 4 VALVES PER CYLINDER, TURBO

Average fuel consumption

6.5 l/Km

Driving and Control Environment

Multi function steering wheel

AUDIO, CRUISE CONTRO

Electric window detail

FRONT

Electric window 1-touch

DRIVER

Colour coded bumpers

PAINTED

Colour coded mirrors

BLACK
2.2 TDCI TREND LWB

Service / Maintenance / Warranty

Service interval

15 000 km

Warranty and Service Plan

4 YEAR/120000KM WARRANTY, OPTIONAL SERVICE PLAN, 5 YEAR ANTI-CORROSION, 3 YEAR ROADSIDE ASSISTANCE

Active and Passive Safety

Electronic Brakeforce Distribution (EBD)

YES

Auto Windscreen Wipers

YES

ISOfix (secure child seat)

YES

Engine

TRANSVERSE INLINE 4

Valves

DOHC, 4 VALVES PER CYLINDER, TURBO

Average fuel consumption

6.5 l/Km

Driving and Control Environment

Multi function steering wheel

AUDIO, CRUISE CONTRO

Electric window detail

FRONT

Electric window 1-touch

DRIVER

Colour coded bumpers

PAINTED

Colour coded mirrors

BODY
2.2 TDCI SWB LTD

Service / Maintenance / Warranty

Service interval

15 000 km

Warranty and Service Plan

4 YEAR/120000KM WARRANTY, OPTIONAL SERVICE PLAN, 5 YEAR ANTI-CORROSION, 3 YEAR ROADSIDE ASSISTANCE

Active and Passive Safety

Electronic Brakeforce Distribution (EBD)

YES

Auto Windscreen Wipers

YES

ISOfix (secure child seat)

YES

Engine

TRANSVERSE INLINE 4

Valves

DOHC, 4 VALVES PER CYLINDER, TURBO

Average fuel consumption

6.5 l/Km

Driving and Control Environment

Multi function steering wheel

AUDIO, CRUISE CONTRO

Electric window detail

FRONT

Electric window 1-touch

DRIVER

Colour coded bumpers

PAINTED

Colour coded mirrors

BODY
2.0 TURBO TREND LWB AT

Service / Maintenance / Warranty

Service interval

15 000 km

Warranty and Service Plan

4 YEAR/120000KM WARRANTY, OPTIONAL SERVICE PLAN, 5 YEAR ANTI-CORROSION, 3 YEAR ROADSIDE ASSISTANCE

Active and Passive Safety

Electronic Brakeforce Distribution (EBD)

YES

Auto Windscreen Wipers

YES

ISOfix (secure child seat)

YES

Engine

TRANSVERSE INLINE 4

Valves

DOHC, 4 VALVES PER CYLINDER, TURBO

Average fuel consumption

6.7 l/Km

Driving and Control Environment

Multi function steering wheel

AUDIO, CRUISE CONTRO

Electric window detail

FRONT

Electric window 1-touch

DRIVER

Colour coded bumpers

PAINTED

Colour coded mirrors

BODY

Park distance - rear

OPTION
2.0 TURBO LIMITED SWB AT

Service / Maintenance / Warranty

Service interval

15 000 km

Warranty and Service Plan

4 YEAR/120000KM WARRANTY, OPTIONAL SERVICE PLAN, 5 YEAR ANTI-CORROSION, 3 YEAR ROADSIDE ASSISTANCE

Active and Passive Safety

Electronic Brakeforce Distribution (EBD)

YES

Auto Windscreen Wipers

YES

ISOfix (secure child seat)

YES

Engine

TRANSVERSE INLINE 4

Valves

DOHC, 4 VALVES PER CYLINDER, TURBO

Average fuel consumption

6.7 l/Km

Driving and Control Environment

Multi function steering wheel

AUDIO, CRUISE CONTRO

Electric window detail

FRONT

Electric window 1-touch

DRIVER

Colour coded bumpers

PAINTED

Colour coded mirrors

BODY

Park distance - rear

OPTION
Available Colour Options