KIA PICANTO MODELS
The city belongs to you
If the city makes you feel young and alive, and you're eager to explore new places, you've found a soulmate in the new Picanto. Compact on the outside, roomy on the inside, and full of big ideas. With its dynamic performance and agile maneuverability, the Picanto turns a neighborhood into its very own playground.
ABS
Anti-lock Braking System
4.9 - 6 l/100km
Average Fuel Consumption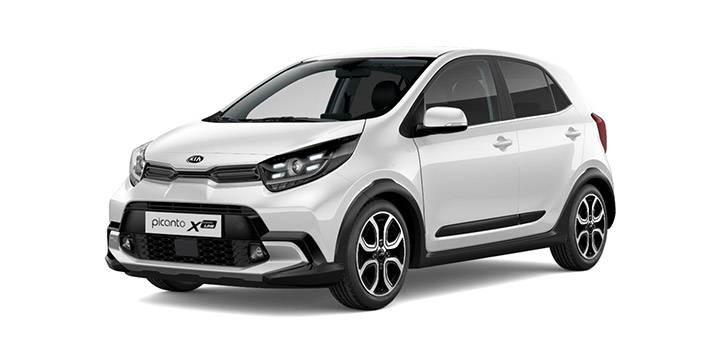 True style lies within
</br> It may be a compact car, but the Picanto's stylish interior gives you all the space you need to dash about town in comfort. And with ergonomically sound layout that places command for driving, entertainment and temperature control at your fingertips, you'll never have to take your eyes off the road. </br>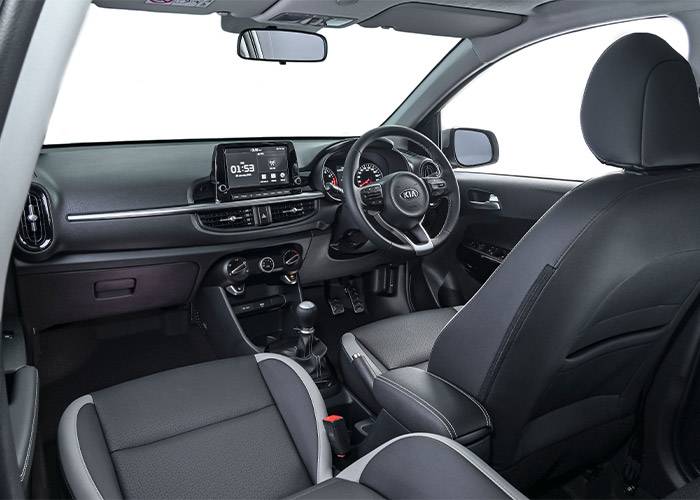 8-inch Floating Touch Screen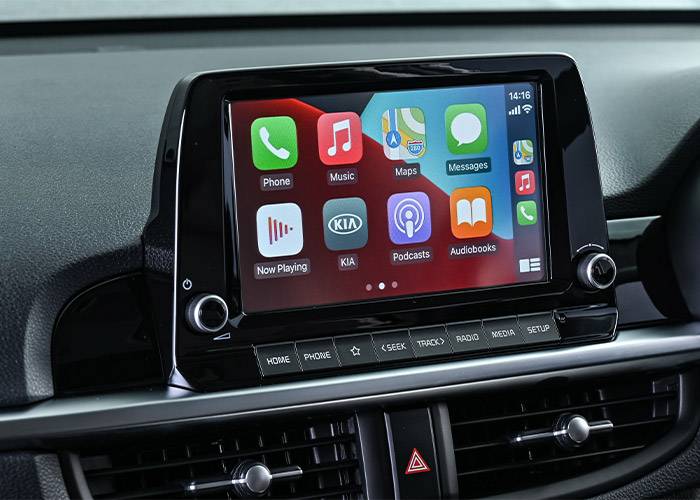 Whilst inside, you'll want for nothing with a sporty leather steering wheel giving you all the performance cues you need, an 8-inch floating infotainment touch screen. The classy infotainment system, with the 8" high-definition multimedia screen with Apple Carplay and Android Auto
Awesome is. Awesome does.
The updated top-of-the-range Picanto X-Line…really is at the top of its game. The dynamic front bumper with integrated fog lamps makes a true statement of intent, as does the sleek contoured radiator grille. Likewise, from behind, the X-Line leaves others wanting, with its stand-out rear bumper, integrated exhaust, and impressive 15" alloy wheels.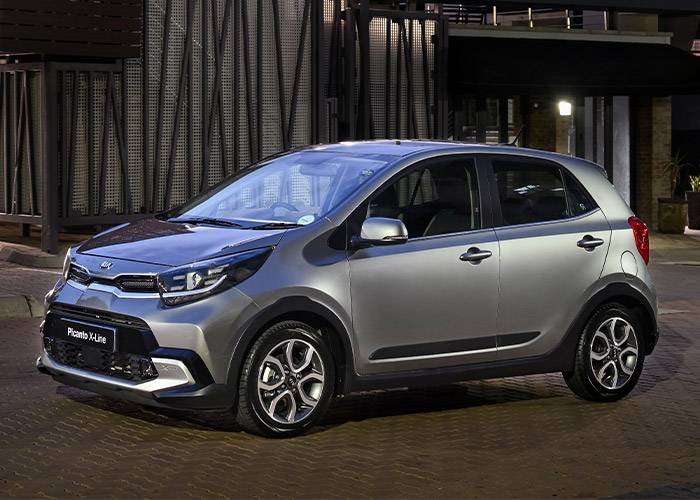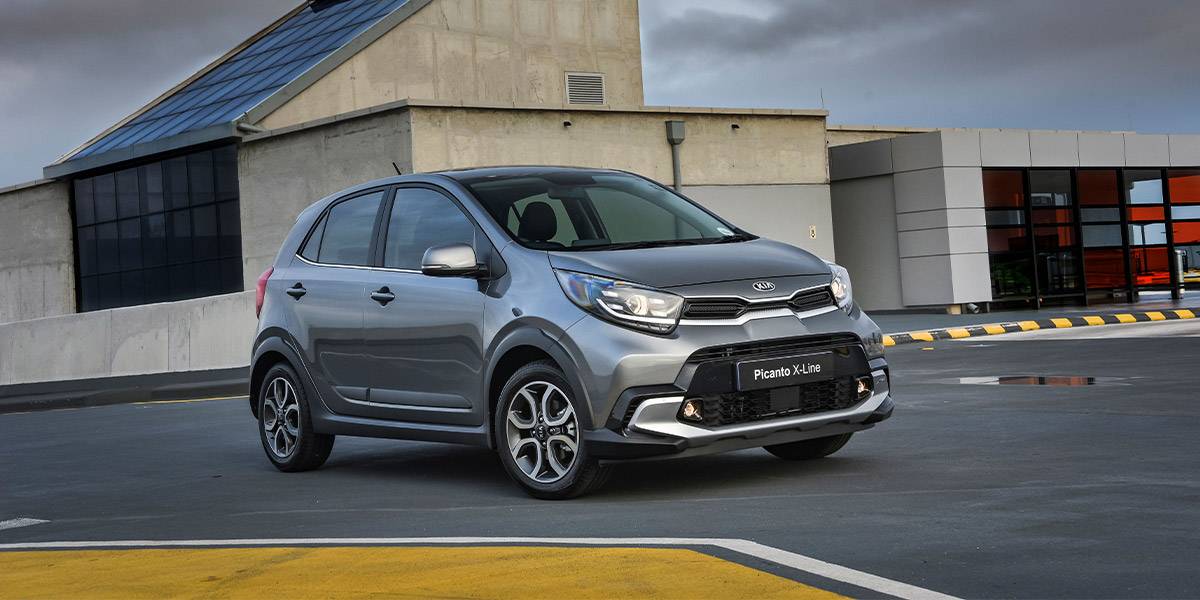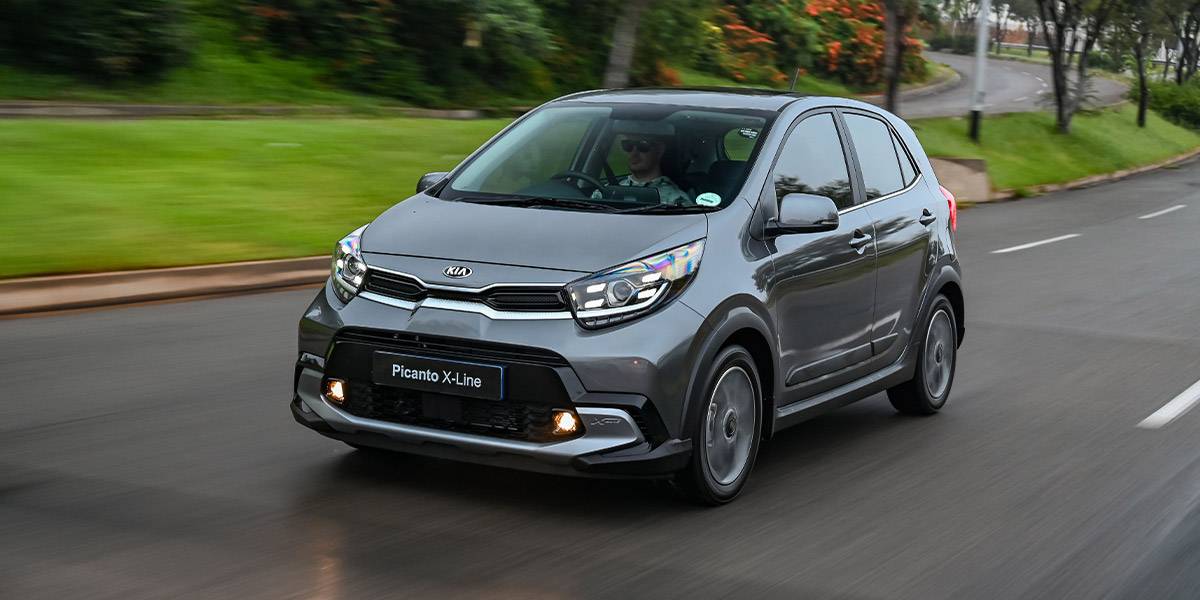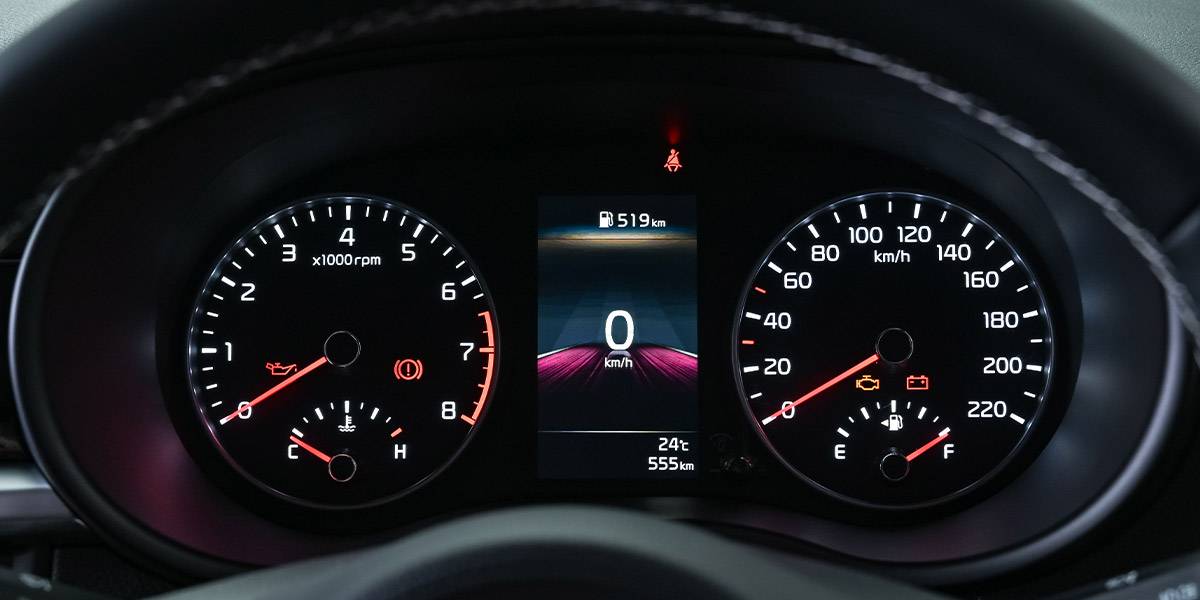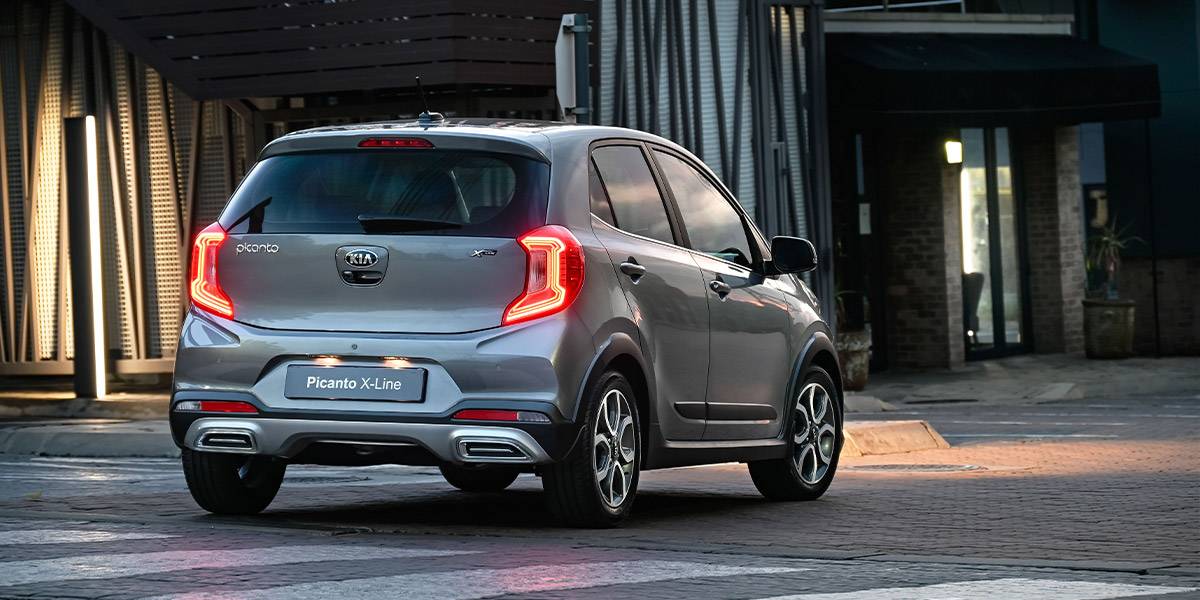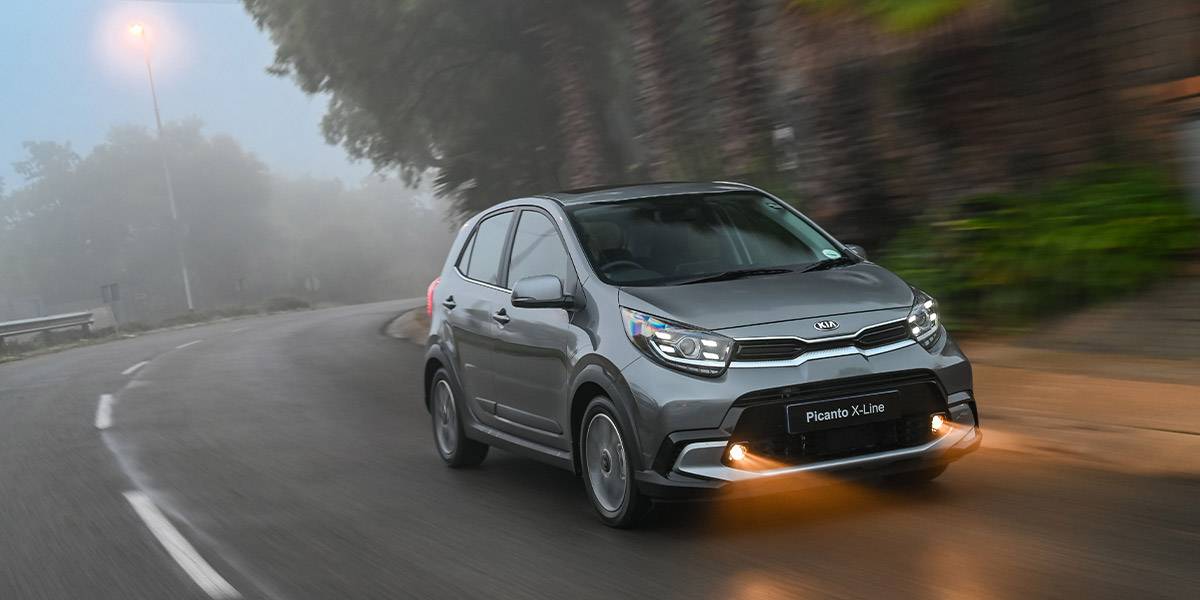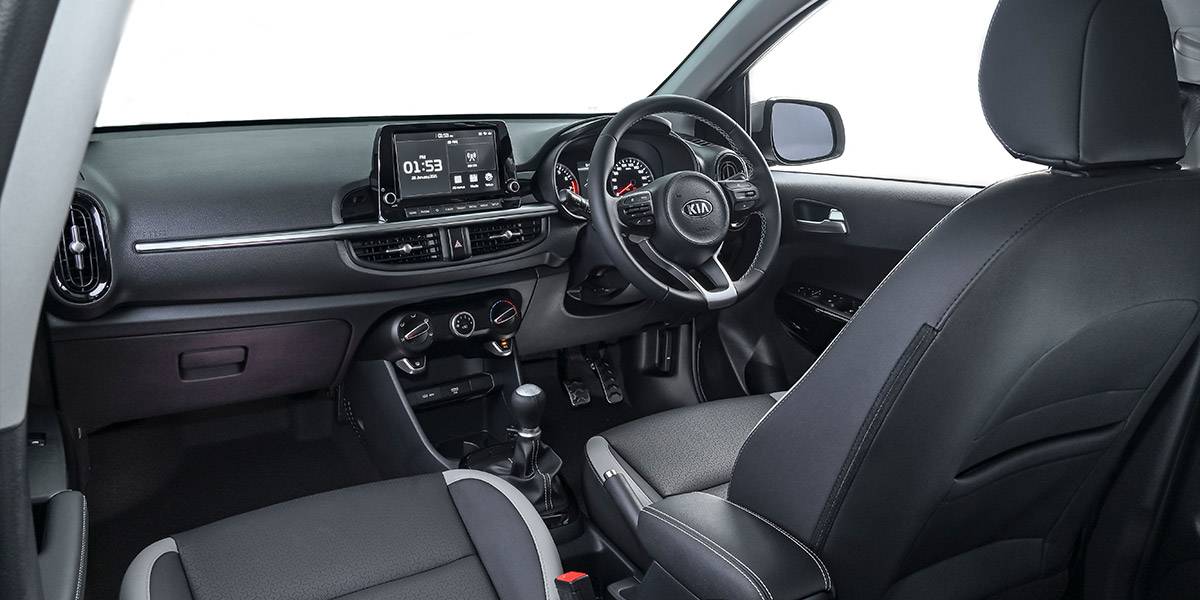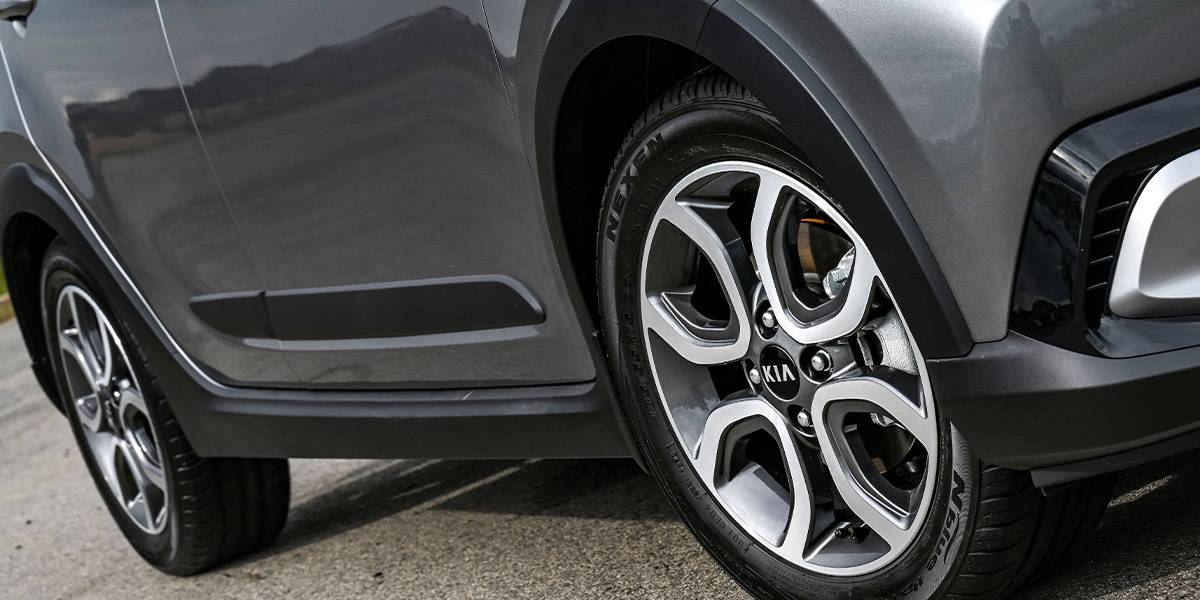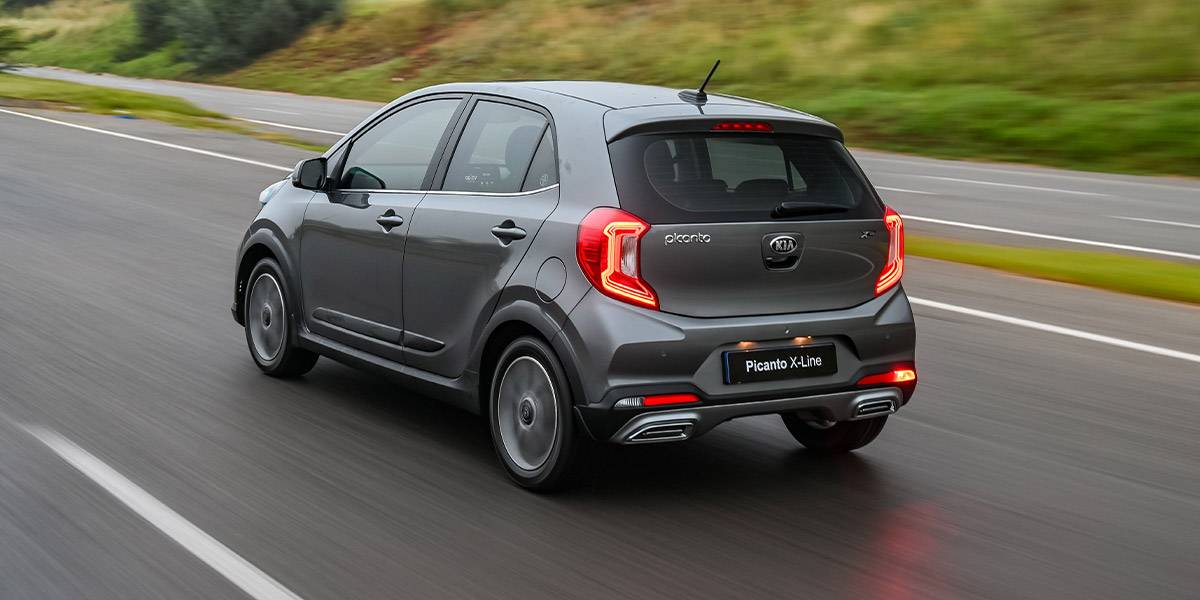 1.0 START

Service / Maintenance / Warranty

Service interval

15 000 km

Warranty and Service Plan

5 YEAR/UNLIMITED KM WARRANTY, 2 YEAR/30000KM SERVICE PLAN, 5 YEAR ROADSIDE ASSISTANCE

Active and Passive Safety

ISOfix (secure child seat)

YES

Engine

TRANSVERSE INLINE 3

Valves

DOHC, 4 VALVES PER CYLINDER

Average fuel consumption

4.9 l/Km

Driving and Control Environment

Steering adjustment (in out)

YES

Multi function steering wheel

AUDIO, PHONE

Spare tire size

SPACESAVER

Colour coded bumpers

PAINTED

Colour coded mirrors

BODY
1.0 STREET

Service / Maintenance / Warranty

Service interval

15 000 km

Warranty and Service Plan

5 YEAR/UNLIMITED KM WARRANTY, 2 YEAR/30000KM SERVICE PLAN, 5 YEAR ROADSIDE ASSISTANCE

Active and Passive Safety

ISOfix (secure child seat)

YES

Engine

TRANSVERSE INLINE 3

Valves

DOHC, 4 VALVES PER CYLINDER

Average fuel consumption

4.9 l/Km

Driving and Control Environment

Steering adjustment (in out)

YES

Multi function steering wheel

AUDIO, PHONE

Spare tire size

SPACESAVER

Electric window detail

FRONT + REAR

Colour coded bumpers

PAINTED

Colour coded mirrors

BODY
1.0 START AT

Service / Maintenance / Warranty

Service interval

15 000 km

Warranty and Service Plan

5 YEAR/UNLIMITED KM WARRANTY, 2 YEAR/30000KM SERVICE PLAN, 5 YEAR ROADSIDE ASSISTANCE

Active and Passive Safety

ISOfix (secure child seat)

YES

Engine

TRANSVERSE INLINE 3

Valves

DOHC, 4 VALVES PER CYLINDER

Average fuel consumption

5.6 l/Km

Driving and Control Environment

Steering adjustment (in out)

YES

Multi function steering wheel

AUDIO, PHONE

Spare tire size

SPACESAVER

Colour coded bumpers

PAINTED

Colour coded mirrors

BODY
1.2 STREET

Service / Maintenance / Warranty

Service interval

15 000 km

Warranty and Service Plan

5 YEAR/UNLIMITED KM WARRANTY, 2 YEAR/30000KM SERVICE PLAN, 5 YEAR ROADSIDE ASSISTANCE

Active and Passive Safety

ISOfix (secure child seat)

YES

Engine

TRANSVERSE INLINE 4

Valves

DOHC, 4 VALVES PER CYLINDER, CVVT

Average fuel consumption

5 l/Km

Driving and Control Environment

Steering adjustment (in out)

YES

Multi function steering wheel

AUDIO, PHONE

Spare tire size

SPACESAVER

Electric window detail

FRONT + REAR

Colour coded bumpers

PAINTED

Colour coded mirrors

BODY
1.0 STYLE

Service / Maintenance / Warranty

Service interval

15 000 km

Warranty and Service Plan

5 YEAR/UNLIMITED KM WARRANTY, 2 YEAR/30000KM SERVICE PLAN, 5 YEAR ROADSIDE ASSISTANCE

Active and Passive Safety

ISOfix (secure child seat)

YES

Engine

TRANSVERSE INLINE 3

Valves

DOHC, 4 VALVES PER CYLINDER

Average fuel consumption

4.9 l/Km

Driving and Control Environment

Steering adjustment (in out)

YES

Multi function steering wheel

AUDIO, PHONE

Spare tire size

SPACESAVER

Electric window detail

FRONT + REAR

Colour coded bumpers

PAINTED

Colour coded mirrors

BODY
1.0 STREET AT

Service / Maintenance / Warranty

Service interval

15 000 km

Warranty and Service Plan

5 YEAR/UNLIMITED KM WARRANTY, 2 YEAR/30000KM SERVICE PLAN, 5 YEAR ROADSIDE ASSISTANCE

Active and Passive Safety

ISOfix (secure child seat)

YES

Engine

TRANSVERSE INLINE 3

Valves

DOHC, 4 VALVES PER CYLINDER

Average fuel consumption

5.6 l/Km

Driving and Control Environment

Steering adjustment (in out)

YES

Multi function steering wheel

AUDIO, PHONE

Spare tire size

SPACESAVER

Electric window detail

FRONT + REAR

Colour coded bumpers

PAINTED

Colour coded mirrors

BODY
1.2 STYLE

Service / Maintenance / Warranty

Service interval

15 000 km

Warranty and Service Plan

5 YEAR/UNLIMITED KM WARRANTY, 2 YEAR/30000KM SERVICE PLAN, 5 YEAR ROADSIDE ASSISTANCE

Active and Passive Safety

ISOfix (secure child seat)

YES

Engine

TRANSVERSE INLINE 4

Valves

DOHC, 4 VALVES PER CYLINDER, CVVT

Average fuel consumption

5 l/Km

Driving and Control Environment

Steering adjustment (in out)

YES

Multi function steering wheel

AUDIO, PHONE

Spare tire size

SPACESAVER

Electric window detail

FRONT + REAR

Colour coded bumpers

PAINTED

Colour coded mirrors

BODY
1.2 STREET AT

Service / Maintenance / Warranty

Service interval

15 000 km

Warranty and Service Plan

5 YEAR/UNLIMITED KM WARRANTY, 2 YEAR/30000KM SERVICE PLAN, 5 YEAR ROADSIDE ASSISTANCE

Active and Passive Safety

ISOfix (secure child seat)

YES

Engine

TRANSVERSE INLINE 4

Valves

DOHC, 4 VALVES PER CYLINDER, CVVT

Average fuel consumption

5 l/Km

Driving and Control Environment

Steering adjustment (in out)

YES

Multi function steering wheel

AUDIO, PHONE

Spare tire size

SPACESAVER

Electric window detail

FRONT + REAR

Colour coded bumpers

PAINTED

Colour coded mirrors

BODY
1.0 STYLE AT

Service / Maintenance / Warranty

Service interval

15 000 km

Warranty and Service Plan

5 YEAR/UNLIMITED KM WARRANTY, 2 YEAR/30000KM SERVICE PLAN, 5 YEAR ROADSIDE ASSISTANCE

Active and Passive Safety

ISOfix (secure child seat)

YES

Engine

TRANSVERSE INLINE 3

Valves

DOHC, 4 VALVES PER CYLINDER

Average fuel consumption

5.6 l/Km

Driving and Control Environment

Steering adjustment (in out)

YES

Multi function steering wheel

AUDIO, PHONE

Spare tire size

SPACESAVER

Electric window detail

FRONT + REAR

Colour coded bumpers

PAINTED

Colour coded mirrors

BODY
1.2 STYLE AT

Service / Maintenance / Warranty

Service interval

15 000 km

Warranty and Service Plan

5 YEAR/UNLIMITED KM WARRANTY, 2 YEAR/30000KM SERVICE PLAN, 5 YEAR ROADSIDE ASSISTANCE

Active and Passive Safety

ISOfix (secure child seat)

YES

Engine

TRANSVERSE INLINE 4

Valves

DOHC, 4 VALVES PER CYLINDER, CVVT

Average fuel consumption

6 l/Km

Driving and Control Environment

Steering adjustment (in out)

YES

Multi function steering wheel

AUDIO, PHONE

Spare tire size

SPACESAVER

Electric window detail

FRONT + REAR

Colour coded bumpers

PAINTED

Colour coded mirrors

BODY
1.2 X LINE

Service / Maintenance / Warranty

Service interval

15 000 km

Warranty and Service Plan

5 YEAR/UNLIMITED KM WARRANTY, 2 YEAR/30000KM SERVICE PLAN, 5 YEAR ROADSIDE ASSISTANCE

Active and Passive Safety

ISOfix (secure child seat)

YES

Engine

TRANSVERSE INLINE 4

Valves

DOHC, 4 VALVES PER CYLINDER, CVVT

Average fuel consumption

5 l/Km

Driving and Control Environment

Steering adjustment (in out)

YES

Multi function steering wheel

AUDIO, PHONE

Spare tire size

SPACESAVER

Electric window detail

FRONT + REAR

Colour coded bumpers

PAINTED

Colour coded mirrors

BODY
1.2 X LINE SR

Service / Maintenance / Warranty

Service interval

15 000 km

Warranty and Service Plan

5 YEAR/UNLIMITED KM WARRANTY, 2 YEAR/30000KM SERVICE PLAN, 5 YEAR ROADSIDE ASSISTANCE

Active and Passive Safety

ISOfix (secure child seat)

YES

Engine

TRANSVERSE INLINE 4

Valves

DOHC, 4 VALVES PER CYLINDER, CVVT

Average fuel consumption

5 l/Km

Driving and Control Environment

Steering adjustment (in out)

YES

Multi function steering wheel

AUDIO, PHONE

Spare tire size

SPACESAVER

Electric window detail

FRONT + REAR

Colour coded bumpers

PAINTED

Colour coded mirrors

BODY
1.2 X LINE AT

Service / Maintenance / Warranty

Service interval

15 000 km

Warranty and Service Plan

5 YEAR/UNLIMITED KM WARRANTY, 2 YEAR/30000KM SERVICE PLAN, 5 YEAR ROADSIDE ASSISTANCE

Active and Passive Safety

ISOfix (secure child seat)

YES

Engine

TRANSVERSE INLINE 4

Valves

DOHC, 4 VALVES PER CYLINDER, CVVT

Average fuel consumption

5 l/Km

Driving and Control Environment

Steering adjustment (in out)

YES

Multi function steering wheel

AUDIO, PHONE

Spare tire size

SPACESAVER

Electric window detail

FRONT + REAR

Colour coded bumpers

PAINTED

Colour coded mirrors

BODY
1.2 X LINE AT SR

Service / Maintenance / Warranty

Service interval

15 000 km

Warranty and Service Plan

5 YEAR/UNLIMITED KM WARRANTY, 2 YEAR/30000KM SERVICE PLAN, 5 YEAR ROADSIDE ASSISTANCE

Active and Passive Safety

ISOfix (secure child seat)

YES

Engine

TRANSVERSE INLINE 4

Valves

DOHC, 4 VALVES PER CYLINDER, CVVT

Average fuel consumption

5 l/Km

Driving and Control Environment

Steering adjustment (in out)

YES

Multi function steering wheel

AUDIO, PHONE

Spare tire size

SPACESAVER

Electric window detail

FRONT + REAR

Colour coded bumpers

PAINTED

Colour coded mirrors

BODY
Available Colour Options