KIA RIO MODELS
Bigger, bolder and poised for adventure.
The all-new Kia RIO makes an entrance with influential styling, loads of space, get up and performance as well as an all-round extraordinary driving experience that exudes charm and confidence. It's more than a city car. It's a city-to-city car.
ABS
Anti-lock Braking System
Electric windows
FRONT + REAR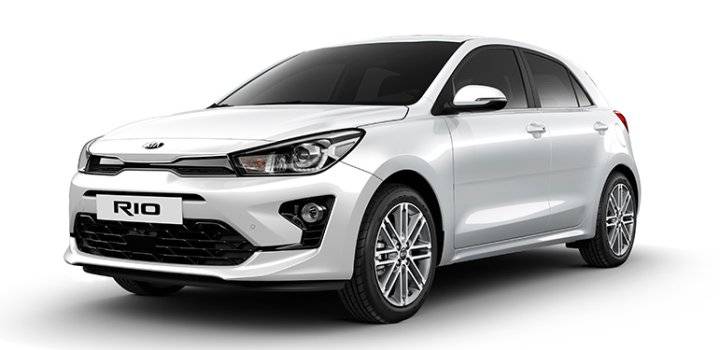 Face the day with confidence.
The all-new RIO is more than just the attractive new car on your street. With comfortable seats, surprising versatility and dependability backed by a 5-year unlimited kilometre warranty, it's with you for the long haul.
A position of heightened control.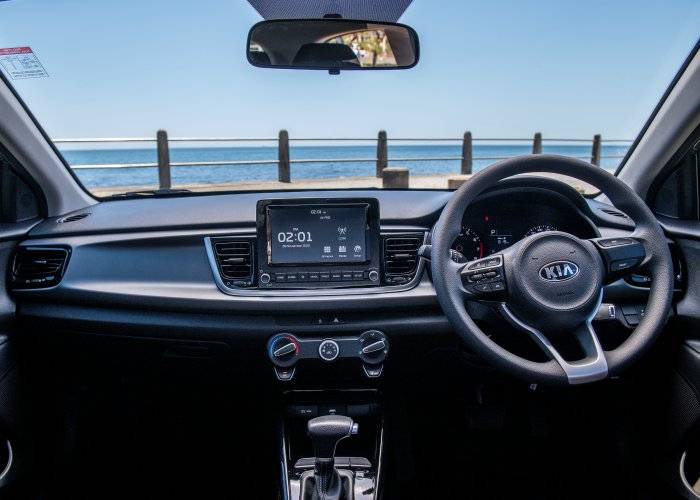 The cockpit prioritises information and limits visual and manual distractions. The cluster presents driving data, while a centre floating display simplifies access to a range of entertainment and comfort controls.
Single-minded obsession - Safety.
Even the most sculpted car has one paramount duty: to protect the people inside it and around it. The all-new Rio features intelligent active-safety technology and substantial passive-safety enhancements to protect people.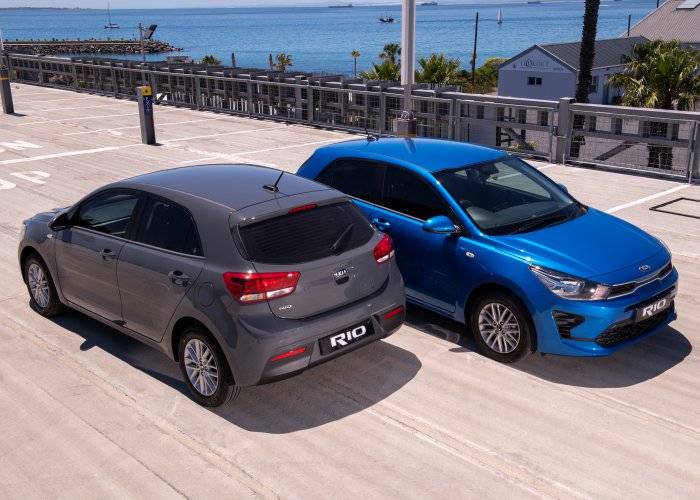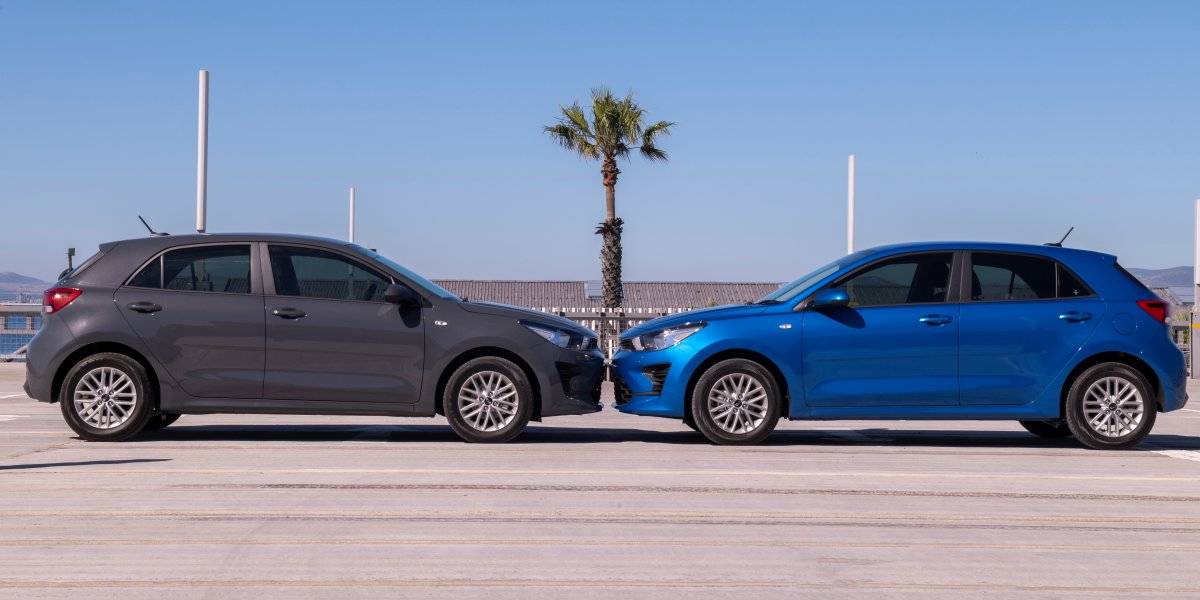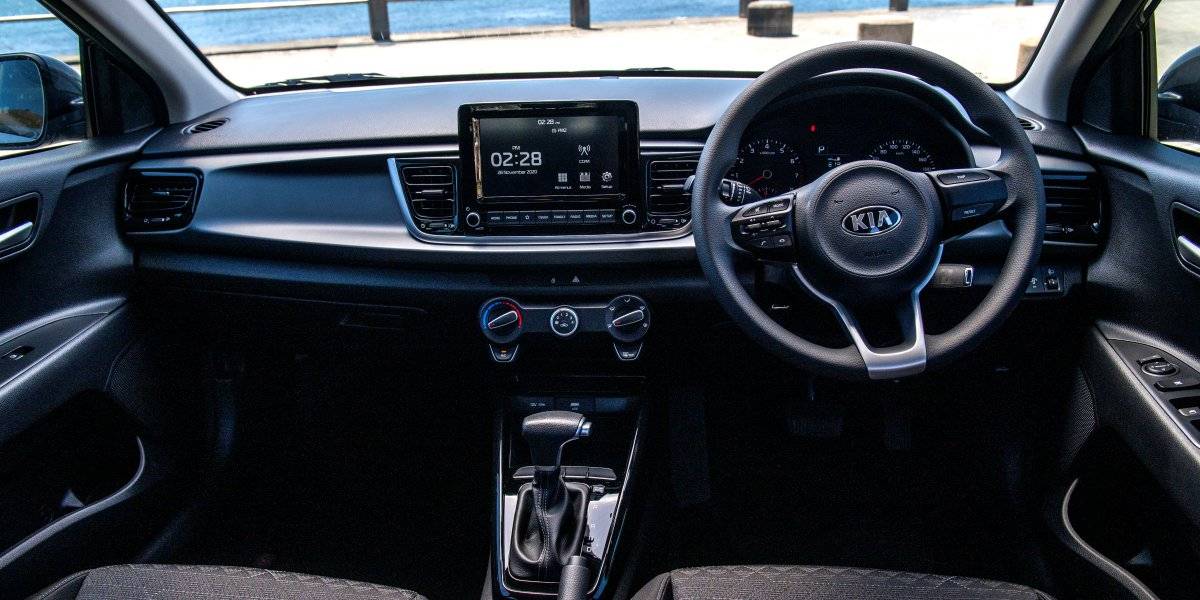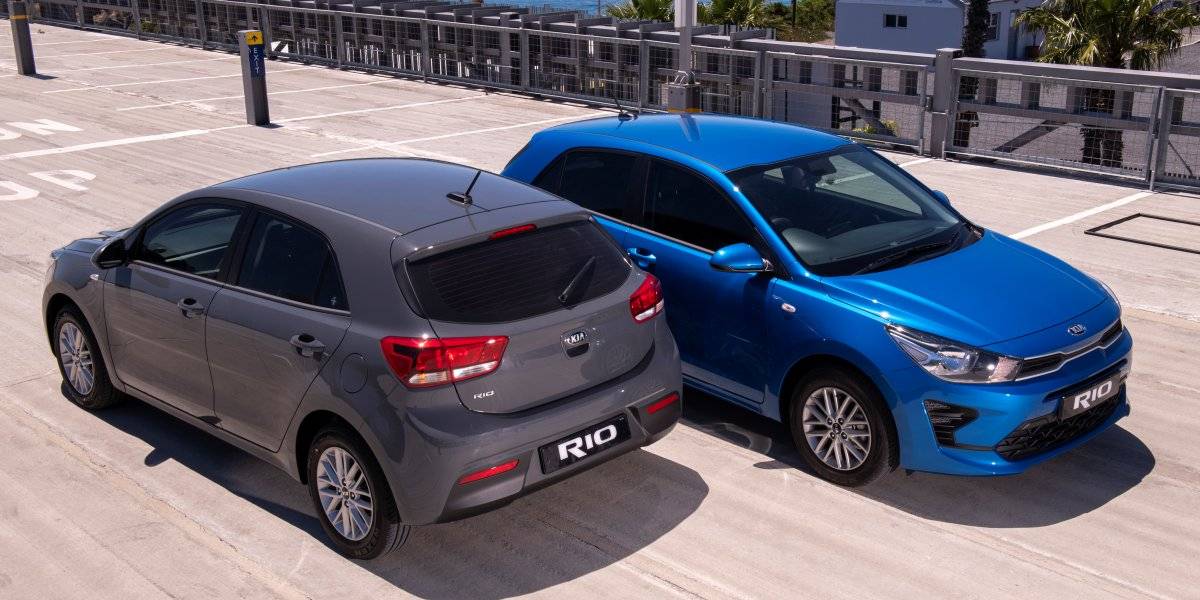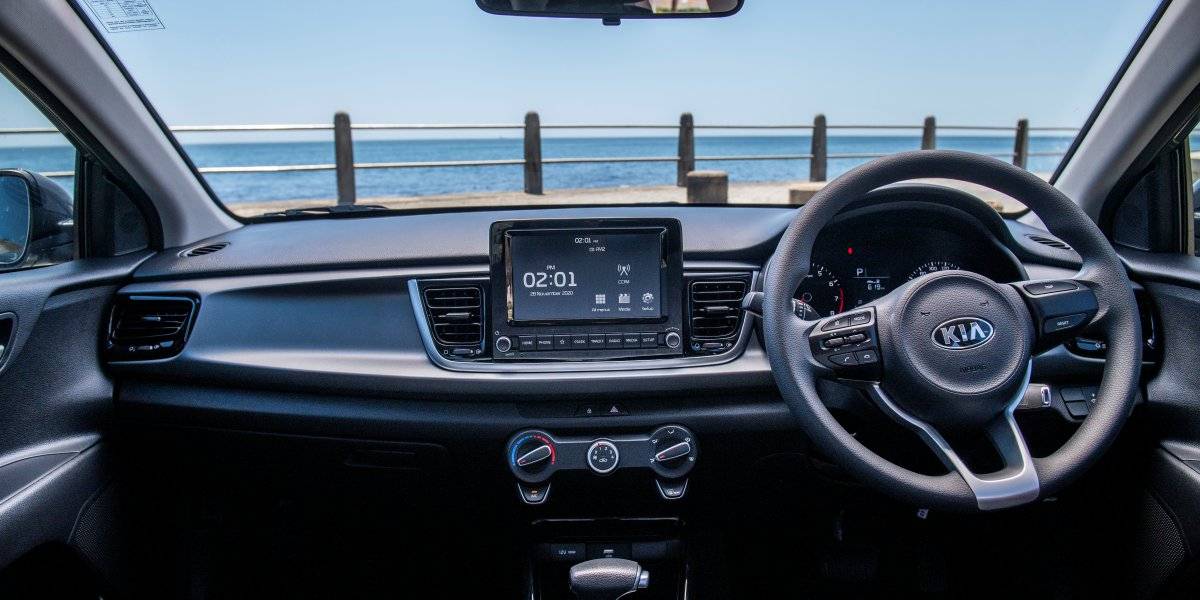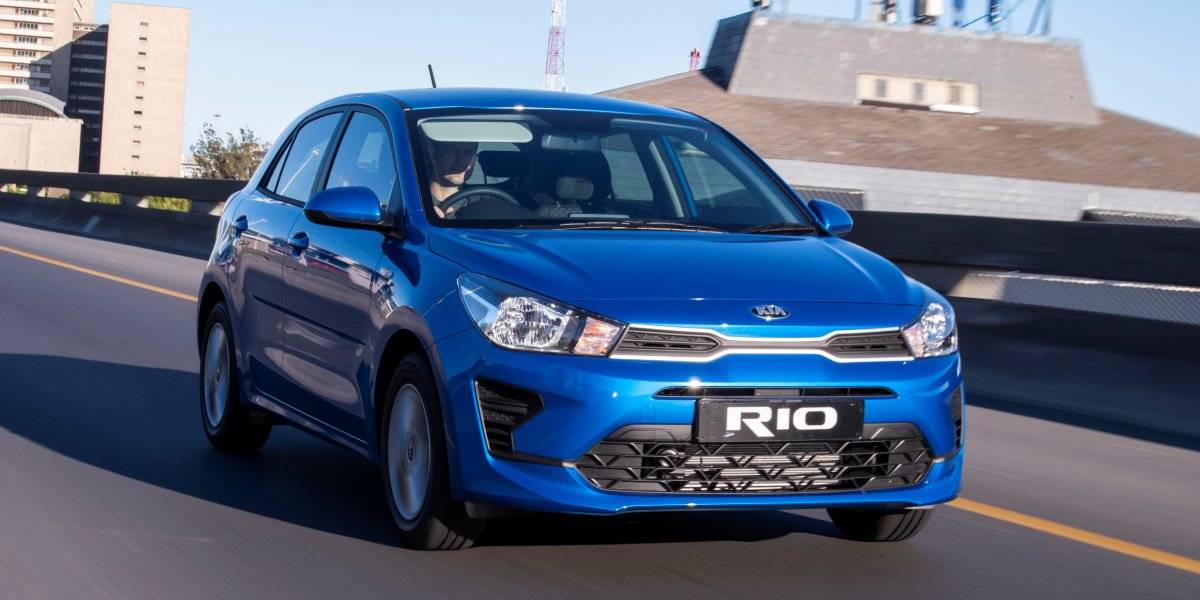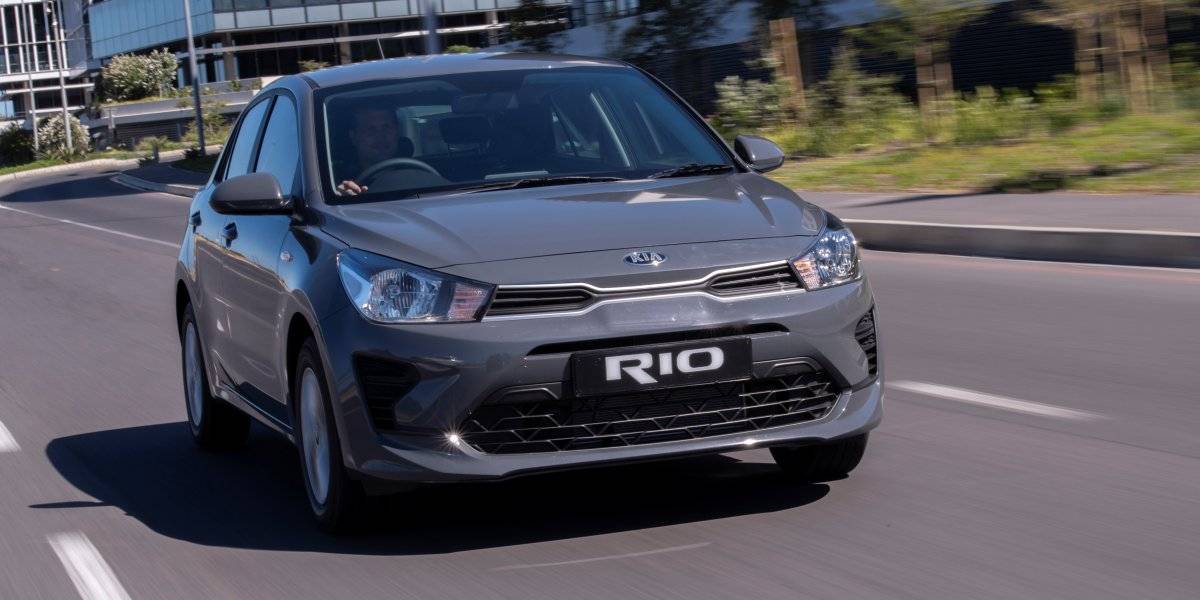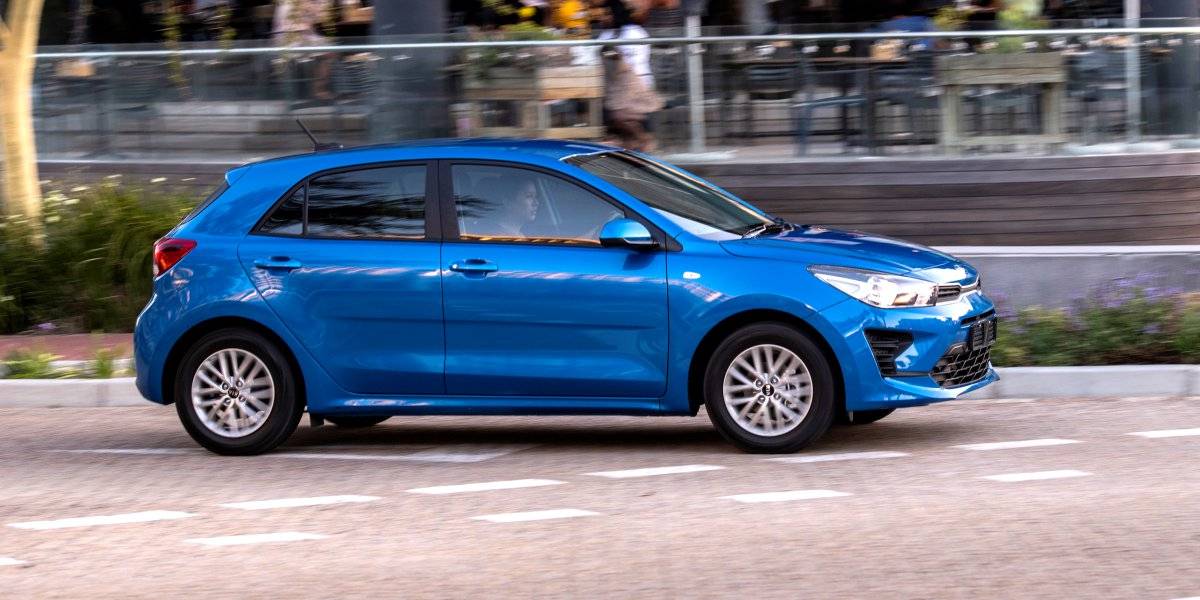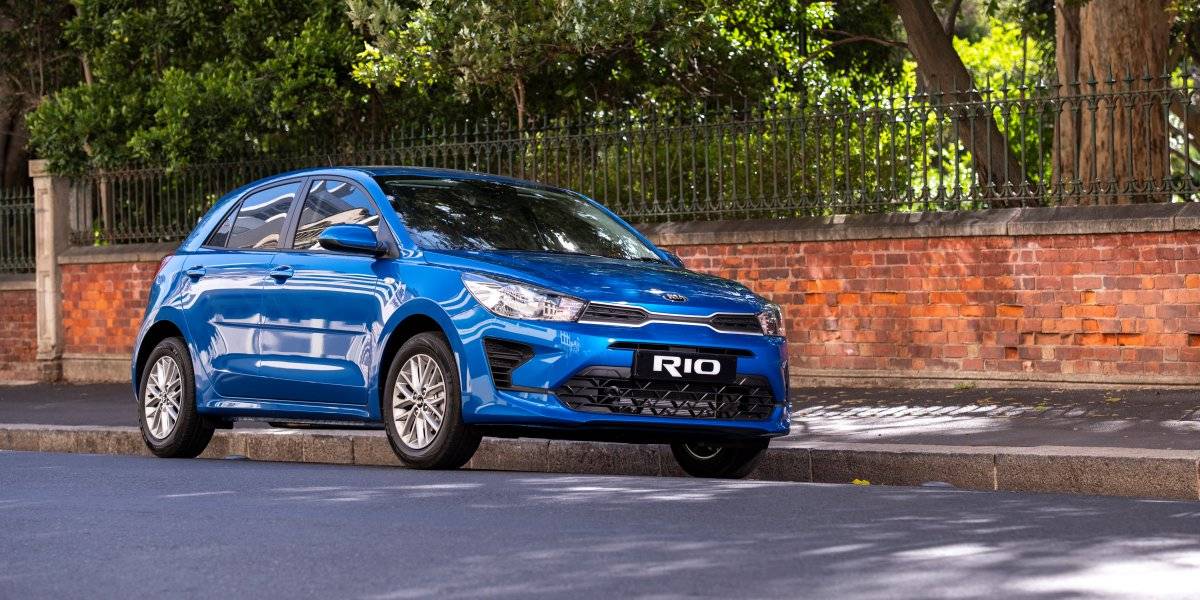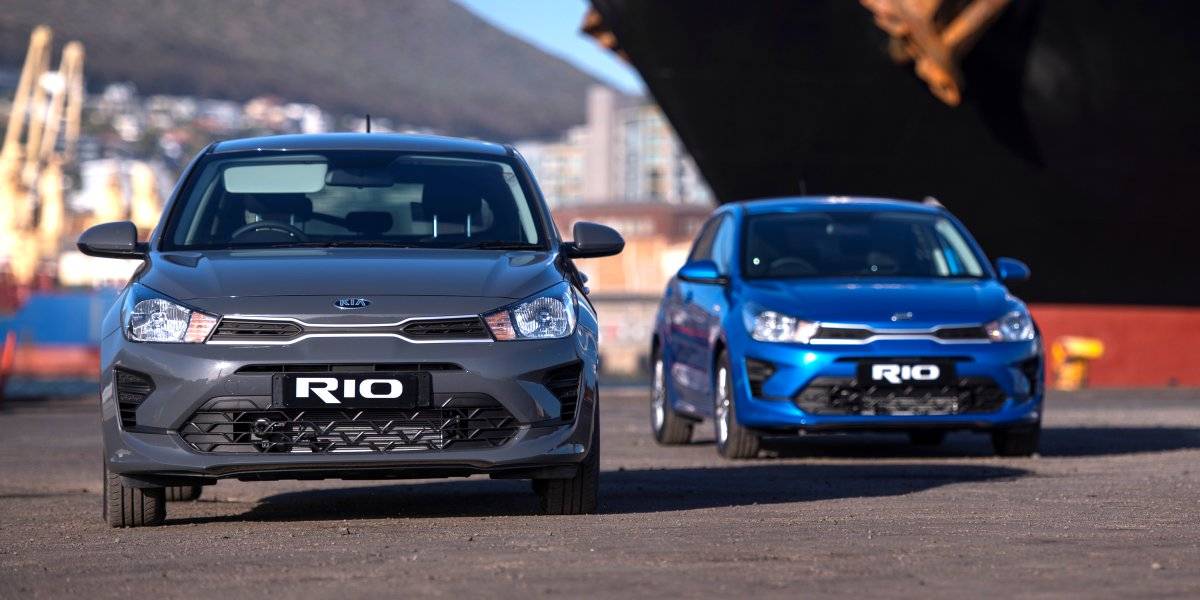 1.2 LS

Service / Maintenance / Warranty

Service interval

15 000 km

Warranty and Service Plan

5 YEAR/UNLIMITED KM WARRANTY, 2 YEAR/30000 KM SERVICE PLAN, 3 YEAR ROADSIDE ASSISTANCE

Active and Passive Safety

ISOfix (secure child seat)

YES

Engine

TRANSVERSE INLINE 4

Valves

DOHC, 4 VALVES PER CYLINDER

Driving and Control Environment

Steering adjustment (up down)

YES

Steering adjustment (in out)

YES

Multi function steering wheel

AUDIO, PHONE

Spare tire size

SPACESAVER

Electric window detail

FRONT + REAR

Electric window 1-touch

NONE

Colour coded bumpers

PAINTED

Colour coded mirrors

BODY
1.4 LS

Service / Maintenance / Warranty

Service interval

15 000 km

Warranty and Service Plan

5 YEAR/UNLIMITED KM WARRANTY, 4 YEAR/60000 KM SERVICE PLAN, 3 YEAR ROADSIDE ASSISTANCE

Active and Passive Safety

ISOfix (secure child seat)

YES

Engine

TRANSVERSE INLINE 4

Valves

DOHC, 4 VALVES PER CYLINDER

Driving and Control Environment

Steering adjustment (up down)

YES

Steering adjustment (in out)

YES

Multi function steering wheel

AUDIO, PHONE

Spare tire size

SPACESAVER

Electric window detail

FRONT + REAR

Electric window 1-touch

NONE

Colour coded bumpers

PAINTED

Colour coded mirrors

BODY
1.4 LS AT

Service / Maintenance / Warranty

Service interval

15 000 km

Warranty and Service Plan

5 YEAR/UNLIMITED KM WARRANTY, 4 YEAR/60000 KM SERVICE PLAN, 3 YEAR ROADSIDE ASSISTANCE

Active and Passive Safety

ISOfix (secure child seat)

YES

Engine

TRANSVERSE INLINE 4

Valves

DOHC, 4 VALVES PER CYLINDER

Driving and Control Environment

Steering adjustment (up down)

YES

Steering adjustment (in out)

YES

Multi function steering wheel

AUDIO, PHONE

Spare tire size

SPACESAVER

Electric window detail

FRONT + REAR

Electric window 1-touch

NONE

Colour coded bumpers

PAINTED

Colour coded mirrors

BODY
1.4 LX

Service / Maintenance / Warranty

Service interval

15 000 km

Warranty and Service Plan

5 YEAR/UNLIMITED KM WARRANTY, 4 YEAR/60000 KM SERVICE PLAN, 3 YEAR ROADSIDE ASSISTANCE

Active and Passive Safety

ISOfix (secure child seat)

YES

Engine

TRANSVERSE INLINE 4

Valves

DOHC, 4 VALVES PER CYLINDER

Driving and Control Environment

Steering adjustment (up down)

YES

Steering adjustment (in out)

YES

Multi function steering wheel

AUDIO, PHONE

Spare tire size

SPACESAVER

Electric window detail

FRONT + REAR

Electric window 1-touch

NONE

Colour coded bumpers

PAINTED

Colour coded mirrors

BODY
1.4 EX

Service / Maintenance / Warranty

Service interval

15 000 km

Warranty and Service Plan

5 YEAR/UNLIMITED KM WARRANTY, 4 YEAR/60000 KM SERVICE PLAN, 3 YEAR ROADSIDE ASSISTANCE

Active and Passive Safety

ISOfix (secure child seat)

YES

Engine

TRANSVERSE INLINE 4

Valves

DOHC, 4 VALVES PER CYLINDER

Driving and Control Environment

Steering adjustment (up down)

YES

Steering adjustment (in out)

YES

Multi function steering wheel

AUDIO, PHONE

Electric window detail

FRONT + REAR

Electric window 1-touch

NONE

Colour coded bumpers

PAINTED

Colour coded mirrors

BODY
1.4 LX AT

Service / Maintenance / Warranty

Service interval

15 000 km

Warranty and Service Plan

5 YEAR/UNLIMITED KM WARRANTY, 4 YEAR/60000 KM SERVICE PLAN, 3 YEAR ROADSIDE ASSISTANCE

Active and Passive Safety

ISOfix (secure child seat)

YES

Engine

TRANSVERSE INLINE 4

Valves

DOHC, 4 VALVES PER CYLINDER

Driving and Control Environment

Steering adjustment (up down)

YES

Steering adjustment (in out)

YES

Multi function steering wheel

AUDIO, PHONE

Spare tire size

SPACESAVER

Electric window detail

FRONT + REAR

Electric window 1-touch

NONE

Colour coded bumpers

PAINTED

Colour coded mirrors

BODY
1.4 TEC

Service / Maintenance / Warranty

Service interval

15 000 km

Warranty and Service Plan

5 YEAR/UNLIMITED KM WARRANTY, 4 YEAR/60000 KM SERVICE PLAN, 3 YEAR ROADSIDE ASSISTANCE

Active and Passive Safety

Auto Windscreen Wipers

YES

ISOfix (secure child seat)

YES

Engine

TRANSVERSE INLINE 4

Valves

DOHC, 4 VALVES PER CYLINDER

Driving and Control Environment

Steering adjustment (up down)

YES

Steering adjustment (in out)

YES

Multi function steering wheel

AUDIO, PHONE, CRUISE

Electric window detail

FRONT + REAR

Electric window 1-touch

NONE

Colour coded bumpers

PAINTED

Colour coded mirrors

BODY
1.4 EX AT

Service / Maintenance / Warranty

Service interval

15 000 km

Warranty and Service Plan

5 YEAR/UNLIMITED KM WARRANTY, 4 YEAR/60000 KM SERVICE PLAN, 3 YEAR ROADSIDE ASSISTANCE

Active and Passive Safety

ISOfix (secure child seat)

YES

Engine

TRANSVERSE INLINE 4

Valves

DOHC, 4 VALVES PER CYLINDER

Driving and Control Environment

Steering adjustment (up down)

YES

Steering adjustment (in out)

YES

Multi function steering wheel

AUDIO, PHONE

Electric window detail

FRONT + REAR

Electric window 1-touch

NONE

Colour coded bumpers

PAINTED

Colour coded mirrors

BODY
1.4 TEC SR

Service / Maintenance / Warranty

Service interval

15 000 km

Warranty and Service Plan

5 YEAR/UNLIMITED KM WARRANTY, 4 YEAR/60000 KM SERVICE PLAN, 3 YEAR ROADSIDE ASSISTANCE

Active and Passive Safety

Auto Windscreen Wipers

YES

ISOfix (secure child seat)

YES

Engine

TRANSVERSE INLINE 4

Valves

DOHC, 4 VALVES PER CYLINDER

Driving and Control Environment

Steering adjustment (up down)

YES

Steering adjustment (in out)

YES

Multi function steering wheel

AUDIO, PHONE, CRUISE

Electric window detail

FRONT + REAR

Electric window 1-touch

NONE

Colour coded bumpers

PAINTED

Colour coded mirrors

BODY
1.4 TEC SR AT

Service / Maintenance / Warranty

Service interval

15 000 km

Warranty and Service Plan

5 YEAR/UNLIMITED KM WARRANTY, 4 YEAR/60000 KM SERVICE PLAN, 3 YEAR ROADSIDE ASSISTANCE

Active and Passive Safety

Auto Windscreen Wipers

YES

ISOfix (secure child seat)

YES

Engine

TRANSVERSE INLINE 4

Valves

DOHC, 4 VALVES PER CYLINDER

Driving and Control Environment

Steering adjustment (up down)

YES

Steering adjustment (in out)

YES

Multi function steering wheel

AUDIO, PHONE, CRUISE

Electric window detail

FRONT + REAR

Electric window 1-touch

NONE

Colour coded bumpers

PAINTED

Colour coded mirrors

BODY
1.4 TEC AT

Service / Maintenance / Warranty

Service interval

15 000 km

Warranty and Service Plan

5 YEAR/UNLIMITED KM WARRANTY, 4 YEAR/60000 KM SERVICE PLAN, 3 YEAR ROADSIDE ASSISTANCE

Active and Passive Safety

Auto Windscreen Wipers

YES

ISOfix (secure child seat)

YES

Engine

TRANSVERSE INLINE 4

Valves

DOHC, 4 VALVES PER CYLINDER

Driving and Control Environment

Steering adjustment (up down)

YES

Steering adjustment (in out)

YES

Multi function steering wheel

AUDIO, PHONE, CRUISE

Electric window detail

FRONT + REAR

Electric window 1-touch

NONE

Colour coded bumpers

PAINTED

Colour coded mirrors

BODY
Available Colour Options