MAZDA CX-3 MODELS
The new Mazda CX-3
Introducing the new Mazda CX-3, our first compact SUV that combines the stylish design of a hatchback with the versatility of an SUV. Built with city driving in mind yet capable of taking on country roads, the Mazda CX-3 is equipped with the latest SKYACTIV TECHNOLOGY giving it natural agility coupled with outstanding fuel efficiency. You instantly see it's something out of the ordinary. The Mazda CX-3 is the creation of 'KODO — Soul of Motion' design. KODO is inspired by the instant when energy bursts into motion. It's the powerful grace of an animal pouncing, or a human leaping into action. Balancing athletic presence, streamlined simplicity and elegant detail, the Mazda CX-3 brings rare imagination to the compact SUV.
Electric windows
FRONT + REAR
ATS
Auto Traction Control
EBD
Electronic Brakeforce Distribution
ABS
Anti-lock Braking System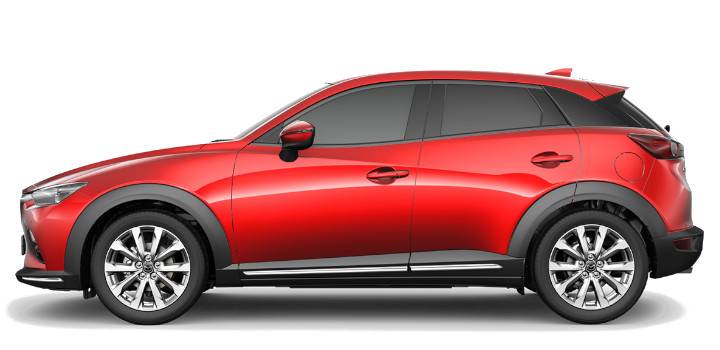 Efficiency to get excited by
Mazda is committed to reducing the environmental impact of our vehicles, yet we'd never want to compromise the driving enjoyment that's core to our DNA. In answering this challenge, we arrived at a breakthrough – SKYACTIV TECHNOLOGY. In every way imaginable, the new Mazda CX-3 has been created to unlock efficiency and unleash performance potential.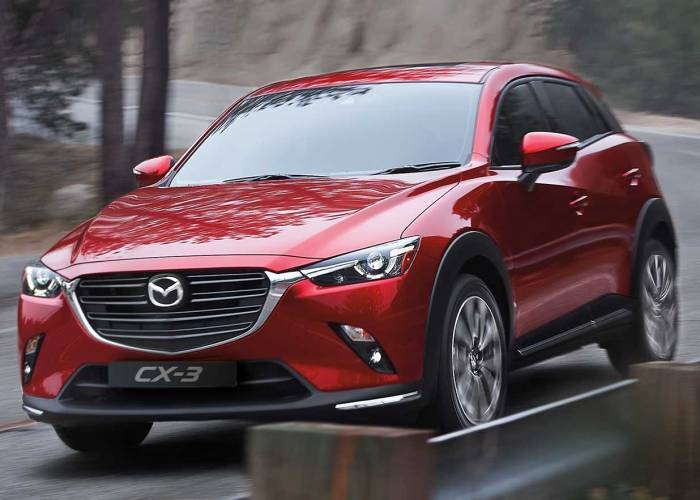 Stay connected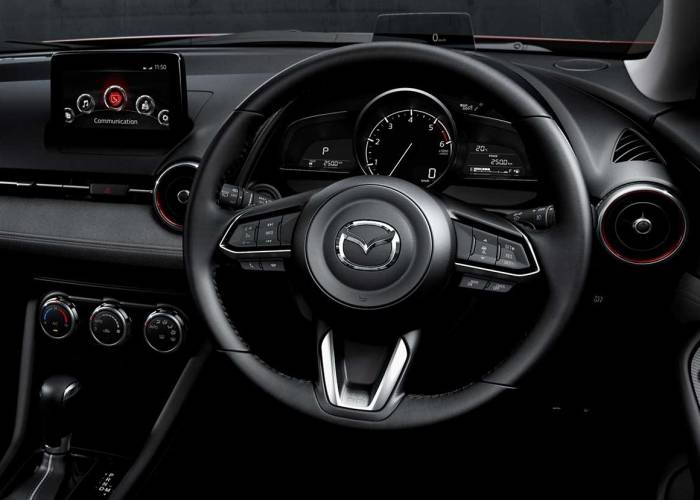 Staying connected in the new Mazda CX-3 is part of the experience when using the MZD Connect system with commander. The MZD Connect system responds to a wider variety of needs by greatly improving the convenience of functions that require Bluetooth® connectivity, such as hands-free phone operation, reception of short text messages, and internet radio.
Ready to help
If you ever need to react to a hazard, the Mazda CX-3 is ready. Dynamic Stability Control (DSC) acts instantly, braking the inner rear wheel to counter understeer (or outer front wheel to combat oversteer). The Traction Control System (TCS) also reduces torque to the driven wheels to minimise slip. With control maintained, the vehicle can be steered around the hazard.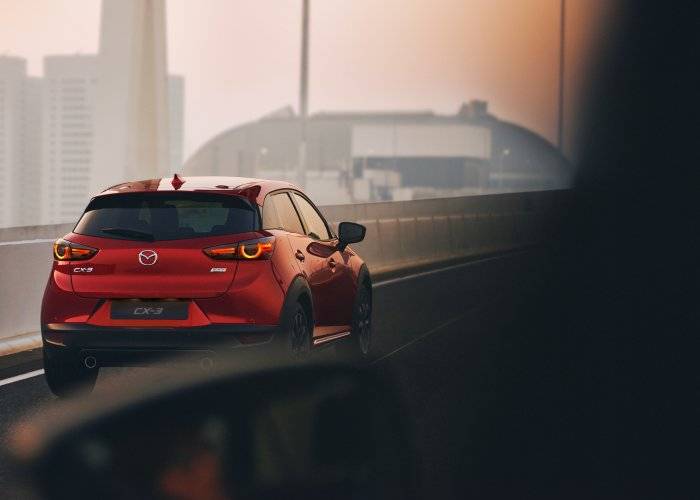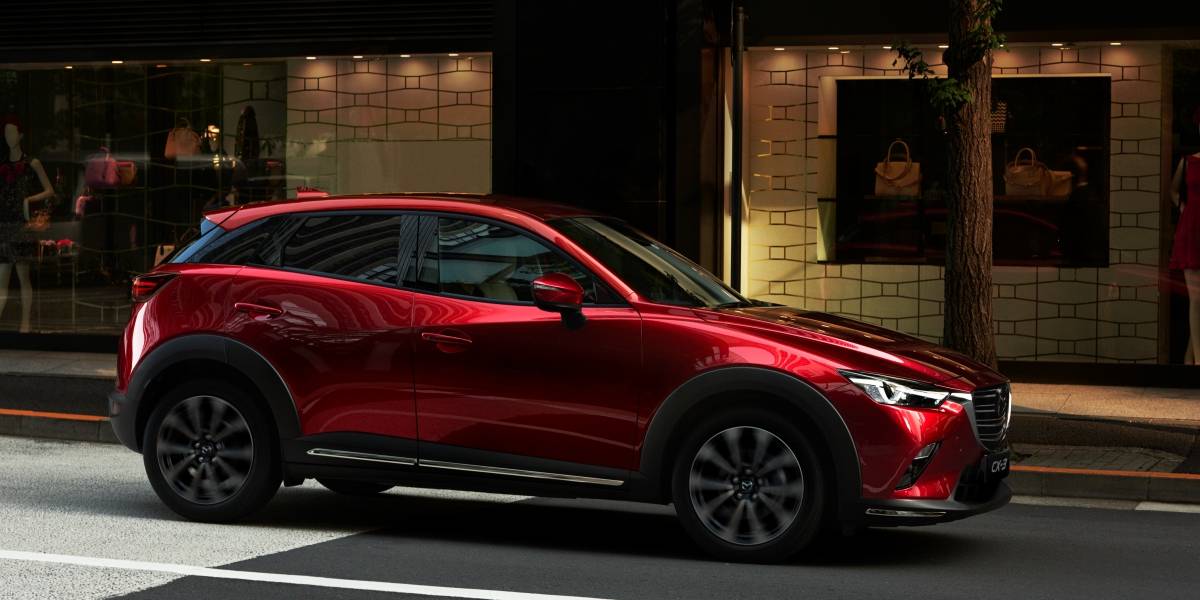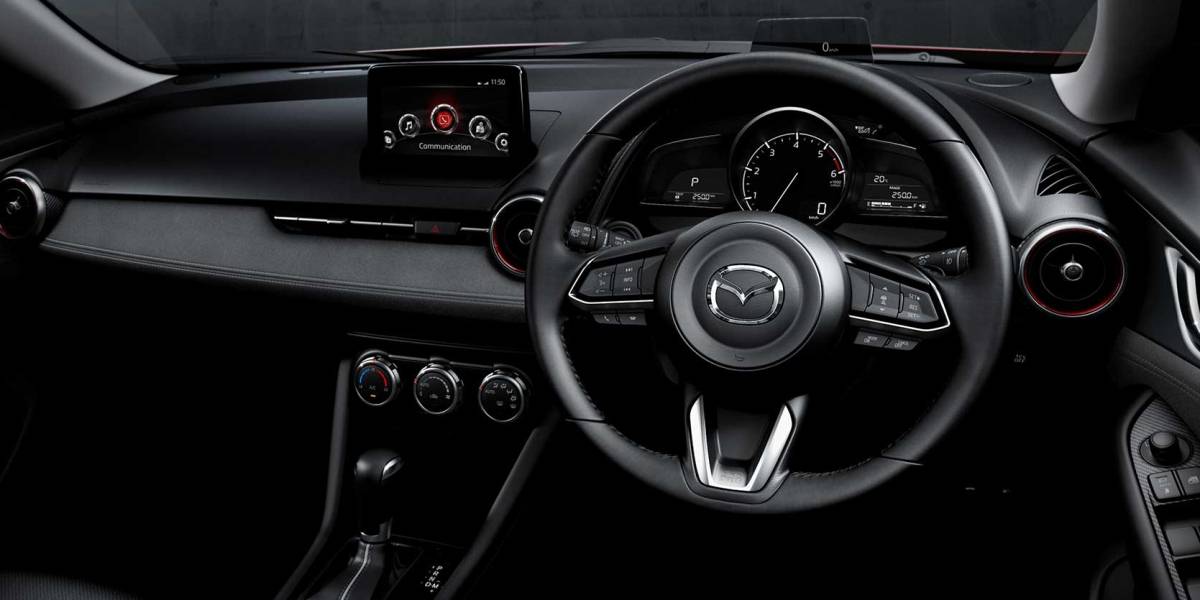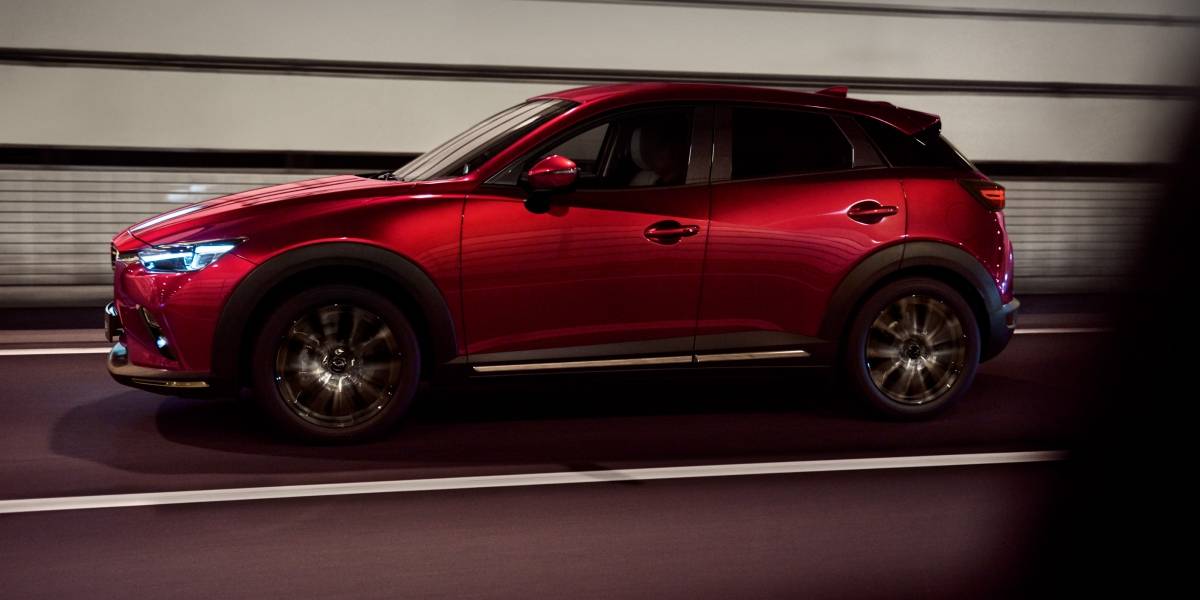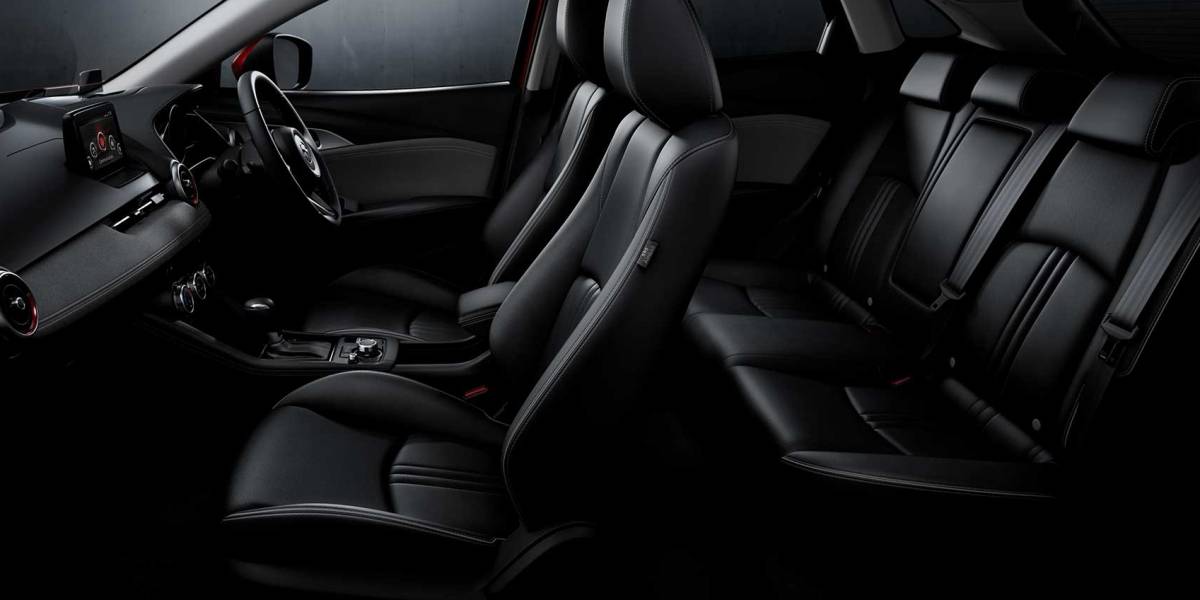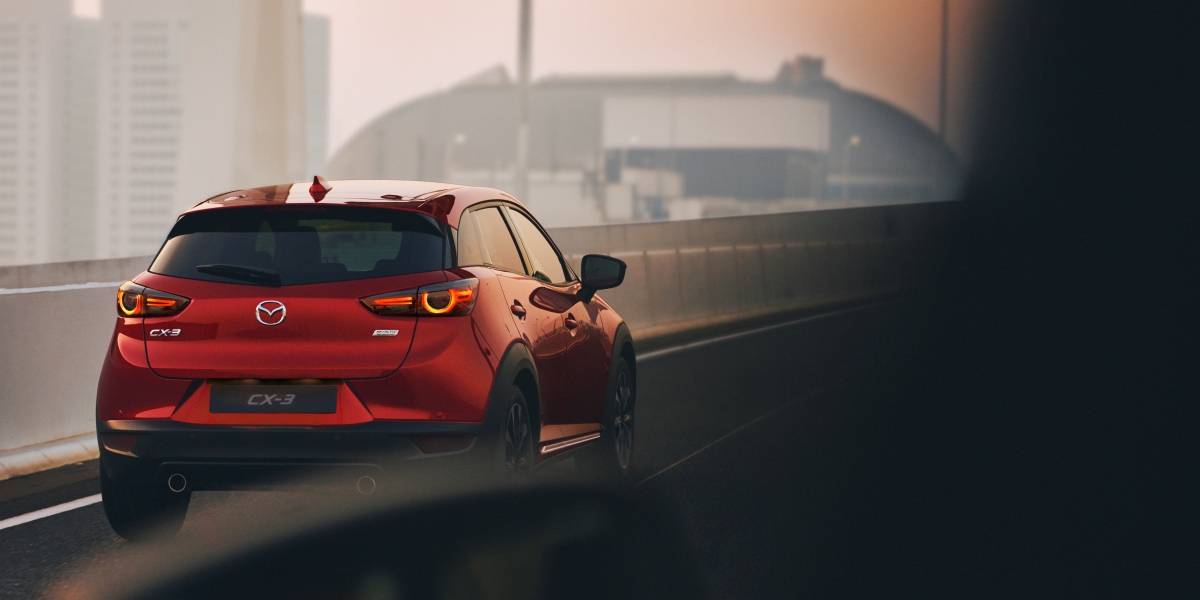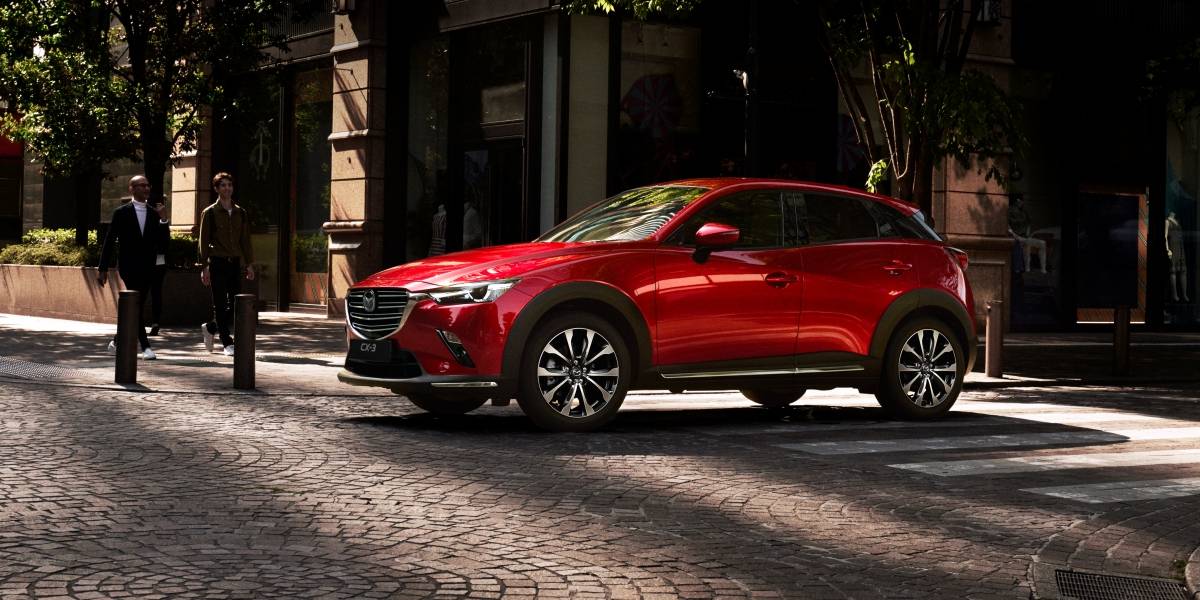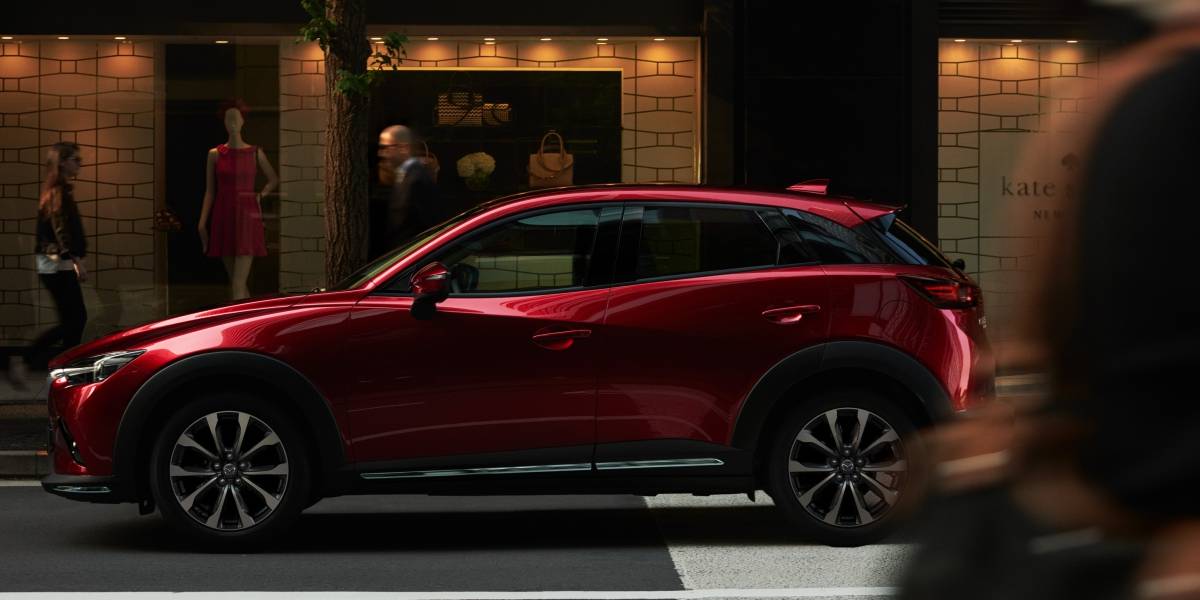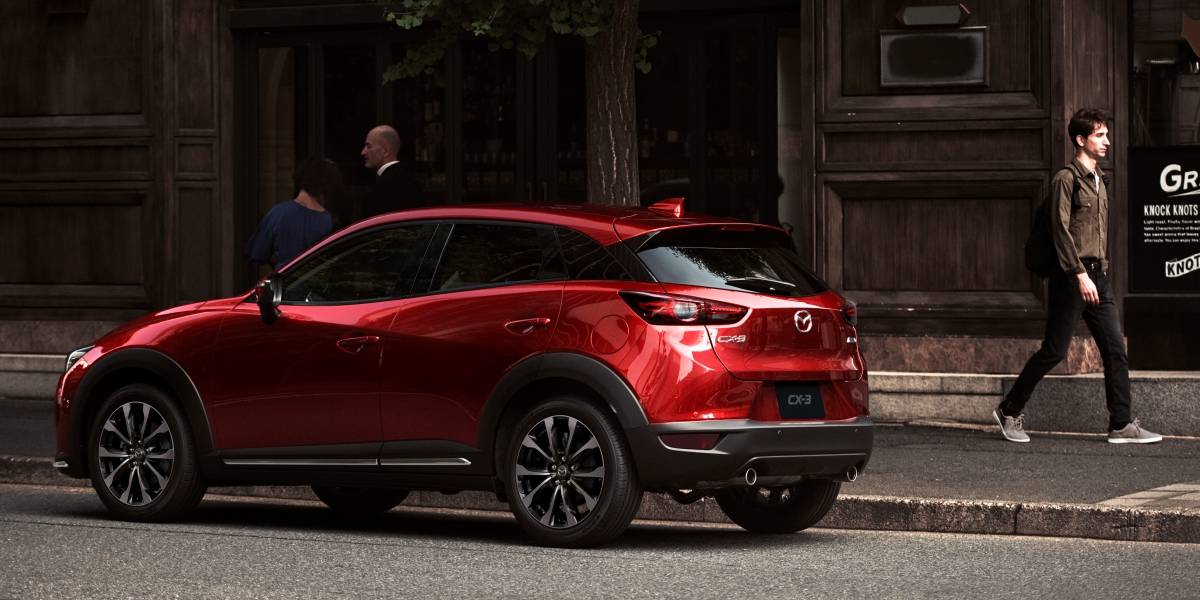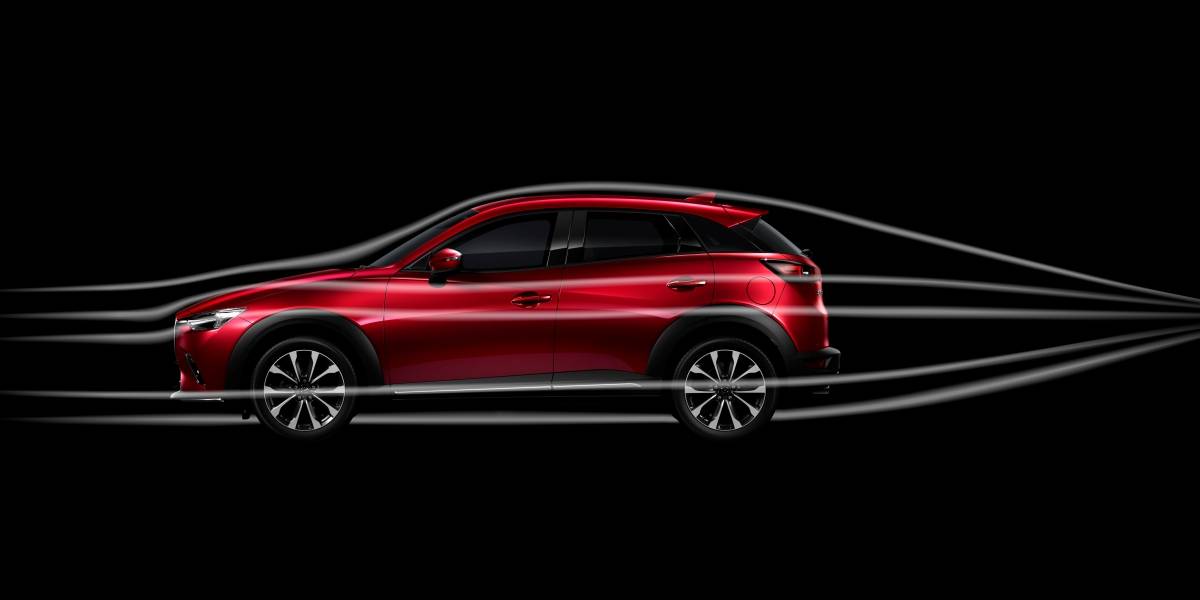 2.0 ACTIVE

Service / Maintenance / Warranty

Service interval

15 000 km

Warranty and Service Plan

3 YEAR/UNLIMITED KM WARRANTY, 3 YEAR/ UNLIMITED KM SERVICE PLAN, 5 YEAR ANTI CORROSION, 3 YEAR ROADSIDE ASSISTANCE

Active and Passive Safety

Electronic Brakeforce Distribution (EBD)

YES

Engine

TRANSVERSE INLINE 4

Valves

DOHC, 4 VALVES PER CYLINDER

Average fuel consumption

6.5 l/Km

Driving and Control Environment

Steering adjustment (up down)

YES

Steering adjustment (in out)

YES

Multi function steering wheel

AUDIO, CRUISE, PHONE

Spare tire size

SPACESAVER

Electric window detail

FRONT + REAR

Electric window 1-touch

DRIVER

Colour coded bumpers

PAINTED

Colour coded mirrors

BODY
2.0 ACTIVE AT

Service / Maintenance / Warranty

Service interval

15 000 km

Warranty and Service Plan

3 YEAR/UNLIMITED KM WARRANTY, 3 YEAR/ UNLIMITED KM SERVICE PLAN, 5 YEAR ANTI CORROSION, 3 YEAR ROADSIDE ASSISTANCE

Active and Passive Safety

Electronic Brakeforce Distribution (EBD)

YES

Engine

TRANSVERSE INLINE 4

Valves

DOHC, 4 VALVES PER CYLINDER

Average fuel consumption

6.1 l/Km

Driving and Control Environment

Steering adjustment (up down)

YES

Steering adjustment (in out)

YES

Multi function steering wheel

AUDIO, CRUISE, PHONE

Spare tire size

SPACESAVER

Electric window detail

FRONT + REAR

Electric window 1-touch

DRIVER

Colour coded bumpers

PAINTED

Colour coded mirrors

BODY
2.0 DYNAMIC

Service / Maintenance / Warranty

Service interval

15 000 km

Warranty and Service Plan

3 YEAR/UNLIMITED KM WARRANTY, 3 YEAR/ UNLIMITED KM SERVICE PLAN, 5 YEAR ANTI CORROSION, 3 YEAR ROADSIDE ASSISTANCE

Active and Passive Safety

Electronic Brakeforce Distribution (EBD)

YES

Auto Windscreen Wipers

YES

Engine

TRANSVERSE INLINE 4

Valves

DOHC, 4 VALVES PER CYLINDER

Average fuel consumption

6.3 l/Km

Driving and Control Environment

Steering adjustment (up down)

YES

Steering adjustment (in out)

YES

Multi function steering wheel

AUDIO, CRUISE, PHONE

Spare tire size

SPACESAVER

Electric window detail

FRONT + REAR

Electric window 1-touch

DRIVER

Colour coded bumpers

PAINTED

Colour coded mirrors

BODY
2.0 DYNAMIC AT

Service / Maintenance / Warranty

Service interval

15 000 km

Warranty and Service Plan

3 YEAR/UNLIMITED KM WARRANTY, 3 YEAR/ UNLIMITED KM SERVICE PLAN, 5 YEAR ANTI CORROSION, 3 YEAR ROADSIDE ASSISTANCE

Active and Passive Safety

Electronic Brakeforce Distribution (EBD)

YES

Auto Windscreen Wipers

YES

Engine

TRANSVERSE INLINE 4

Valves

DOHC, 4 VALVES PER CYLINDER

Average fuel consumption

6.1 l/Km

Driving and Control Environment

Steering adjustment (up down)

YES

Steering adjustment (in out)

YES

Multi function steering wheel

AUDIO, CRUISE, PHONE

Spare tire size

SPACESAVER

Electric window detail

FRONT + REAR

Electric window 1-touch

DRIVER

Colour coded bumpers

PAINTED

Colour coded mirrors

BODY
2.0 INDIVIDUAL AT

Service / Maintenance / Warranty

Service interval

15 000 km

Warranty and Service Plan

3 YEAR/UNLIMITED KM WARRANTY, 3 YEAR/ UNLIMITED KM SERVICE PLAN, 5 YEAR ANTI CORROSION, 3 YEAR ROADSIDE ASSISTANCE

Active and Passive Safety

Electronic Brakeforce Distribution (EBD)

YES

Auto Windscreen Wipers

YES

Engine

TRANSVERSE INLINE 4

Valves

DOHC, 4 VALVES PER CYLINDER

Average fuel consumption

6.1 l/Km

Driving and Control Environment

Steering adjustment (up down)

YES

Steering adjustment (in out)

YES

Multi function steering wheel

AUDIO, CRUISE, PHONE

Spare tire size

SPACESAVER

Electric window detail

FRONT + REAR

Electric window 1-touch

DRIVER

Colour coded bumpers

PAINTED

Colour coded mirrors

BODY
2.0 HIKARI AT

Service / Maintenance / Warranty

Service interval

15 000 km

Warranty and Service Plan

3 YEAR/UNLIMITED KM WARRANTY, 3 YEAR/ UNLIMITED KM SERVICE PLAN, 5 YEAR ANTI CORROSION, 3 YEAR ROADSIDE ASSISTANCE

Active and Passive Safety

Electronic Brakeforce Distribution (EBD)

YES

Auto Windscreen Wipers

YES

Engine

TRANSVERSE INLINE 4

Valves

DOHC, 4 VALVES PER CYLINDER

Average fuel consumption

6.1 l/Km

Driving and Control Environment

Steering adjustment (up down)

YES

Steering adjustment (in out)

YES

Multi function steering wheel

AUDIO, CRUISE, PHONE

Spare tire size

SPACESAVER

Electric window detail

FRONT + REAR

Electric window 1-touch

DRIVER

Colour coded bumpers

PAINTED

Colour coded mirrors

BODY
Available Colour Options