MAZDA CX-30 MODELS
THE ALL-NEW MAZDA CX-30
As you move on in life, you need a car that moves with you. A car with the flowing beauty of a coupe and the bold toughness of an SUV. Compact enough on the outside to zip around town, but big enough on the inside to get away from it all. A car with dynamic performance, an exhilarating ride, and superior comfort and safety. Inside and out the Mazda CX-30 is simply beautiful – from the flowing curves of the body to the exquisite craftsmanship of the interior and the innovative technology underneath. All combine to complement and enhance your lifestyle and make every journey a true pleasure. You'd swear it was made just for you.
Electric windows
FRONT + REAR
ABS
Anti-lock Braking System
EBD
Electronic Brakeforce Distribution
SATNAV
Automotive Navigation System
6.6 l/100km
Average Fuel Consumption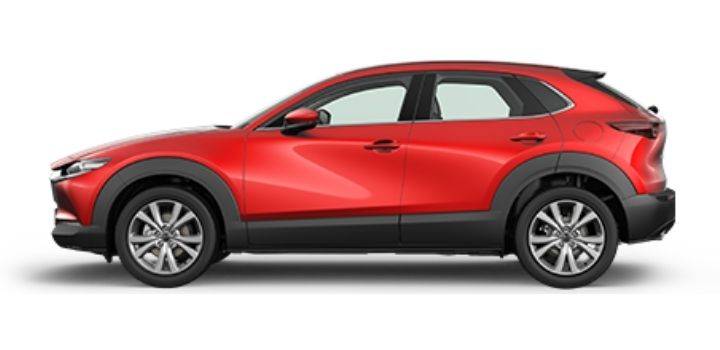 EXTERIOR
A brand-new addition to the Mazda lineup, the Mazda CX-30 offers refined quality in all the areas that matter to you as a driver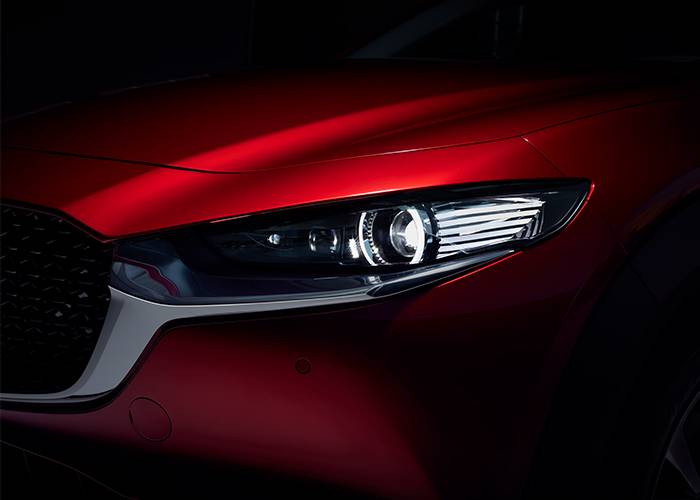 A CONCERT INSIDE YOUR CAR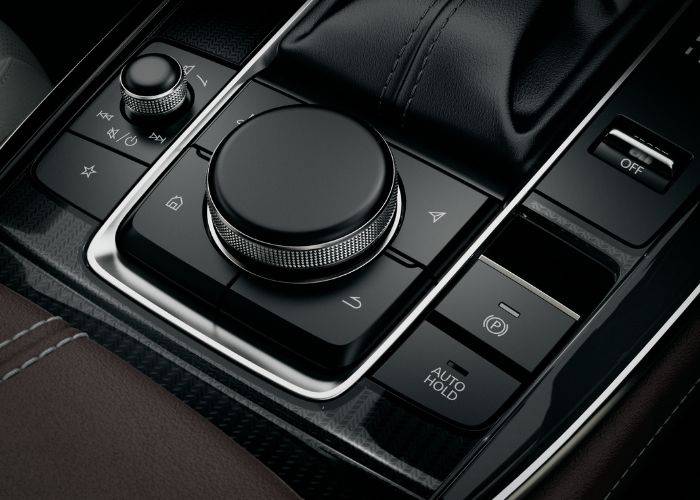 Combined with the excellent quietness of the cabin, the 12 Speaker BOSE® sound system is custom-tuned to provide better bass and enhanced sound quality boosting the sense of oneness between the sound and the listener.
SAFETY THAT'S ALWAYS ON GUARD
A vast range of active and passive measure place safety as top priority in the All-New Mazda CX-30. SKYACTIV Technology safety features such as passive collision signal (hazards only) are complemented by side, curtain and knee airbags to ensure that you have a safe driving experience at all times.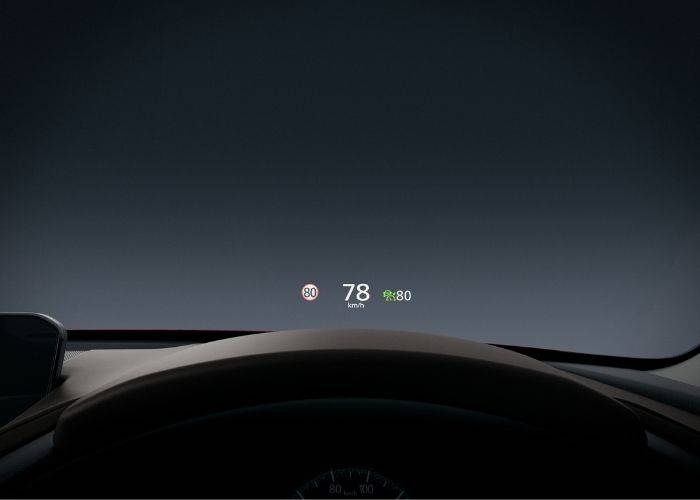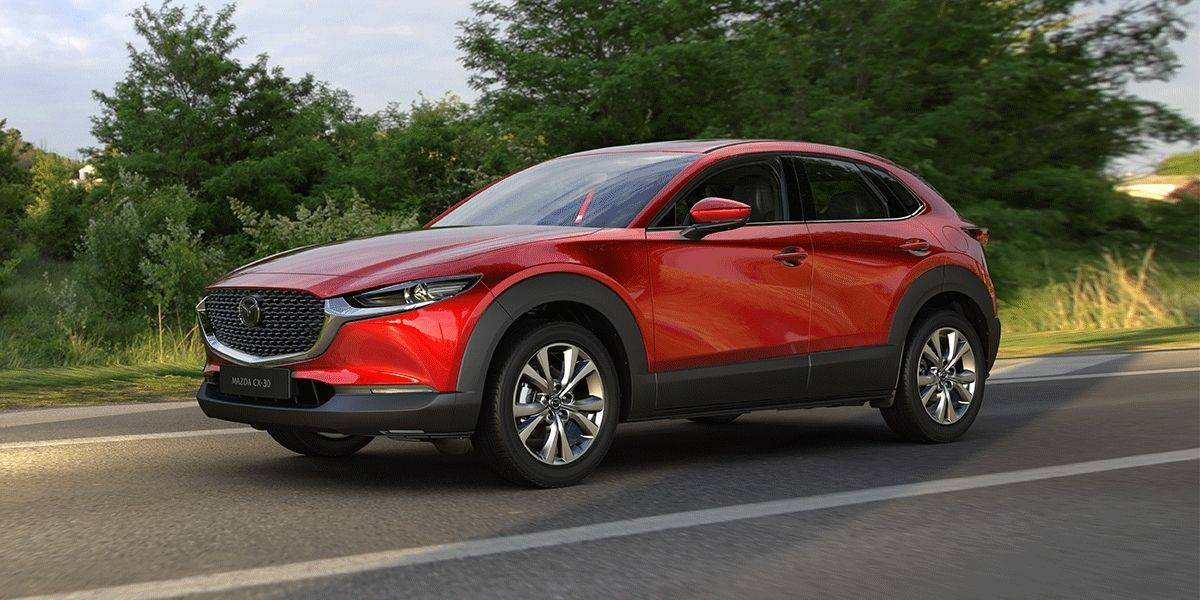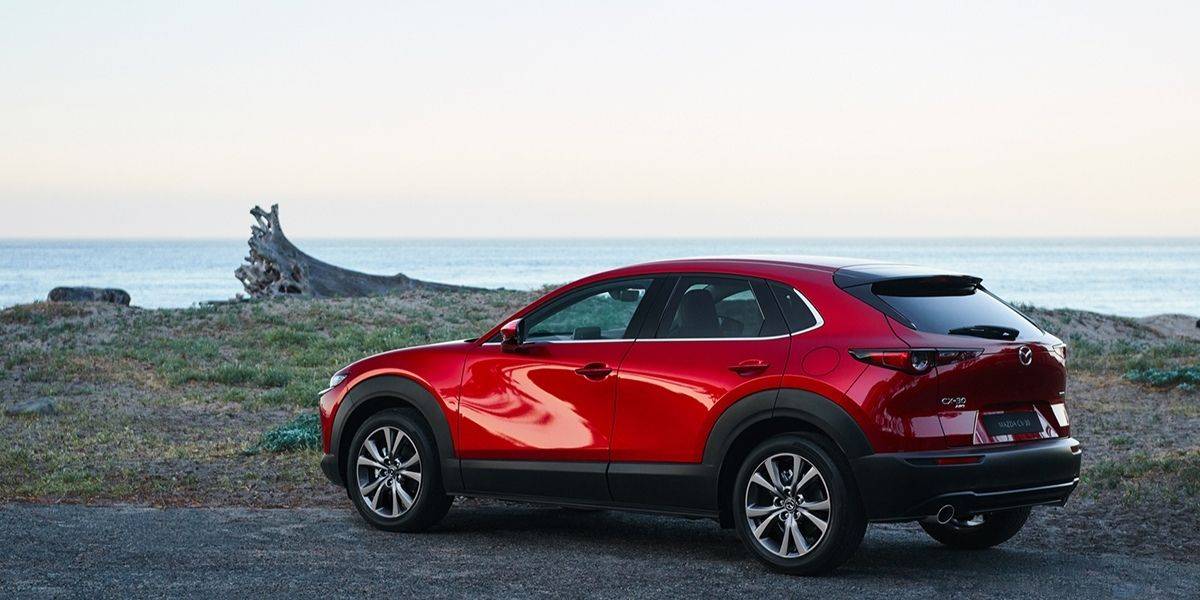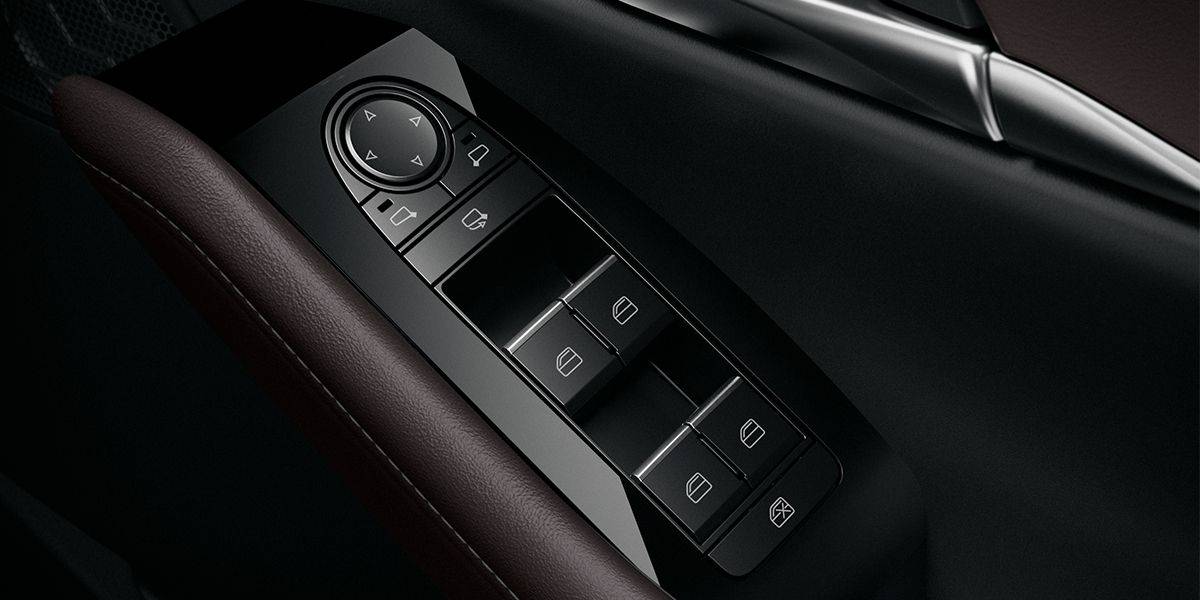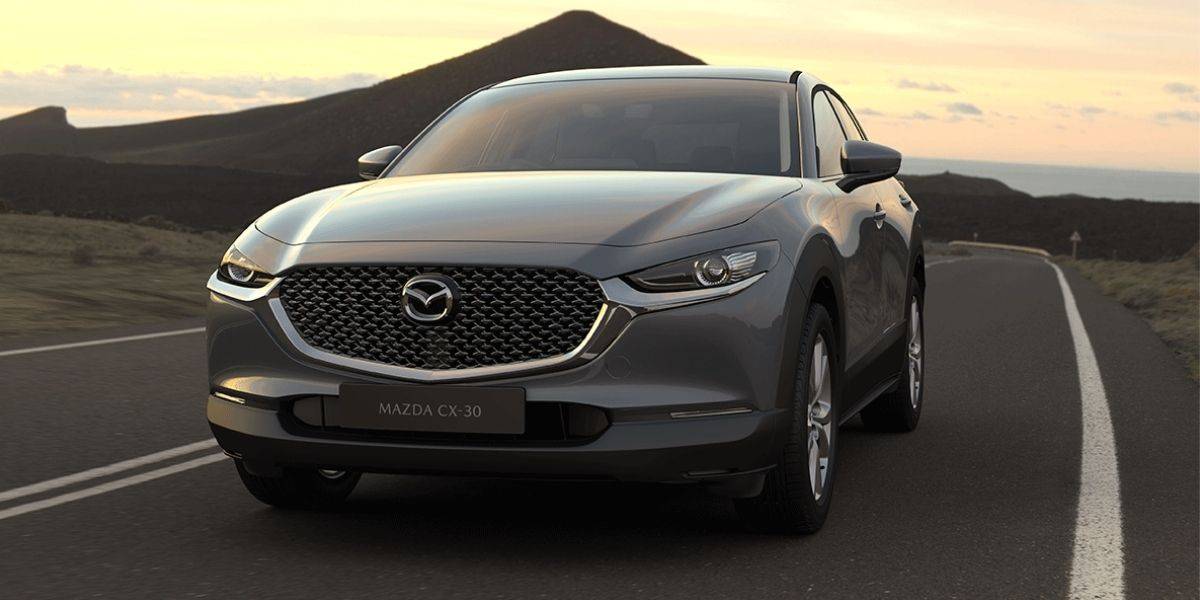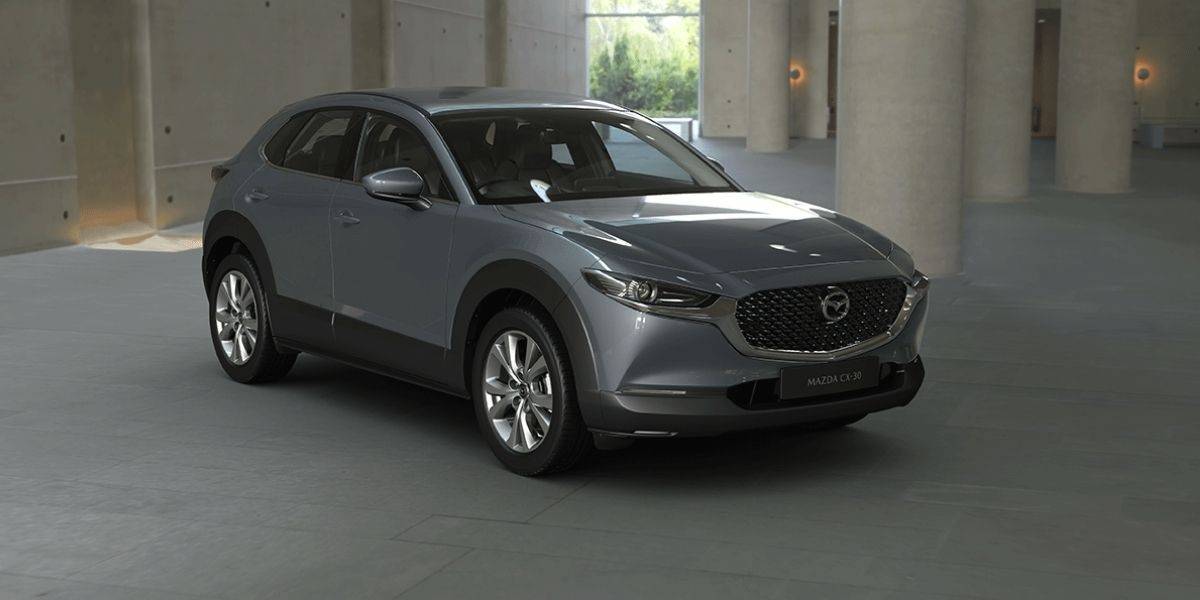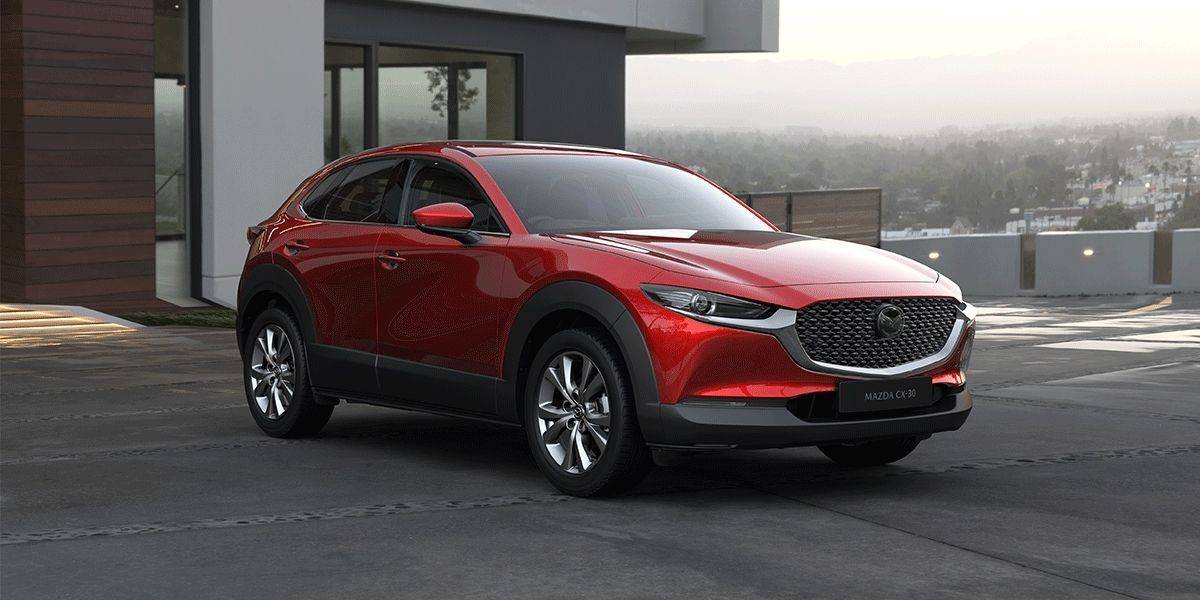 2.0 ACTIVE AT

Service / Maintenance / Warranty

Service interval

15 000 km

Warranty and Service Plan

3 YEAR/UNLIMTED KM WARRANTY, 3 YEAR/UNLIMITED KM SERVICE PLAN, 3 YEAR/UNLIMITED ROADSIDE ASSISTANCE

Active and Passive Safety

Electronic Brakeforce Distribution (EBD)

YES

Auto Windscreen Wipers

YES

ISOfix (secure child seat)

YES

Engine

TRANSVERSE INLINE 4

Valves

DOHC 4 VALVES PER CYLINDER S-VT

Average fuel consumption

6.6 l/Km

Driving and Control Environment

Steering adjustment (up down)

YES

Steering adjustment (in out)

YES

Multi function steering wheel

AUDIO, PHONE

Spare tire size

SPACESAVER

Electric window detail

FRONT + REAR

Electric window 1-touch

FRONT

Colour coded bumpers

PAINTED

Colour coded mirrors

BODY

Satellite navigation

OPTION
2.0 DYNAMIC AT

Service / Maintenance / Warranty

Service interval

15 000 km

Warranty and Service Plan

3 YEAR/UNLIMTED KM WARRANTY, 3 YEAR/UNLIMITED KM SERVICE PLAN, 3 YEAR/UNLIMITED ROADSIDE ASSISTANCE

Active and Passive Safety

Electronic Brakeforce Distribution (EBD)

YES

Auto Windscreen Wipers

YES

ISOfix (secure child seat)

YES

Engine

TRANSVERSE INLINE 4

Valves

DOHC 4 VALVES PER CYLINDER S-VT

Average fuel consumption

6.6 l/Km

Driving and Control Environment

Steering adjustment (up down)

YES

Steering adjustment (in out)

YES

Multi function steering wheel

AUDIO, CRUISE, PHONE

Spare tire size

SPACESAVER

Electric window detail

FRONT + REAR

Electric window 1-touch

FRONT

Colour coded bumpers

PAINTED

Colour coded mirrors

BODY

Satellite navigation

OPTION
2.0 CARBON EDITON AT

Service / Maintenance / Warranty

Service interval

15 000 km

Warranty and Service Plan

3 YEAR/UNLIMTED KM WARRANTY, 3 YEAR/UNLIMITED KM SERVICE PLAN, 3 YEAR/UNLIMITED ROADSIDE ASSISTANCE

Active and Passive Safety

Electronic Brakeforce Distribution (EBD)

YES

Auto Windscreen Wipers

YES

ISOfix (secure child seat)

YES

Engine

TRANSVERSE INLINE 4

Valves

DOHC 4 VALVES PER CYLINDER S-VT

Average fuel consumption

6.6 l/Km

Driving and Control Environment

Steering adjustment (up down)

YES

Steering adjustment (in out)

YES

Multi function steering wheel

AUDIO, CRUISE, PHONE

Spare tire size

SPACESAVER

Electric window detail

FRONT + REAR

Electric window 1-touch

FRONT

Colour coded bumpers

PAINTED

Colour coded mirrors

GLOSSY BLACK

Satellite navigation

OPTION
2.0 INDIVIDUAL AT

Service / Maintenance / Warranty

Service interval

15 000 km

Warranty and Service Plan

3 YEAR/UNLIMTED KM WARRANTY, 3 YEAR/UNLIMITED KM SERVICE PLAN, 3 YEAR/UNLIMITED ROADSIDE ASSISTANCE

Active and Passive Safety

Electronic Brakeforce Distribution (EBD)

YES

Auto Windscreen Wipers

YES

ISOfix (secure child seat)

YES

Engine

TRANSVERSE INLINE 4

Valves

DOHC 4 VALVES PER CYLINDER S-VT

Average fuel consumption

6.6 l/Km

Driving and Control Environment

Steering adjustment (up down)

YES

Steering adjustment (in out)

YES

Multi function steering wheel

AUDIO, CRUISE, PHONE

Spare tire size

SPACESAVER

Electric window detail

FRONT + REAR

Electric window 1-touch

FRONT

Colour coded bumpers

PAINTED

Colour coded mirrors

BODY

Satellite navigation

OPTION
Available Colour Options