MAZDA CX-60 MODELS
New Mazda CX-60
The all-new CX-60 showcases why this brand is 'Made with Soul'. Mazda's famous sleek design language give the CX-60 an edgy and stylish road presence while the interior layout is created with the driver in mind. Add in the impressive trim level. Discover a vehicle that intuitively flows with every move. One that can sense what you need, before you do. And every feature has been designed with only one thing in mind. To create a harmonious driving experience. It's the Mazda philosophy.
Electric windows
FRONT + REAR
EBD
Electronic Brakeforce Distribution
7.3 - 7.7 l/100km
Average Fuel Consumption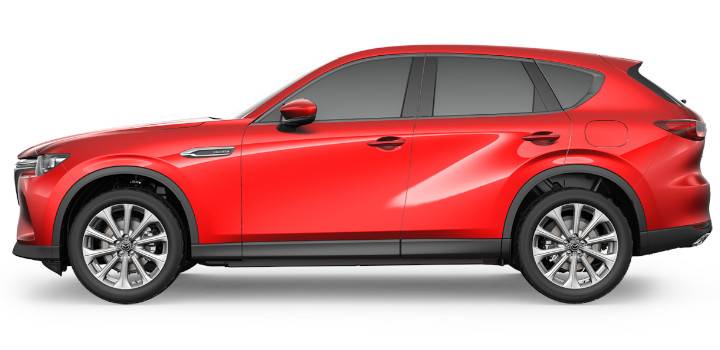 MAZDA RADAR CRUISE CONTROL (MRCC)
The MRCC system is designed to maintain headway control with a vehicle ahead according to your vehicle's speed using a radar sensor (front) to detect the distance to the vehicle ahead and a pre-set vehicle speed without you having to use the accelerator or brake pedal. Additionally, if your vehicle starts closing in on the vehicle ahead such as if the vehicle ahead brakes suddenly, a warning sound and a warning indication display are activated simultaneously to alert you to maintain a sufficient distance between the vehicles.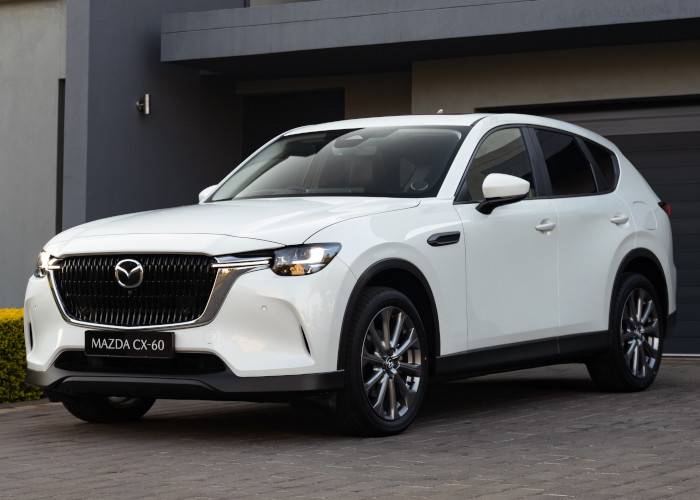 DRIVER PERSONALISATION SYSTEM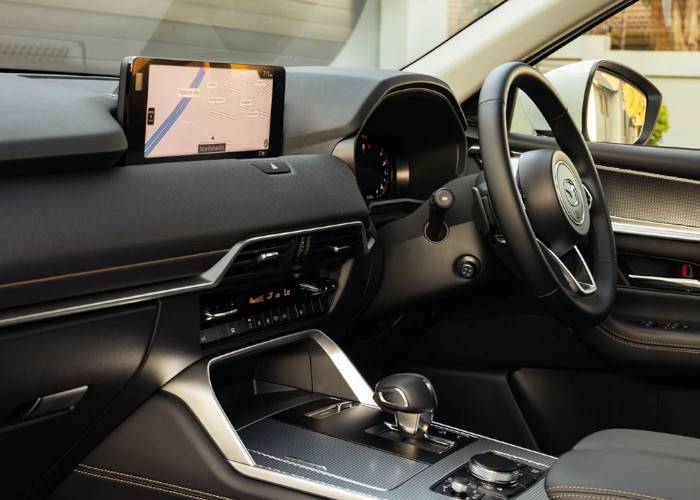 From the moment you enter, you'll feel welcomed. The all-new Mazda CX-60 features the groundbreaking Mazda Driver Personalisation System, which uses in-car cameras to detect your eye position and automatically adjusts your driving seat, steering wheel, heads up display and the angle of the wing mirrors to your ideal driving position. Even the sound system and climate control settings will be adjusted to your preferences. The system can save profiles for up to six users (plus guests) and configure over 200 settings.
MAZDA INTELLIGENT DRIVE
Different driving circumstances demand for different vehicle reactions. Earlier the sports mode was introduced to change the vehicles reaction to the accelerator pedal by reducing the pedal stroke to achieve full throttle and postpone gear changes to allow higher rpm's. No matter what the conditions are, the CX-60 will have optimal grip, performance, road stability offering the highest level of safety. Mi-Drive still controls gear changes and pedal reaction but in addition it also controls the i-ACTIV AWD system and the Dynamic Stability Control. It leads to a vehicle that not only provides proper reaction during sporty driving but also during off road driving.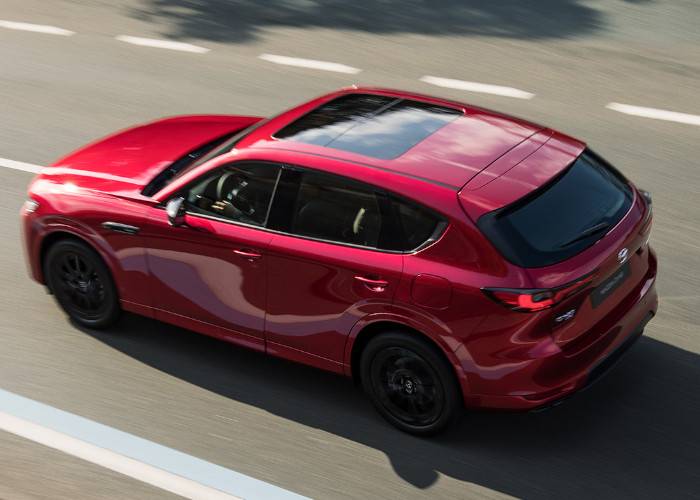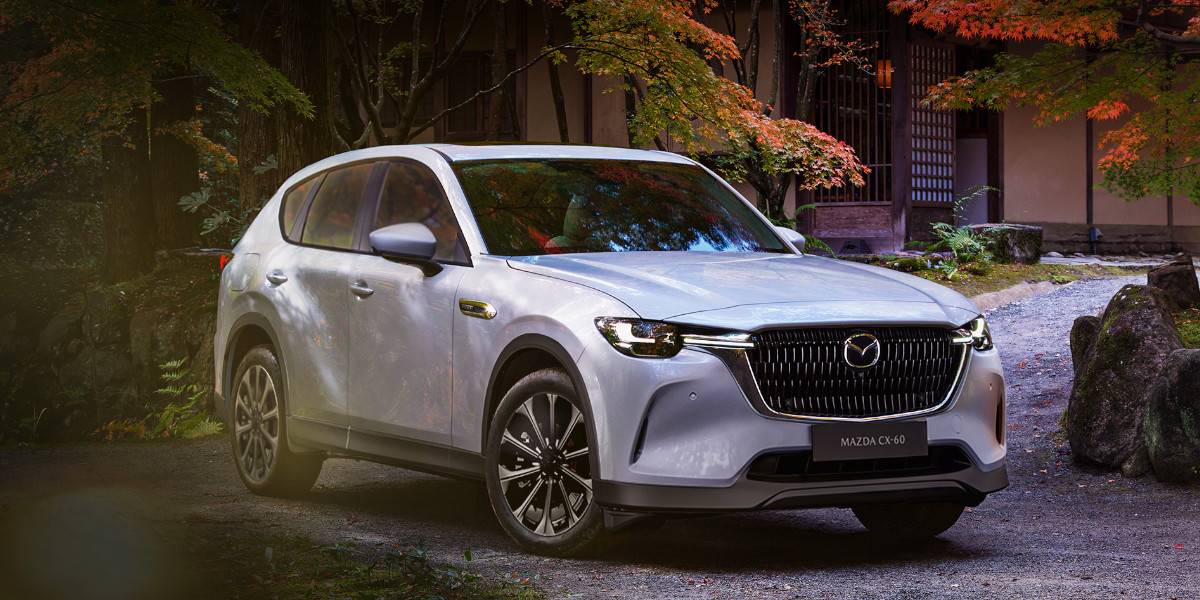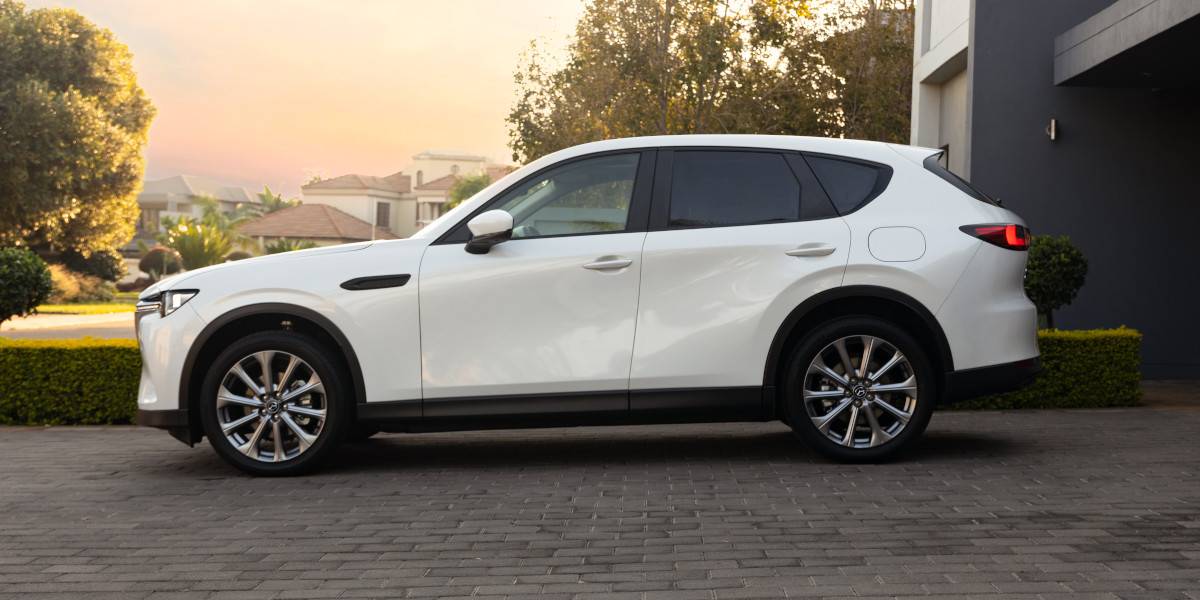 2.5 DYNAMIC AT RWD

Service / Maintenance / Warranty

Service interval

15 000 km

Warranty and Service Plan

5 YEAR/UNLIMITED KM WARRANTY, 5 YEAR/UNLIMITED KM SERVICE PLAN, 3 YEAR/UNLIMITED ROADSIDE ASSISTANCE

Active and Passive Safety

Electronic Brakeforce Distribution (EBD)

YES

Auto Windscreen Wipers

YES

ISOfix (secure child seat)

YES

Engine

LONGITUDINAL INLINE 4

Valves

DOHC, 4 VALVES PER CYLINDER

Average fuel consumption

7.3 l/Km

Driving and Control Environment

Steering adjustment (up down)

YES

Steering adjustment (in out)

YES

Multi function steering wheel

AUDIO, CRUISE, PHONE

Spare tire size

SPACESAVER

Electric window detail

FRONT + REAR

Electric window 1-touch

DRIVER

Colour coded bumpers

BLACK-GREY

Colour coded mirrors

BODY
2.5 INDIVIDUAL AT AWD

Service / Maintenance / Warranty

Service interval

15 000 km

Warranty and Service Plan

5 YEAR/UNLIMITED KM WARRANTY, 5 YEAR/UNLIMITED KM SERVICE PLAN, 3 YEAR/UNLIMITED ROADSIDE ASSISTANCE

Active and Passive Safety

Electronic Brakeforce Distribution (EBD)

YES

Auto Windscreen Wipers

YES

ISOfix (secure child seat)

YES

Engine

LONGITUDINAL INLINE 4

Valves

DOHC, 4 VALVES PER CYLINDER

Average fuel consumption

7.7 l/Km

Driving and Control Environment

Steering adjustment (up down)

YES

Steering adjustment (in out)

YES

Multi function steering wheel

AUDIO, CRUISE, PHONE

Spare tire size

SPACESAVER

Electric window detail

FRONT + REAR

Electric window 1-touch

DRIVER

Colour coded bumpers

BLACK-GREY

Colour coded mirrors

BODY
Available Colour Options