MAZDA MAZDA2 MODELS
FREEDOM STARTS NOW
From the moment you start your Mazda2, you feel the exhilaration that happens when a range of perfectly designed parts work in harmony and come to life in motion. It's a feeling that can be captured through the Japanese expression 'Jinba-Ittai', the bond between a horse and rider. It's the beauty of freedom to go anywhere. This is a small car that's taken a big leap forward. The Mazda2 rewards you with sophisticated design, while its SKYACTIV Technology unlocks quick-witted agility and outstanding fuel economy.
SATNAV
Automotive Navigation System *
ATS
Auto Traction Control *
5.7 - 6 l/100km
Average Fuel Consumption
Electric windows
FRONT + REAR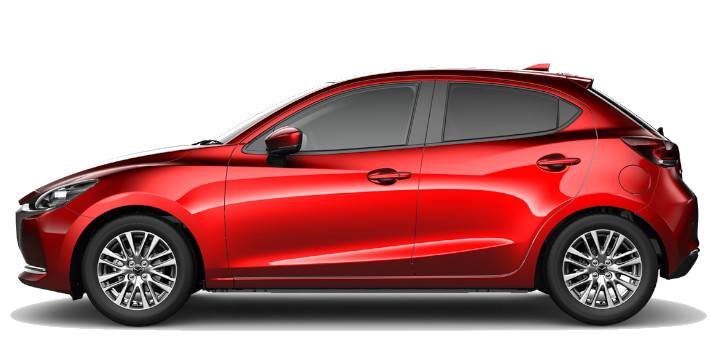 A MORE ENLIGHTENED DRIVE
Getting a round never felt so good. The Mazda 2 is light - on - its feet a round town, smooth-riding and sure of itself, everywhere you go. At every level, breakthrough SKYACTIV Technology has reduced weight and ramped up efficiency. The 1.5 litre engine gives you lots of go, yet uses very little fuel.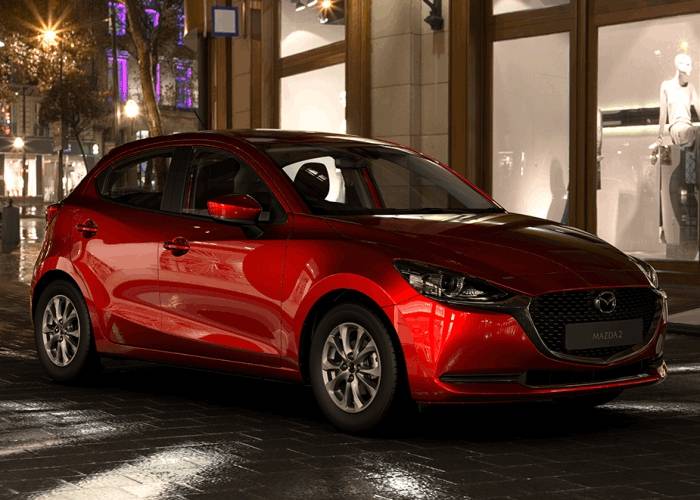 DRIVER CENTRIC COCKPIT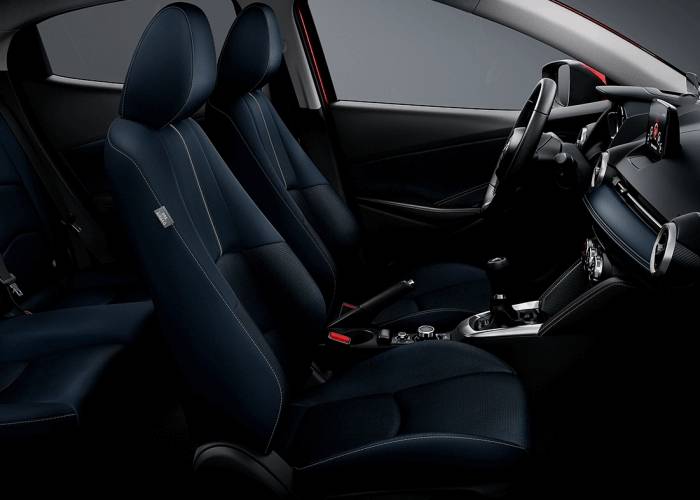 The elegantly crafted cabin surrounds the driver with care fully positioned controls , to allow for an intuitive driving experience. Mazda's Head-Up Display (HUD) shows important driving information like speed, next turn directions from the satellite navigation and safety alerts.
DRIVING AT NIGHT IS NO LONGER SCARY
The Mazda2 features a new generation headlamp design that blend into the body perfectly and lighting that highlights the sense of linearity in the lamp cylinders. So even when driving the car for the first time, the Mazda2 also so stress-free that it is hard to believe you have not driven it before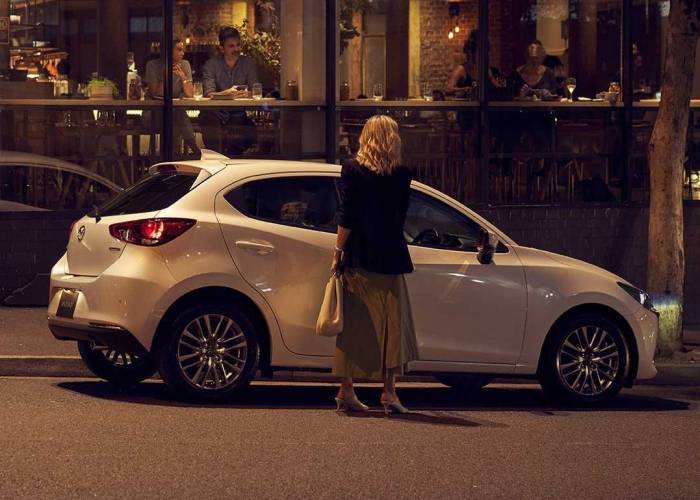 1.5 ACTIVE

Service / Maintenance / Warranty

Service interval

15 000 km

Warranty and Service Plan

3 YEAR/UNLIMITED KM WARRANTY, 3 YEAR/UNLIMITED KM SERVICE PLAN, 3 YEAR ANTI CORROSION, 3 YEAR/UNLIMITED KM ROADSIDE ASSISTANCE

Active and Passive Safety

Electronic Brakeforce Distribution (EBD)

YES

Engine

TRANSVERSE INLINE 4

Average fuel consumption

5.7 l/Km

Driving and Control Environment

Steering adjustment (up down)

YES

Steering adjustment (in out)

YES

Multi function steering wheel

AUDIO, PHONE

Spare tire size

SPACESAVER

Electric window detail

FRONT + REAR

Electric window 1-touch

DRIVER

Colour coded bumpers

PAINTED

Colour coded mirrors

BODY
1.5 DYNAMIC

Service / Maintenance / Warranty

Service interval

15 000 km

Warranty and Service Plan

3 YEAR/UNLIMITED KM WARRANTY, 3 YEAR/UNLIMITED KM SERVICE PLAN, 3 YEAR ANTI CORROSION, 3 YEAR/UNLIMITED KM ROADSIDE ASSISTANCE

Active and Passive Safety

Electronic Brakeforce Distribution (EBD)

YES

Engine

TRANSVERSE INLINE 4

Average fuel consumption

5.7 l/Km

Driving and Control Environment

Steering adjustment (up down)

YES

Steering adjustment (in out)

YES

Multi function steering wheel

AUDIO, PHONE

Spare tire size

SPACESAVER

Electric window detail

FRONT + REAR

Electric window 1-touch

DRIVER

Colour coded bumpers

PAINTED

Colour coded mirrors

BODY
1.5 DYNAMIC AT

Service / Maintenance / Warranty

Service interval

15 000 km

Warranty and Service Plan

3 YEAR/UNLIMITED KM WARRANTY, 3 YEAR/UNLIMITED KM SERVICE PLAN, 3 YEAR ANTI CORROSION, 3 YEAR/UNLIMITED KM ROADSIDE ASSISTANCE

Active and Passive Safety

Electronic Brakeforce Distribution (EBD)

YES

Engine

TRANSVERSE INLINE 4

Average fuel consumption

6 l/Km

Driving and Control Environment

Steering adjustment (up down)

YES

Steering adjustment (in out)

YES

Multi function steering wheel

AUDIO, PHONE, GEAR

Spare tire size

SPACESAVER

Electric window detail

FRONT + REAR

Electric window 1-touch

DRIVER

Colour coded bumpers

PAINTED

Colour coded mirrors

BODY
1.5 INDIVIDUAL

Service / Maintenance / Warranty

Service interval

15 000 km

Warranty and Service Plan

3 YEAR/UNLIMITED KM WARRANTY, 3 YEAR/UNLIMITED KM SERVICE PLAN, 3 YEAR ANTI CORROSION, 3 YEAR/UNLIMITED KM ROADSIDE ASSISTANCE

Active and Passive Safety

Electronic Brakeforce Distribution (EBD)

YES

Auto Windscreen Wipers

YES

Engine

TRANSVERSE INLINE 4

Average fuel consumption

5.7 l/Km

Driving and Control Environment

Steering adjustment (up down)

YES

Steering adjustment (in out)

YES

Multi function steering wheel

AUDIO, PHONE

Spare tire size

SPACESAVER

Electric window detail

FRONT + REAR

Electric window 1-touch

DRIVER

Colour coded bumpers

PAINTED

Colour coded mirrors

BODY
1.5 INDIVIDUAL AT

Service / Maintenance / Warranty

Service interval

15 000 km

Warranty and Service Plan

3 YEAR/UNLIMITED KM WARRANTY, 3 YEAR/UNLIMITED KM SERVICE PLAN, 3 YEAR ANTI CORROSION, 3 YEAR/UNLIMITED KM ROADSIDE ASSISTANCE

Active and Passive Safety

Electronic Brakeforce Distribution (EBD)

YES

Auto Windscreen Wipers

YES

Engine

TRANSVERSE INLINE 4

Average fuel consumption

6 l/Km

Driving and Control Environment

Steering adjustment (up down)

YES

Steering adjustment (in out)

YES

Multi function steering wheel

AUDIO, PHONE, GEAR

Spare tire size

SPACESAVER

Electric window detail

FRONT + REAR

Electric window 1-touch

DRIVER

Colour coded bumpers

PAINTED

Colour coded mirrors

BODY
1.5 HAZUMI AT

Service / Maintenance / Warranty

Service interval

15 000 km

Warranty and Service Plan

3 YEAR/UNLIMITED KM WARRANTY, 3 YEAR/UNLIMITED KM SERVICE PLAN, 3 YEAR ANTI CORROSION, 3 YEAR/UNLIMITED KM ROADSIDE ASSISTANCE

Active and Passive Safety

Electronic Brakeforce Distribution (EBD)

YES

Auto Windscreen Wipers

YES

Engine

TRANSVERSE INLINE 4

Average fuel consumption

5.7 l/Km

Driving and Control Environment

Steering adjustment (up down)

YES

Steering adjustment (in out)

YES

Multi function steering wheel

AUDIO, PHONE, GEAR

Spare tire size

SPACESAVER

Electric window detail

FRONT + REAR

Electric window 1-touch

DRIVER

Colour coded bumpers

PAINTED

Colour coded mirrors

BODY
Available Colour Options