MAZDA MAZDA3 MODELS
BEAUTY BY SUBTRACTION
Next-Generation Mazda 3, Driving is Believing. The Next-Generation Mazda3 represents the beginning of a new era for Mazda. A car that takes every element of design, performance and technology beyond anything that's come before. It's a drive you need to feel to believe. Every element of the Next-Generation Mazda3 Hatch has been created with the intention to further strengthen the connection between car and driver. A less is more approach has been followed to develop a cabin that's as beautiful as it is functional.
ABS
Anti-lock Braking System
Electric windows
FRONT + REAR
EBD
Electronic Brakeforce Distribution
SATNAV
Automotive Navigation System *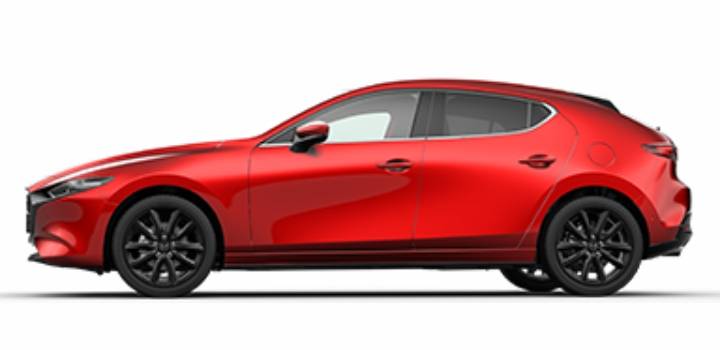 CREATED TO MAKE A MOMENT LAST
The Mazda3 Hatch is a car designed to catch the eye and heart through its seductive allure. The evolution of Mazda's KODO – Soul of Motion design philosophy see light and shadow shift beautifully across the body. This, combined with the low roofline and wide stance delivers a powerful presence.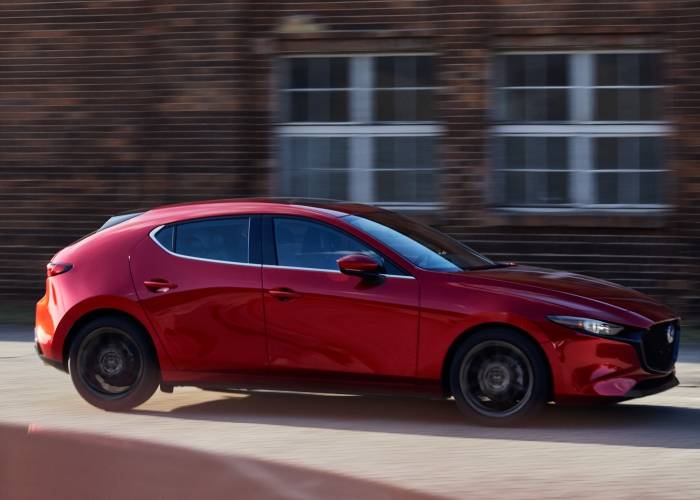 INSTINCTIVE TECHNOLOGY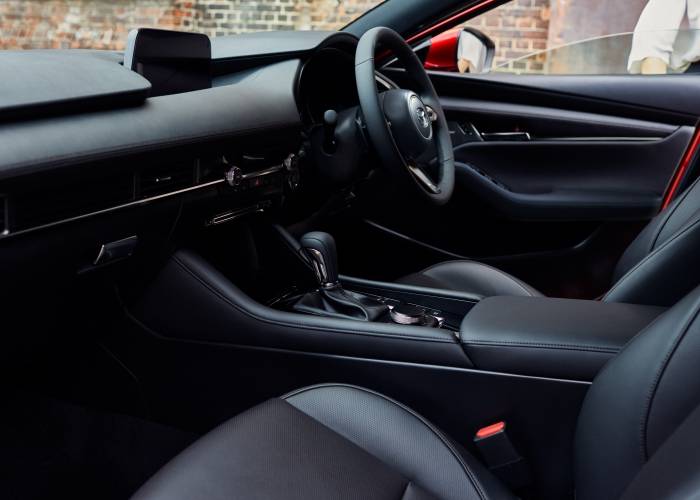 Every piece of driving technology has been honed to provide an unparalleled sense of control and enjoyment. The Head-Up Display has been carefully designed to present only the most relevant information in the simplest fashion. The meter cluster now features a vibrant 7-inch TFT screen. While on the steering wheel, switches are streamlined and better integrated for superior functionality and beauty.
AN INTUITIVE EXPERIENCE
The Next-Generation Mazda3 consists of intuitive features that transform your drive into a truly eff ortless one. The headlamp levelling system, which also compliments the vehicle's safety features, adjusts your car load to its height to avoid blinding oncoming traffi c, especially in low-lit conditions as well as around curves and over hills.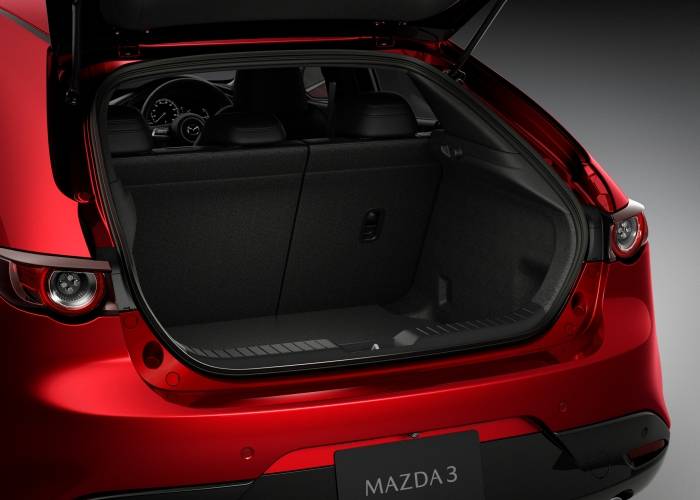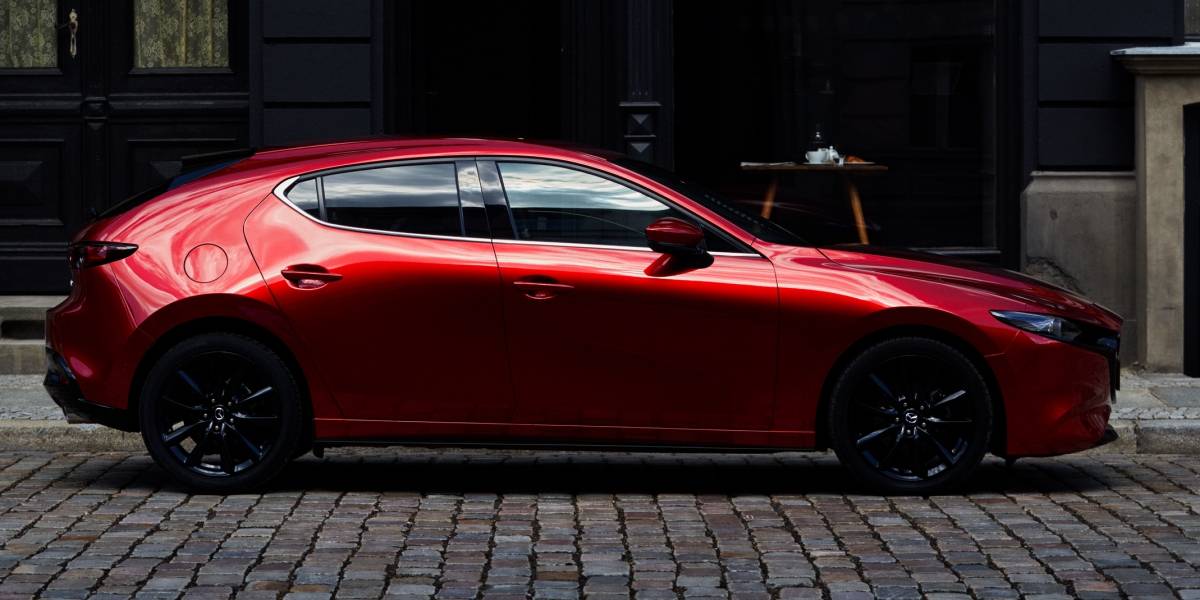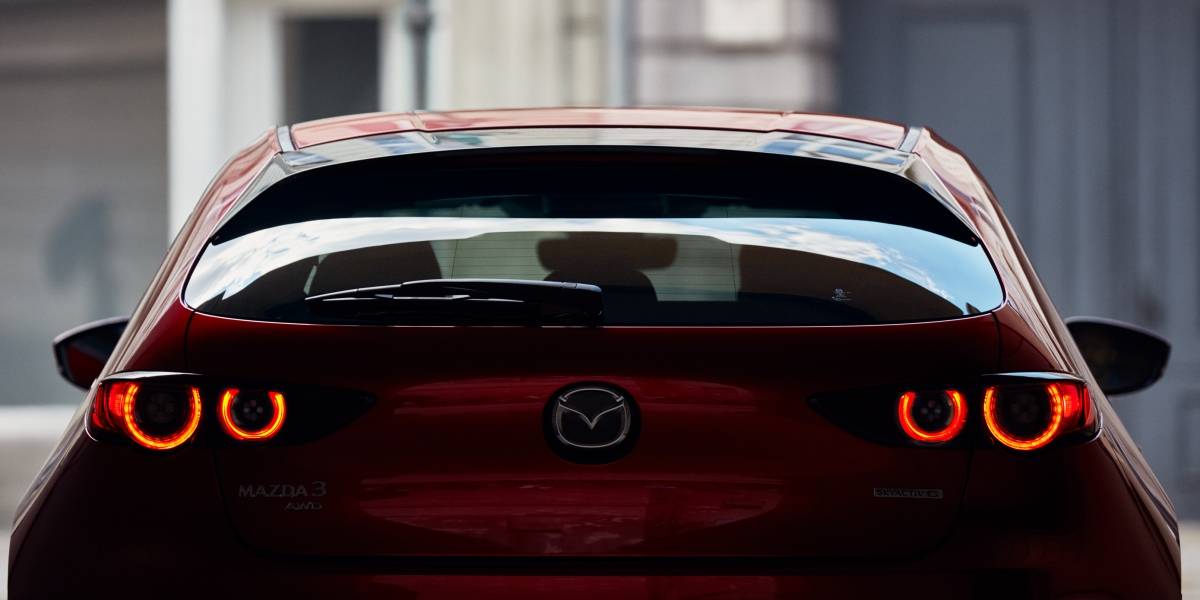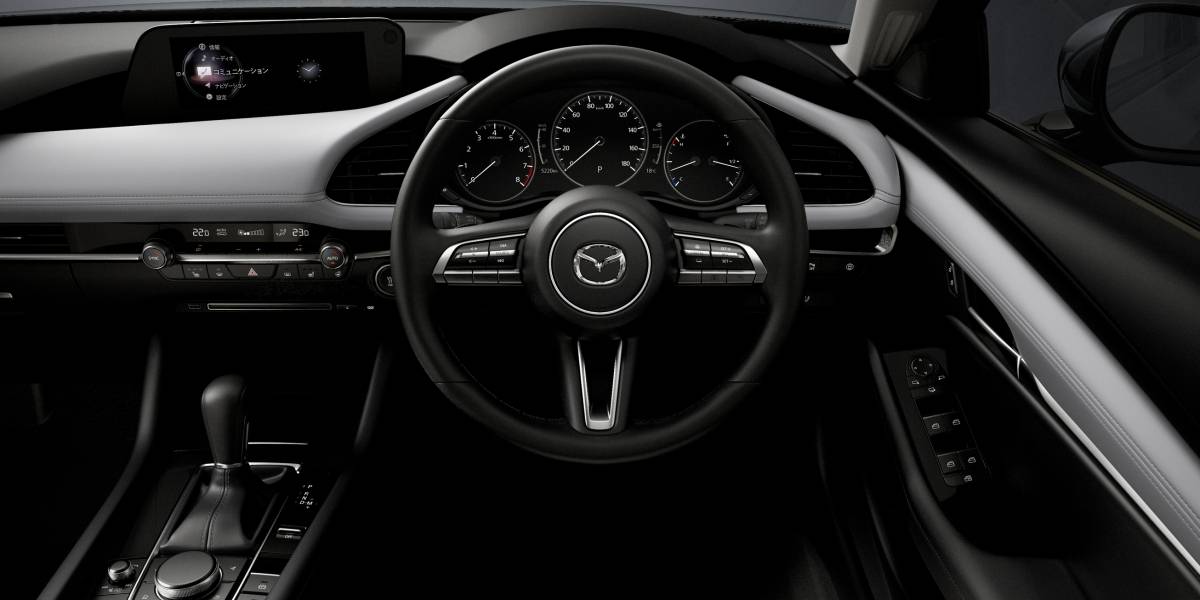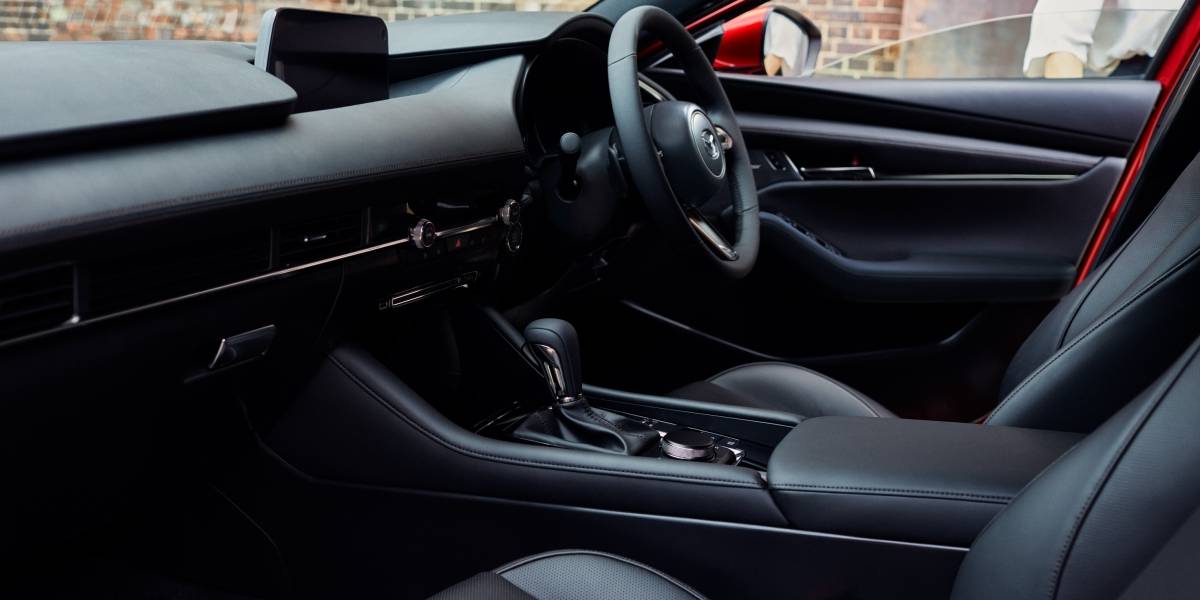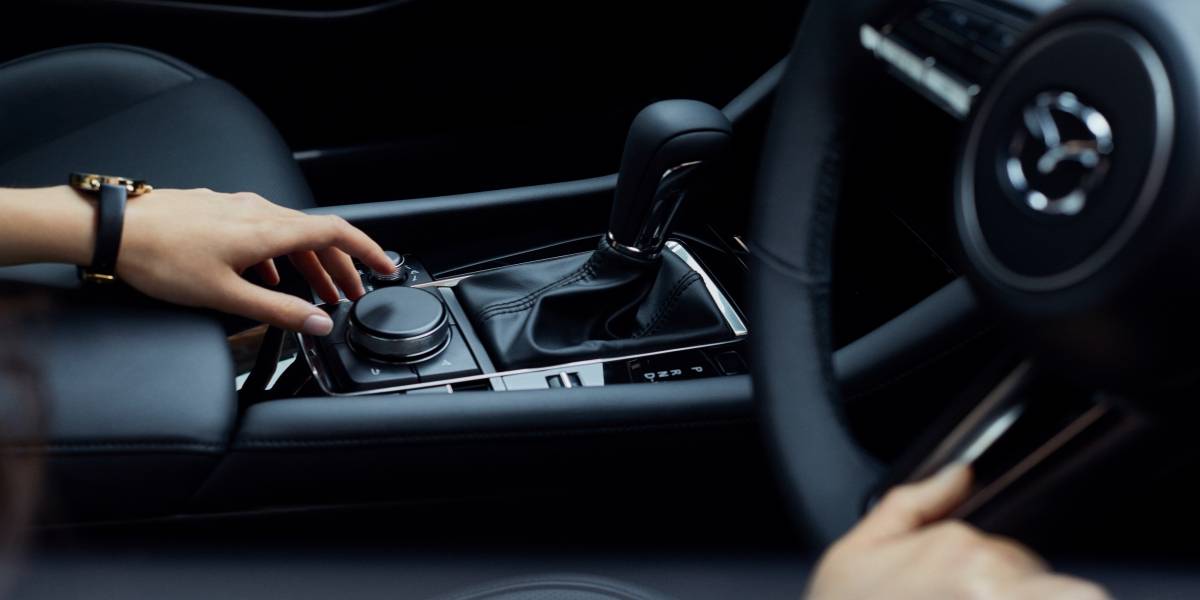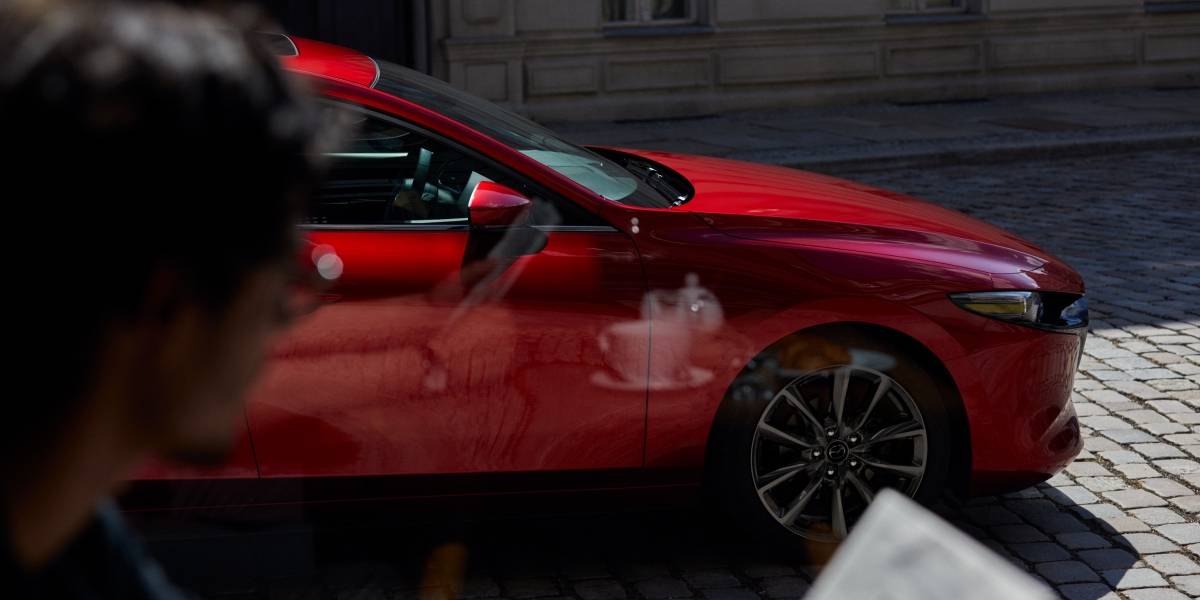 1.5 ACTIVE

Service / Maintenance / Warranty

Service interval

15 000 km

Warranty and Service Plan

3 YEAR/UNLIMITED KM WARRANTY, 3 YEAR/ UNLIMITED KM SERVICE PLAN, 5 YEAR ANTI CORROSION, 3 YEAR ROADSIDE ASSISTANCE

Active and Passive Safety

Electronic Brakeforce Distribution (EBD)

YES

Auto Windscreen Wipers

YES

ISOfix (secure child seat)

YES

Engine

TRANSVERSE INLINE 4

Valves

DOHC 4 VALVES PER CYLINDER, S-VT

Average fuel consumption

6 l/Km

Driving and Control Environment

Steering adjustment (up down)

YES

Steering adjustment (in out)

YES

Multi function steering wheel

AUDIO, PHONE

Spare tire size

SPACESAVER

Electric window detail

FRONT + REAR

Electric window 1-touch

DRIVER

Colour coded bumpers

PAINTED

Colour coded mirrors

BODY
1.5 DYNAMIC

Service / Maintenance / Warranty

Service interval

15 000 km

Warranty and Service Plan

3 YEAR/UNLIMITED KM WARRANTY, 3 YEAR/ UNLIMITED KM SERVICE PLAN, 5 YEAR ANTI CORROSION, 3 YEAR ROADSIDE ASSISTANCE

Active and Passive Safety

Electronic Brakeforce Distribution (EBD)

YES

Auto Windscreen Wipers

YES

ISOfix (secure child seat)

YES

Engine

TRANSVERSE INLINE 4

Valves

DOHC 4 VALVES PER CYLINDER, S-VT

Average fuel consumption

6 l/Km

Driving and Control Environment

Steering adjustment (up down)

YES

Steering adjustment (in out)

YES

Multi function steering wheel

AUDIO, PHONE, CRUISE

Spare tire size

SPACESAVER

Electric window detail

FRONT + REAR

Electric window 1-touch

DRIVER

Colour coded bumpers

PAINTED

Colour coded mirrors

BODY
1.5 DYNAMIC AT

Service / Maintenance / Warranty

Service interval

15 000 km

Warranty and Service Plan

3 YEAR/UNLIMITED KM WARRANTY, 3 YEAR/ UNLIMITED KM SERVICE PLAN, 5 YEAR ANTI CORROSION, 3 YEAR ROADSIDE ASSISTANCE

Active and Passive Safety

Electronic Brakeforce Distribution (EBD)

YES

Auto Windscreen Wipers

YES

ISOfix (secure child seat)

YES

Engine

TRANSVERSE INLINE 4

Valves

DOHC 4 VALVES PER CYLINDER, S-VT

Average fuel consumption

6 l/Km

Driving and Control Environment

Steering adjustment (up down)

YES

Steering adjustment (in out)

YES

Multi function steering wheel

AUDIO, PHONE, CRUISE

Spare tire size

SPACESAVER

Electric window detail

FRONT + REAR

Electric window 1-touch

DRIVER

Colour coded bumpers

PAINTED

Colour coded mirrors

BODY
1.5 INDIVIDUAL

Service / Maintenance / Warranty

Service interval

15 000 km

Warranty and Service Plan

3 YEAR/UNLIMITED KM WARRANTY, 3 YEAR/ UNLIMITED KM SERVICE PLAN, 5 YEAR ANTI CORROSION, 3 YEAR ROADSIDE ASSISTANCE

Active and Passive Safety

Electronic Brakeforce Distribution (EBD)

YES

Auto Windscreen Wipers

YES

ISOfix (secure child seat)

YES

Engine

TRANSVERSE INLINE 4

Valves

DOHC 4 VALVES PER CYLINDER, S-VT

Average fuel consumption

6 l/Km

Driving and Control Environment

Steering adjustment (up down)

YES

Steering adjustment (in out)

YES

Multi function steering wheel

AUDIO, PHONE, CRUISE

Spare tire size

SPACESAVER

Electric window detail

FRONT + REAR

Electric window 1-touch

DRIVER

Colour coded bumpers

PAINTED
1.5 INDIVIDUAL AT

Service / Maintenance / Warranty

Service interval

15 000 km

Warranty and Service Plan

3 YEAR/UNLIMITED KM WARRANTY, 3 YEAR/ UNLIMITED KM SERVICE PLAN, 5 YEAR ANTI CORROSION, 3 YEAR ROADSIDE ASSISTANCE

Active and Passive Safety

Electronic Brakeforce Distribution (EBD)

YES

Auto Windscreen Wipers

YES

ISOfix (secure child seat)

YES

Engine

TRANSVERSE INLINE 4

Valves

DOHC 4 VALVES PER CYLINDER, S-VT

Average fuel consumption

6 l/Km

Driving and Control Environment

Steering adjustment (up down)

YES

Steering adjustment (in out)

YES

Multi function steering wheel

AUDIO, PHONE, CRUISE

Spare tire size

SPACESAVER

Electric window detail

FRONT + REAR

Electric window 1-touch

DRIVER

Colour coded bumpers

PAINTED
2.0 ASTINA AT

Service / Maintenance / Warranty

Service interval

15 000 km

Warranty and Service Plan

3 YEAR/UNLIMITED KM WARRANTY, 3 YEAR/ UNLIMITED KM SERVICE PLAN, 5 YEAR ANTI CORROSION, 3 YEAR ROADSIDE ASSISTANCE

Active and Passive Safety

Electronic Brakeforce Distribution (EBD)

YES

Auto Windscreen Wipers

YES

ISOfix (secure child seat)

YES

Engine

TRANSVERSE INLINE 4

Valves

DOHC 4 VALVES PER CYLINDER, S-VT

Average fuel consumption

6.3 l/Km

Driving and Control Environment

Steering adjustment (up down)

YES

Steering adjustment (in out)

YES

Multi function steering wheel

AUDIO, PHONE, CRUISE

Spare tire size

SPACESAVER

Electric window detail

FRONT + REAR

Electric window 1-touch

DRIVER

Colour coded bumpers

PAINTED
Available Colour Options